Personalized services and support
We are committed to providing fast and convenient service, tools and resources to help you get the most from your Cochlear hearing solution.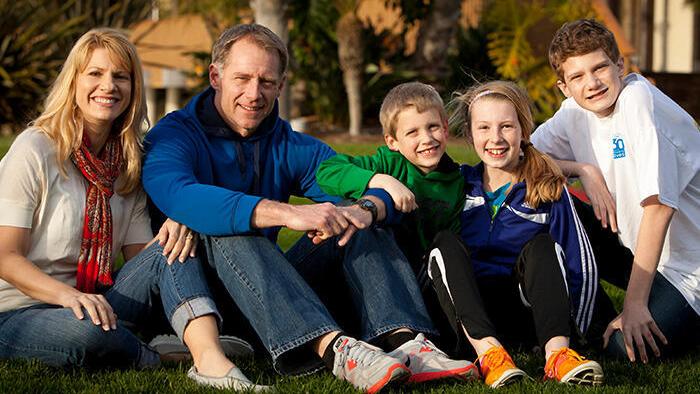 What you'll find on this page
Learn about the lifetime support Cochlear offers
Get answers when you need them with personalized customer service
Learn about fast service for repairs and replacements
Lifetime support so you know you're never alone
Choosing a hearing implant is an important and life-changing step. We know you will have questions along your hearing journey, and that's why we have developed multiple personalized tools and resources that you can access at any time to help ensure you get the most from your Cochlear hearing implant.
One of the tools available to you is Cochlear Family, which is a one-stop shop for all things Cochlear. Once you become a recipient of a Cochlear device and activate your Cochlear Family account, you'll have access to everything you will need to stay up to date and informed about your device. Being a close partner to you throughout your entire hearing journey is very important to us. It is so important that we made it our promise: "Hear now. And always." Cochlear Family is here so all you have to do is experience and enjoy the captivating sounds of life.
One of the great benefits of activating your Cochlear account is access to myCochlear, your personalized online portal. On your Cochlear Family account, you will find the latest information on your Cochlear devices and equipment, including device basics, warranty details, troubleshooting help, learn from other family members about what to expect from your hearing journey and so much more.
"The tools and resources that Cochlear provides allows me an opportunity to train myself and to get better every day… these things empower me to get back to my life that I used to have."

- Chad D. - Nucleus® recipient
Rehabilitation resources on Communication Corner
The Communication Corner gives you online and printable materials and activities to help improve listening, encourage conversations and provide confidence so that you can achieve your best hearing. This resource supports the needs of children, parents and adults with hearing loss at all levels.
Your personalized customer service
A team of experts that are ready to answer your questions and assist you in learning about the process, products, technology and company. Contact our Cochlear experts by calling 877.518.3374 or emailing Concierge@Cochlear.com.

Cochlear also has an Insurance Support Team that is available to help you obtain necessary insurance approval and provide assistance in appealing denied coverage for the Cochlear™ Nucleus® and Baha® Systems. For pre-surgical insurance questions or support, please contact 800.633.4667 (Option 4) or email OMS@cochlear.com.
Fast service for repairs and replacements
We're here to be your helping hand no need to worry about your sound processor. Your clinic and Cochlear want to make sure you experience sound uninterrupted. We have partnership through the exclusive Hear Always program to expedite the replacement of your sound processor if you are ever without sound.
Cochlear has a program for your cochlear implant audiologist to share your hearing profile with us called Cochlear Link. Cochlear Link is our secure, cloud-based service. This service connects your clinic and Cochlears Hear Always program, so we can significantly reduce your time off air when you need a replacement processor. Check to see if your clinic has Cochlear Link.
Make connections with others who have been in your shoes
Connect with a mentor. Connect with someone who has experienced a hearing journey similar to yours. At any point during your journey you may want to connect with others who have gone through the process. There is a community of people who want to support you and share their stories.
Attend a Cochlear event. There are a number of different events across the U.S. for those interested in learning about our products, technology and for those who have our devices. Join us in an event in your area!
Cochlear Celebration. Cochlear Celebration is a magical weekend filled with fun activities designed to bring the Cochlear community together to share experiences, lives and successes. You will receive a discount for our bi-annual celebration event from having an active Cochlear Family account.