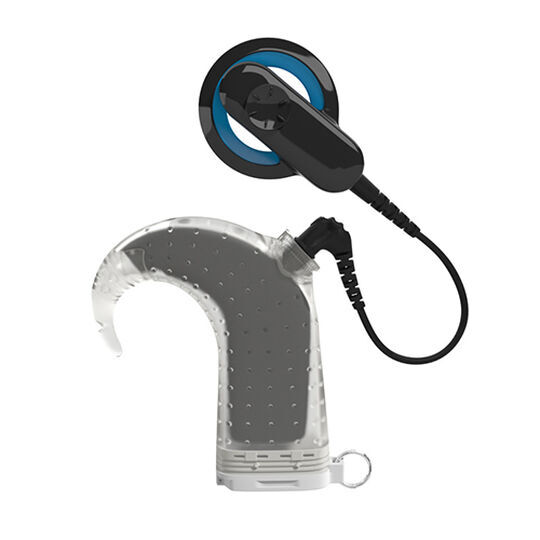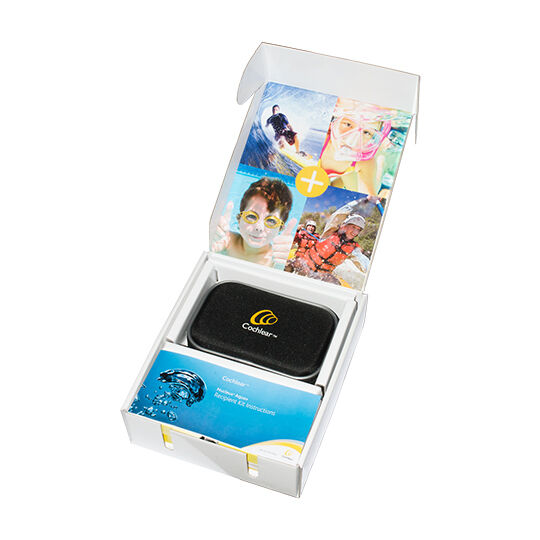 Item number:
SKU-AQUAPLUS-KIT-APAC
Availability: Select style(s) to check for availability.
Compatibility
Compatible with the Nucleus® 6 Sound Processor.
Product information
Overview
Dive into new opportunities with the Aqua+,* an accessory for the Cochlear™ Nucleus® 6 Sound Processor, specifically designed to be completely waterproof. By simply removing the earhook, sliding your current processor into a flexible silicone sleeve, and inserting a specially made coil, you can ready yourself for your underwater experience*.
A single Aqua+ sleeve can be used up to 50 times and is capable of being submerged for two hours at depths up to three meters. Durable, reusable, and compact, it's aptly suited for casual swimming or washing, but we recommend that any activities such as surfing be done with a hat, headband, or, for the most security, with one of the included Aqua+ Safety Lines and Mic Lock-Stirrups. Be sure to use your Aqua+ only with rechargeable batteries; since zinc air batteries need oxygen to function, they will not work sealed inside the Aqua+ sleeve.
Product colour
Only available in Blue/Black
Product size
Available in two coil cable lengths: 6 cm and 8 cm
*The Nucleus® 6 Sound Processors with the Aqua+ are water resistant to level IP68 of the International Standard IEC60529. This water protection only applies when you use the Aqua+ and rechargeable batteries. Not approved for use with the acoustic component (hybrid processors).
What's included
(2) Clear, soft Aqua+ sleeves
Waterproof Aqua+ coil (comes in one color: black with aqua accents)
Magnet (recommended by Cochlear to be the same strength magnet you normally use**)
(2) Aqua+ Safety Lines
(4) Mic Lock Stirrups
Waterproof case