True Wireless™ devices
Some everyday activities present hearing challenges. Our True Wireless™ devices are accessories that can help improve your hearing experience.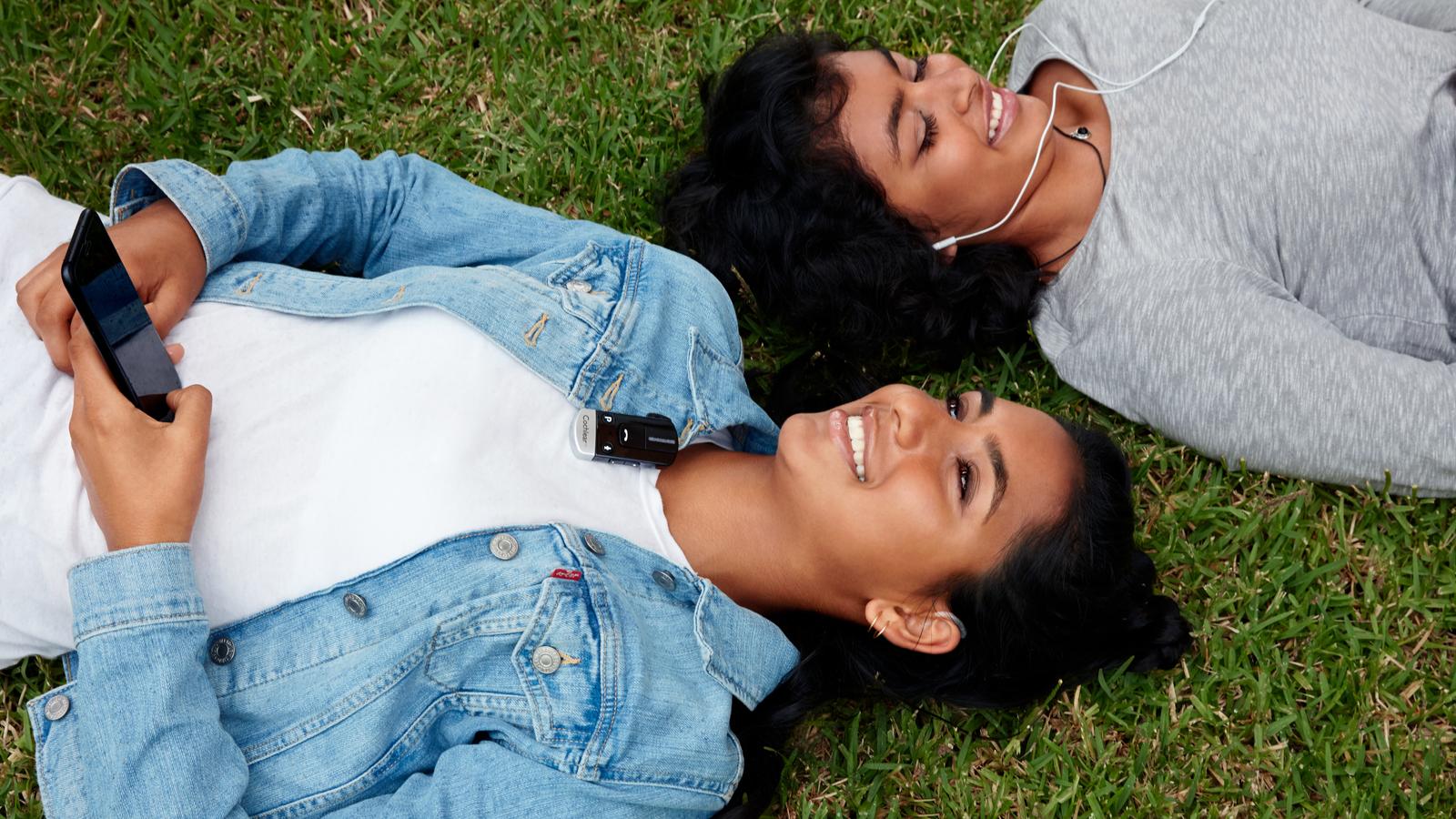 What you'll find on this page
How True Wireless™ devices can help you hear better in difficult listening situations.
How True Wireless devices make it easier to watch TV, talk on the phone, and listen to music.
Wireless freedom. No strings attached
Get closer to the sounds and experiences that matter to you. Join work meetings and classroom discussions. Watch TV and talk on the phone.
These are just some of the ways you can connect to the people you love and to the world around you – using accessories without cords, neck loops or wires.
We design True Wireless devices so you can focus less on trying to hear and more on enjoying your life.
What True Wireless™ technology means
With True Wireless devices, audio is streamed straight to your Cochlear™ sound processor without any interference.* True Wireless Devices connect to your sound processor using Bluetooth® technology.
True Wireless Devices are compatible with the following Cochlear sound processors:
Nucleus® 8 Sound Processor
Nucleus 7 Sound Processor
Nucleus Kanso® 2 Sound Processor
Nucleus Kanso Sound Processor
Nucleus 6 Sound Processor
Osia® 2 Sound Processor
Baha® 6 Max Sound Processor
Baha 5 sound processors
Explore how True Wireless technology can help you hear
Mini Microphone 2+
TV Streamer
Phone Clip
Voice and music streaming: the Cochlear Wireless Phone Clip
Leave your phone in your pocket and enjoy convenient calls with the Wireless Phone Clip.
It's small and lightweight. Clip it to your clothing and take it wherever you go so you can:
Stream phone calls wirelessly to your sound processor.
Listen to music or videos from your smartphone or tablet.
Use your smartphone's voice command.
Do you have a smartphone?
Our latest Nucleus, Osia and Baha sound processors feature built-in, advanced technology that provides direct audio streaming from a compatible Apple or Android™ device,** so you can listen to music, watch movies or use apps, without the need to add any extra accessories.
If you don't have a compatible smartphone, you can stream phone calls, music and more to your sound processor by using the Wireless Phone Clip.
Don't miss a moment: Mini Microphone 2+
Whether you're in a lecture hall, a yoga class, an office meeting or on a football field, the Mini Microphone 2+ transmits speech and sound to your sound processor and can help you hear more clearly.1-3
One-on-one
Clip a Mini Microphone 2+ to your companion's collar when you're dining at a restaurant, or ask your child's teacher to clip it on and use it during lesson time.
Group conversations
Place a Mini Microphone 2+ in the centre of a meeting room at work, or in your child's classroom for group games and learning. The Mini Microphone 2+ can create an effective classroom kit.
The Mini Microphone 2+ also offers connectivity to audio sources such as TV, Hi-Fi, loop systems and FM systems.
Enjoy caption-free viewing: TV Streamer
Experience TV without turning the volume to uncomfortable levels for others. With the Cochlear Wireless TV Streamer, you set your own personal volume and transmit sound to your sound processor.
*For information regarding the compatibility of Cochlear's Sound Processors with True Wireless devices, visit www.cochlear.com/compatibility
**For information regarding the compatibility of Cochlear's Sound Processors with Apple or Android devices, visit www.cochlear.com/compatibility
The Bluetooth® word mark and logos are registered trademarks owned by Bluetooth SIG, Inc. and any use of such marks by Cochlear Limited is under license.
Android is a trademark of Google LLC. The Android robot is reproduced or modified from work created and shared by Google and used according to terms described in the Creative Commons 3.0 Attribution License.
Google Play and the Google Play logo are trademarks of Google LLC.
Apple, the Apple logo, Apple Watch, FaceTime, Made for iPad logo, Made for iPhone logo, Made for iPod logo, iPhone, iPad Pro, iPad Air, iPad mini, iPad and iPod touch are trademarks of Apple Inc., registered in the U.S. and other countries. App Store is a service mark of Apple Inc., registered in the U.S. and other countries.
References
Wolfe J, et al. Improving hearing performance for cochlear implant recipients with use of a digital, wireless, remote-microphone, audio-streaming accessory. J Am Acad Audiol. 2015 Jun;26(6):532-9.
Razza S, et al. Evaluation of speech reception threshold in noise in young Cochlear Nucleus® system 6 implant recipients using two different digital remote microphone technologies and a speech enhancement sound processing algorithm. Int Journal Pediat Otorhinolaryngology, 2017; Oct;103: 71-75.
Jones M, Hearing in Noise Benefit Using the Cochlear Mini Microphone 2+ with Nucleus Sound Processors, CI2017 Pediatric 15th Symposium on Cochlear Implants in Children, San Francisco, CA. 2017; July.