True Wireless™ devices
Some everyday activities can be more challenging than others. That's where True Wireless™ accessories can help maximize your hearing experience.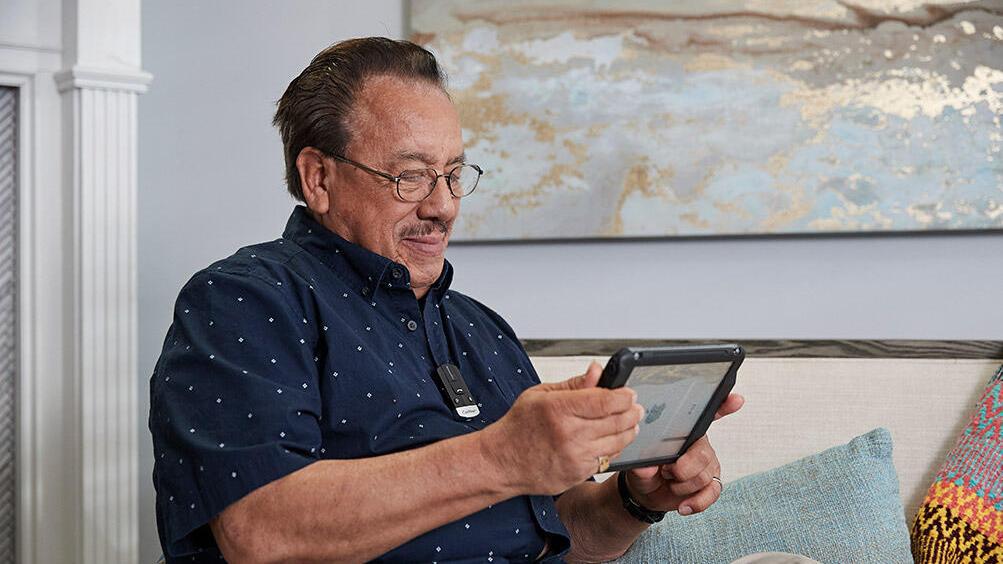 What you'll find on this page
How True Wireless accessories can bring you closer to sound in challenging situations
An easier way to watch TV, talk on the phone and listen to music
Our online demo tool that lets you listen to the difference in sound with and without Cochlear's True Wireless accessories
True Wireless™ freedom — no strings attached
Cochlear offers optional accessories designed to help you hear better in challenging siutations. With our True Wireless accessories, you can stream sound directly to your sound processor using built-in 2.4 GHz wireless protocol that Bluetooth® and Wi-Fi devices depend on. No need for neck-worn loops or attachments to the sound processor.

The True Wireless accessories include the Mini Microphone 2+, the Phone Clip and the TV Streamer, and are all easy to pair and use. These accessories are compatible with the following Cochlear™ devices:
The Nucleus® 7 Sound Processor
The Nucleus 6 Sound Processor
The Nucleus Kanso® 2 Sound Processor
The Nucleus Kanso Sound Processor
The Osia® 2 Sound Processor
The Baha® 6 Max Sound Processor
The Baha 5 Sound Processors
Hear better in noisy environments with the Mini Microphone 2+
With the Mini Microphone 2+, you can hear more clearly, especially noisy environments.1* It works by streaming speech and music directly to your sound processor. You can simply clip the Mini Microphone 2+ to a companion's collar or place it on the table when you are eating at a restaurant, riding in the car, at a presentation at work, etc.. It also can be an affordable alternative to an FM system for your child at school. It's lightweight and portable so it can be used anywhere.
Key features:
Directional microphones for one-to-one conversations or omni-directional microphone for use in large groups
Up to 11 hours of talk time on a single battery charge
Recharges in three hours with included charger
Range of over 80 feet
FM connectivity
Built-in telecoil
Talk on the phone and listen to music — hands free
Use your Cochlear Phone Clip to make talking on the phone easier. You can even leave your phone in your pocket or bag and enjoy the convenience and safety of hands-free calling. It's small and lightweight, so you can clip it to your clothing and take it wherever you go. With the phone clip you can:
Stream phone calls directly to your sound processor
Listen to music or videos from your smartphone or tablet
Listen to GPS navigation in your car
Use your smartphone's voice command
Compose text messages
Enjoy TV without captions with the TV Streamer
You can have personal volume control while enjoying TV with your family. The TV Streamer gives you stereo sound transmitted directly into your sound processor. Experience a night in front of the TV without the need for captions or turning the volume up to uncomfortable levels with others in the room.