Compare Nucleus® Sound Processors
Whether you choose a Cochlear Sound Processor that sits behind-the-ear or off-the-ear, you can be sure you're getting the technology you need to help ensure you always hear your best.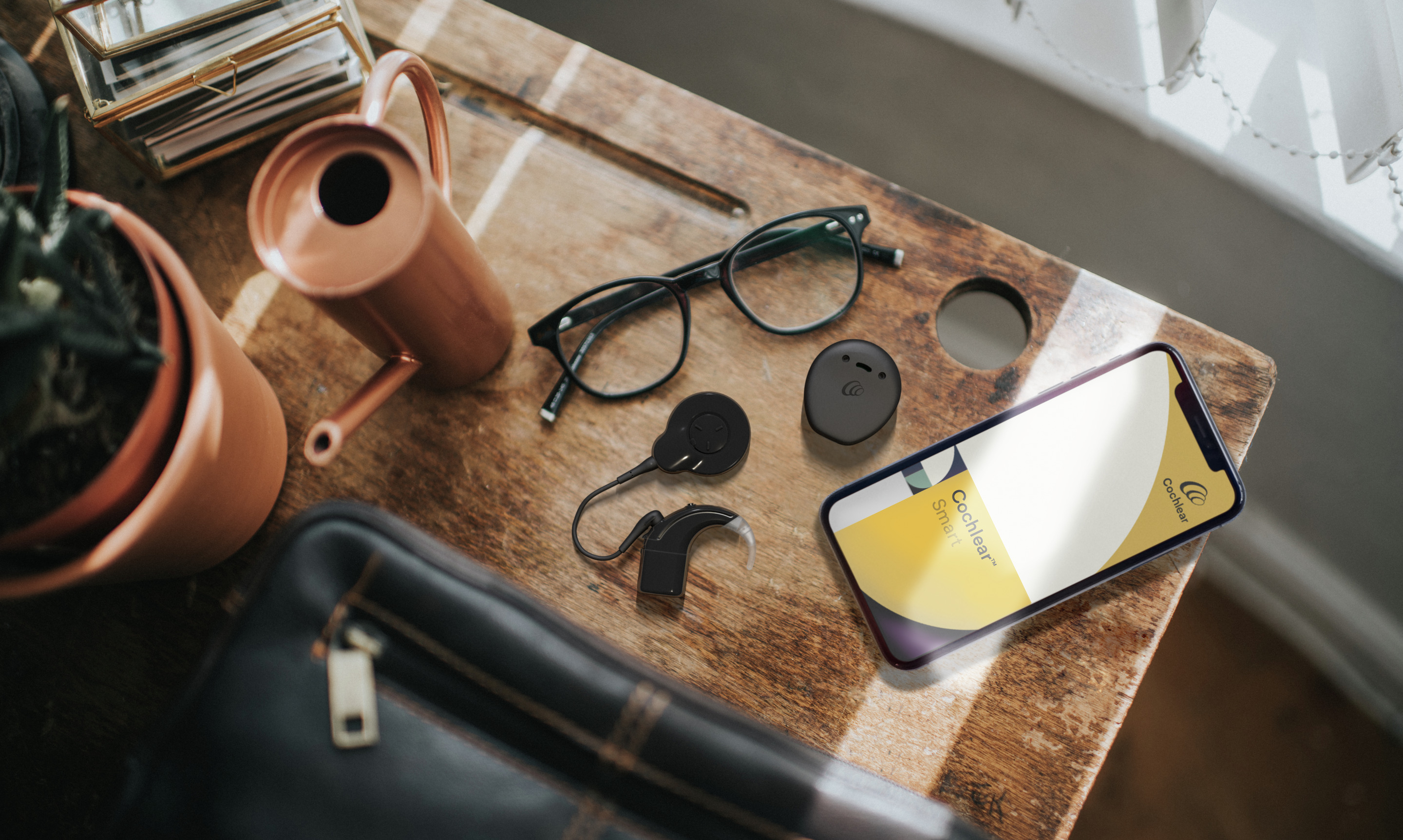 What you will find on this page
Understand the difference between behind-the-ear and off-the-ear sound processors
Get to know the different sound processors in the Nucleus® portfolio
With the Nucleus System, you can choose the way you want to hear with your sound processor options. These include the behind-the-ear Nucleus® 8 Sound Processor and the off-the-ear Kanso® 2 Sound Processor. Both are easy to use and feature advanced technologies to help you hear your best. Compare the processors below to see which is a better fit for your lifestyle.
Learn how they compare
Compare the features of our latest sound processors to help you choose the one that best suits you. We also recommend speaking with your Hearing Implant Specialist about the right Cochlear Sound Processor for your hearing needs and lifestyle.
Sound Processor type




Nucleus® 8 Sound Processor

Nucleus® Kanso® 2 Sound Processor

Behind-the-ear (BTE)



A BTE sound processor is worn on the ear and a small coil is held in place against the head with a magnet. The Cochlear Nucleus® 8 Sound Processor is our smallest, lightest and most advanced BTE sound processor.1,* It features SmartSound® iQ 2 with SCAN 2*** and improved ForwardFocus†. Ready for next-generation Bluetooth® LE Audio technology¥, it will be easy to bring sound to you – in more places and from more devices than ever before.2-4
Off-the-ear (OTE)



An OTE sound processor provides a comfortable, discreet hearing solution with similar hearing performance as a BTE sound processor. The Kanso

®

2 Sound Processor is worn off the ear as a single unit and features our SmartSound iQ, True Wireless™ Devices, rechargeable in-built battery, and coil into a single, easy-to-use unit without compromising hearing performance.

Technology

Hybrid™ Hearing



Designed to deliver a richer hearing experience, Hybrid™ Hearing^^ solutions can enhance your natural low-frequency hearing before or after surgery, while providing access to the sounds you're missing.
Sound processing technology


SmartSound® iQ 2 with SCAN 2***


SmartSound iQ with SCAN***
SmartSound iQ 2 is Cochlear's latest sound processing technology. Designed to optimise your hearing experience and focus on sounds that are most important to you, it works to filter out background noise and automatically adapts your listening settings.5-9 SCAN 2*** is Cochlear's industry leading automatic scene classifier - designed to detect the unique features of sound and use them to determine the listening environment. The Kanso 2 Sound Processor features our earlier generation SmartSound iQ with SCAN*** technology.
Background noise reduction technology


Improved ForwardFocus†


ForwardFocus†
Hear better in noisy listening environments with ForwardFocus† technology. Featured in the Kanso 2 Sound Processor, it reduces distracting noise coming from behind, so you can more easily enjoy face-to-face conversations. The Nucleus 8 Sound Processor features an improved and more powerful ForwardFocus† to further enhance the clarity of speech coming from in front of you.‡ It can be user-controlled or automated to help you focus on what's important in any situation.5
Nucleus Smart App

Adults have convenient control of their sound processor using the Nucleus Smart App.^ Developed exclusively for our latest range of sound processors, it is available for compatible Apple and Android™ devices. Parents may find the the Nucleus Smart App especially useful to manage their child's hearing.
mySmartSound™ technology

Fine tune your hearing settings to best suit your listening preferences. With mySmartSound technology, you can adjust bass, treble and master volume. This feature is clinician-enabled and can be accessed via the Nucleus Smart App.
Dual microphones

Understand speech more easily in noisy surroundings with the help of dual microphones, which work to reduce background noise.6
Remote Control

Manage your hearing in a discreet way using the Remote Control (CR310), which features a handy display screen for changing simple settings.
Apple and Android™ compatible

Stream your favourite entertainment directly to your sound processor. Using technology built into your sound processor, you can stream sound directly to your Nucleus 8 or Kanso 2 sound processor from a compatible Apple or Android device* - without the need for any accessories.
Bluetooth® compatible


Next-generation Bluetooth LE Audio


Bluetooth Low Energy
The Kanso 2 Sound Processor allows you to stream sound directly from any Bluetooth Low Energy compatible devices, such as mobile phones. The Nucleus 8 Sound Processor is ready for next-generation Bluetooth LE Audio connectivity.¥ You will be able to bring sound to you – from more places and more devices than ever before and connect directly to what's being broadcast at public venues such as airports, conference centres, sports clubs and gyms which support Bluetooth Auracast™.2-4
Telecoil

Optimised for room loops

Via the Cochlear Wireless Mini Microphone 2+

Connect to hearing loop systems for everyday convenience. A telecoil picks up electromagnetic signals and turns them into sound.
Compatible with Cochlear True Wireless™ devices

Stream clear audio directly to your sound processor using True Wireless™ Devices. Leave your phone in your pocket and enjoy clearer conversations with the Phone Clip and set your own personal volume and stream sound from your favourite movie straight to your sound processor using the TV Streamer. And whether you're in class, at an office meeting or on the sporting field, the Mini Microphone 2+ transmits sound to your sound processor to make listening easier.
Bimodal/Bilateral streaming

Cochlear sound processors can be worn with any hearing aid, so no matter what hearing aid you're using, you'll get the benefits of hearing with both ears. If you have a Nucleus 8 or Kanso 2 Sound Processor and a compatible ReSound hearing aid#, you can take advantage of our smart bimodal solution which enables you to stream directly to both ears from a compatible Apple or Android device.
FM connectivity

Having options for better hearing in school is important for academic success and social development. Being able to connect to FM systems can be important for children, especially at school. The Mini Microphone 2+ is an affordable and portable alternative to FM systems and can be used in and out of the classroom.
Auto-On

The Nucleus 8 Sound Processor turns on automatically when you connect a battery. The Kanso 2 Sound Processor turns on automatically when you place it on your head for convenient, button-free control.

Features

Size
Smallest BTE sound processor

Smallest OTE sound processor
The Nucleus 8 Sound Processor is the world's smallest behind-the-ear sound processor and the Kanso 2 Sound Processor is the smallest off-the-ear sound processor available.1
Weight
Lightest BTE sound processor

Lightest rechargable OTE sound processor

Designed for comfort, the Nucleus 8 Sound Processor is the world's lightest BTE processor and the Kanso 2 Sound Processor is the lightest rechargeable off-the-ear sound processor available.1
Colour range
6 colour options
5 colour options
A range of colours are available, based on preference and lifestyle. The Nucleus 8 Sound Processor is available in silver, black, brown, grey, white and sand. The Kanso 2 Sound Processor is available in black, chocolate brown, sandy blonde, silver and slate grey.
Water and dust resistance ratings


Water and dust resistant (IP68)


Water and dust resistant (IP68)
The Nucleus 8 Sound Processor and Kanso 2 Sound Processor are splash-proof and dust-proof, with the highest available water-resistance rating in a sound processor (IP68).9
Aqua+~

For added peace of mind, add the Aqua+, a soft, flexible silicone sleeve that fits over the sound processor. Whether you're in salty, fresh, soapy or chlorinated water, it offers enhanced protection so you can enjoy your favourite water-based activities.
P2i coating

P2i is a water-resistant nano coating which is designed to protect against the effects of corrosion from sweat, humidity and general water damage.
Simple interface


One button design


Button-free design
The Nucleus 8 Sound Processor has a one button interface for basic control functionality. The Kanso 2 Sound Processor has a unique button-free design.

Batteries

Disposable batteries


N/A
Disposable batteries typically last several days depending on a recipient's power usage needs. Battery life may vary by individual.
Rechargeable batteries


Compact and Power Extend options


Built-in rechargeable battery
The Nucleus 8 Sound Processor has compact and power extend battery modules. The Kanso 2 Sound Processor has a built-in rechargeable battery.
Battery Life±
Typical expected battery life of 20 hours with a Power Extend battery module**
Up to 18 hours
Cochlear sound processors are designed with efficiency in mind, to deliver long-lasting battery performance.
Rechargeable battery charger

The Nucleus 8 Sound Processor features an additional USB charging option, allowing you to charge from a PC, or in the car. The Kanso 2 Sound Processor uses a new all-in-one Home Charger that charges, stores and dries your device at the same time. A Portable Charger is also available.

For parents

Tamper-resistant battery

For added safety, Nucleus 8 Sound Processors have tamper-resistant battery modules and the Kanso 2 Sound Processor's battery is built into the sound processor unit. Helps prevent children from opening the battery cover.
LED status monitoring

An easy way to quickly and easily assess the status of your child's sound processor.
Monitor sound quality


Compatible with monitor earphones


Sound Check in the Nucleus Smart App
Enables parents and carers to check the sound quality of the input from a loved one's sound processor or accessories.

Wearing and retention options

Earhooks



Comfortably secures the sound processor to your ear.
Tamper-resistant earhook

Earhooks with additional tamper resistance.
Snugfit



Helps keep the sound processor securely in place, especially for active adults and children.
Hugfit™ feature



Helps keep the sound processor securely in place, especially designed for smaller ears.
Mic Lock



Helps keep the Nucleus 8 Sound Processor secured on the ear when used with an earmould or the earmould adaptor.
Koala Clip



Clip-on retention device for babies and younger children.
Safety cord

Provides additional security when taking part in activities where you risk losing your sound processor.
Hair clip



Clips onto the hair, reducing the risk of losing the sound processor.
Kanso Halo accessory



Clips onto the sound processor and is secured to the head with two Hair Clips, reducing the risk of losing the sound processor.
Earmould adaptor



Attaches to an earmould to help keep the sound processor securely in place.
Headworn adaptor



For temporary use only. Holds the sound processor and coil together in place on the side of the head.
Headband

Optional accessories that hold either a, Nucleus 8 or Kanso 2 Sound Processor in place. Useful for children and during physical activity.

Compatibility

Implant compatibility
Not compatible with Nucleus 22 implants
Not compatible with Nucleus 22 implants
References
Cochlear Limited. D1190805, Processor Size Comparison. May 2022. Hunn N. Introducing Bluetooth® LE Audio [Internet]. [cited 2022 Jan]. Available from: https://www.bluetooth.com/learn-about-bluetooth/recent-enhancements/le-audio/
Cochlear Limited. D1631375 Nucleus 8 Sound Processor Product Definition
A Technical Overview of LC3 [Internet]. Bluetooth® Technology Website. [cited 2022 Feb 28]. Available from: https://www.bluetooth.com/blog/a-technical-overview-of-lc3
Cochlear Limited. D1964109 Clinical Investigation Report CLTD5804 – Feb 2022
Mauger SJ, et al. Clinical outcomes with the Kanso off-the-ear cochlear implant sound processor. Int J Audiol. 2017, Apr; 56(4): 267-276. [Sponsored by Cochlear].
Mauger SJ, Warren C, Knight M, Goorevich M, Nel E. Clinical evaluation of the Nucleus 6 cochlear implant system: performance improvements with SmartSound iQ. International Journey Of Audiology. 2014, Aug; 53(8): 564-576. [Sponsored by Cochlear]
Wolfe J, Neumann S, Marsh M, Schafer E, Lianos L, Gilden J, O'Neill L, Arkis P, Menapace C, Nel E, Jones M. Benefits of Adaptive Signal Processing in a Commercially Available Cochlear Implant Sound Processor. Otol Neurotol. 2015 Aug;36(7):1181-90. [Sponsored by Cochlear]
Cochlear Limited. D1864200 SCAN-X Design Description. Apr 2022.
Cochlear Limited. D1980144 CP1110 IEC60529 IP68 Certificate & Test Report.
Cochlear Limited. D1671736, CP1150 IEC60529 Ingress Protection Test Report IP68