Cochlear™ Osia® System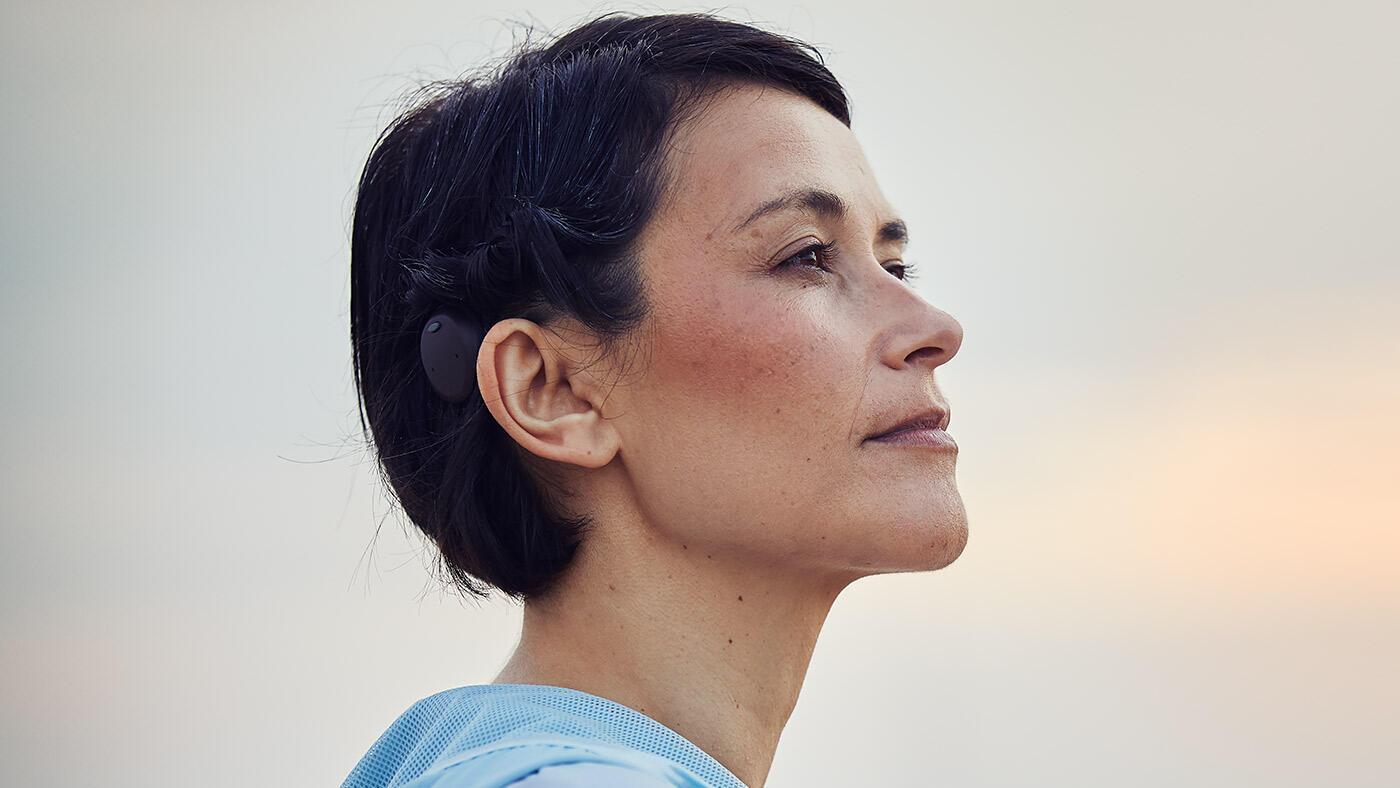 The Osia® System. A hearing implant reimagined.
The Cochlear™ Osia® System is the world's first and only active implantable bone conduction system that uses digital piezoelectric stimulation to bypass non-functional areas of the natural hearing system and send sound directly to the cochlea. It is designed to improve hearing outcomes for people with conductive hearing loss, mixed hearing loss and single-sided deafness (SSD).
The primary goal of the Cochlear Osia System is to provide more people access to better hearing through bone conduction. Only a few years after its introduction, the Osia System has already helped more than 10,000 patients and become the healthcare professionals' most chosen bone conduction implant system.*
Powered for performance by Piezo Power™
The OSI300 Implant is specifically designed to support access to MRI with no performance degradation after MRI exposure.1 Since there is no magnetic material in the transducer, there is nothing to be demagnetized as in an electromagnetic transducer.
High power, higher frequencies
The Osia System's design and the Piezo Power transducer's responsiveness at high frequencies help provide both high output power and high gain where it's needed most, with a fitting range of up to 55 dB HL. Helping patients understand speech, especially in noisy situations like restaurants, social events, or classrooms, is always our focus.
Easier access to MRI at 3.0 T
With piezoelectric technology and the next generation magnet for 3.0T MRI, patients can undergo an MRI at 1.5T and 3.0 T, without the need for surgery2 to remove the magnet or the use of a headwrap.
Slim. Discreet. Connected.
Featuring a sound processor that is slim, discreet and easy to use, with interchangeable color options, that allows your patients the choice to blend in or stand out.
Smart technologies provide direct to device control, streaming and accessibility to connect to a wide range of True Wireless™ devices, helping your patients feel closer to sounds and experiences.
*Based on Cochlear global sales data and estimated market share for the previous financial year.
References
Goh J. OSI200 Implant MRI Safety Verification Report. D1439962. Cochlear Bone Anchored Solutions AB, Sweden 2019
Ellsperman SE, Nairn EM, Stucken EZ. Review of Bone Conduction Hearing Devices. Audiol Res. 2021;11(2):207-219.