Cochlear True Wireless™ Accessories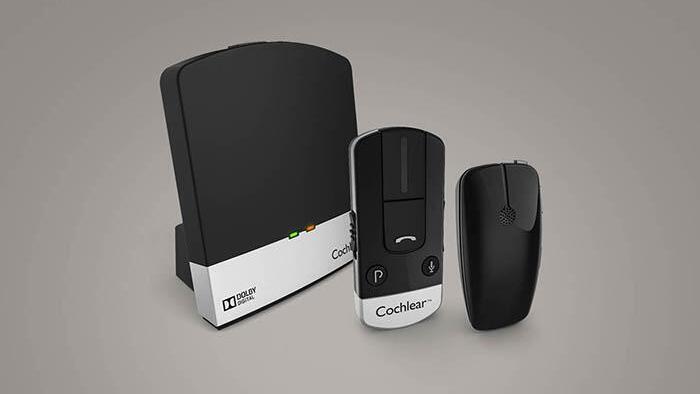 What you'll find on this page
True Wireless compatible devices
How True Wireless accessories can bring patients closer to sound in challenging situations
An easier way for patients to talk on the phone and listen to music or the TV
Cochlear offers optional accessories designed to help patients hear better in challenging situations. With True Wireless accessories, patients can stream sound directly to their sound processor(s) using built-in 2.4 GHz wireless protocol that Bluetooth® and Wi-Fi devices depend on.
The True Wireless accessories include the Mini Microphone 2+, the Phone Clip and the TV Streamer, and are all easy to pair and use. These accessories are compatible with the following Cochlear devices:
Cochlear™ Wireless Mini Microphone 2+
The Cochlear Wireless Mini Microphone 2+ is designed to give patients the freedom to hear more clearly no matter where they are. The Mini Microphone 2+ extends the hearing range well beyond the reach of any sound processor in a variety of situations.
The Mini Microphone 2+ optimizes signal-to-noise ratio in settings ranging from lecture halls to one-on-one conversations. The portable wireless clip-on microphone is used to transmit speech and sound directly to the sound processor.
Key features:
Omni-directional microphone for use in large groups
Up to 11 hours of talk time on a single battery charge
FM connectivity
Built-in telecoil
Ability to connect with other personal electronics via plug-in
Pairing button status indicators
Low battery light indicator
Download the Mini Microphone 2+ Datasheet
Cochlear™ Wireless Phone Clip
The Cochlear Phone Clip is a small, lightweight, wireless clip-on device that sends sound from a Bluetooth® enabled device directly to the patient's sound processor. The robust swivel clip makes it possible to securely attach the Phone Clip to clothes for optimal speech pickup. In addition, patients can:
Listen to music or videos from a smartphone or tablet
Listen to GPS navigation in the car
Use their smartphone's voice command
Compose text messages
Download the Phone Clip Datasheet
Cochlear™ Wireless TV Streamer
The Cochlear™ Wireless TV Streamer sends stereo sound from a TV or other audio device directly to the sound processor(s). With the TV Streamer, patients never have to choose between watching TV and taking part in a conversation as sound is balanced between the TV and their surroundings. This enables them to watch TV, take part in conversations and keep track of what's going on around them.
The TV Streamer isn't just for TVs. Patients can use it to connect to their computers, stereos and other audio devices. The 2.4 GHz wireless technology opens the door to some unique opportunities such as connecting up to three streamers to different audio devices or connecting one streamer to many users. For example, a whole group of Cochlear sound processor users could enjoy TV together using the same TV Streamer. Each individual enjoys strong and clear transmission of sound directly to their sound processors.