A smart bimodal hearing solution
Provide your patients the most discreet bimodal solution with life changing outcomes supported by clinical evidence.1-3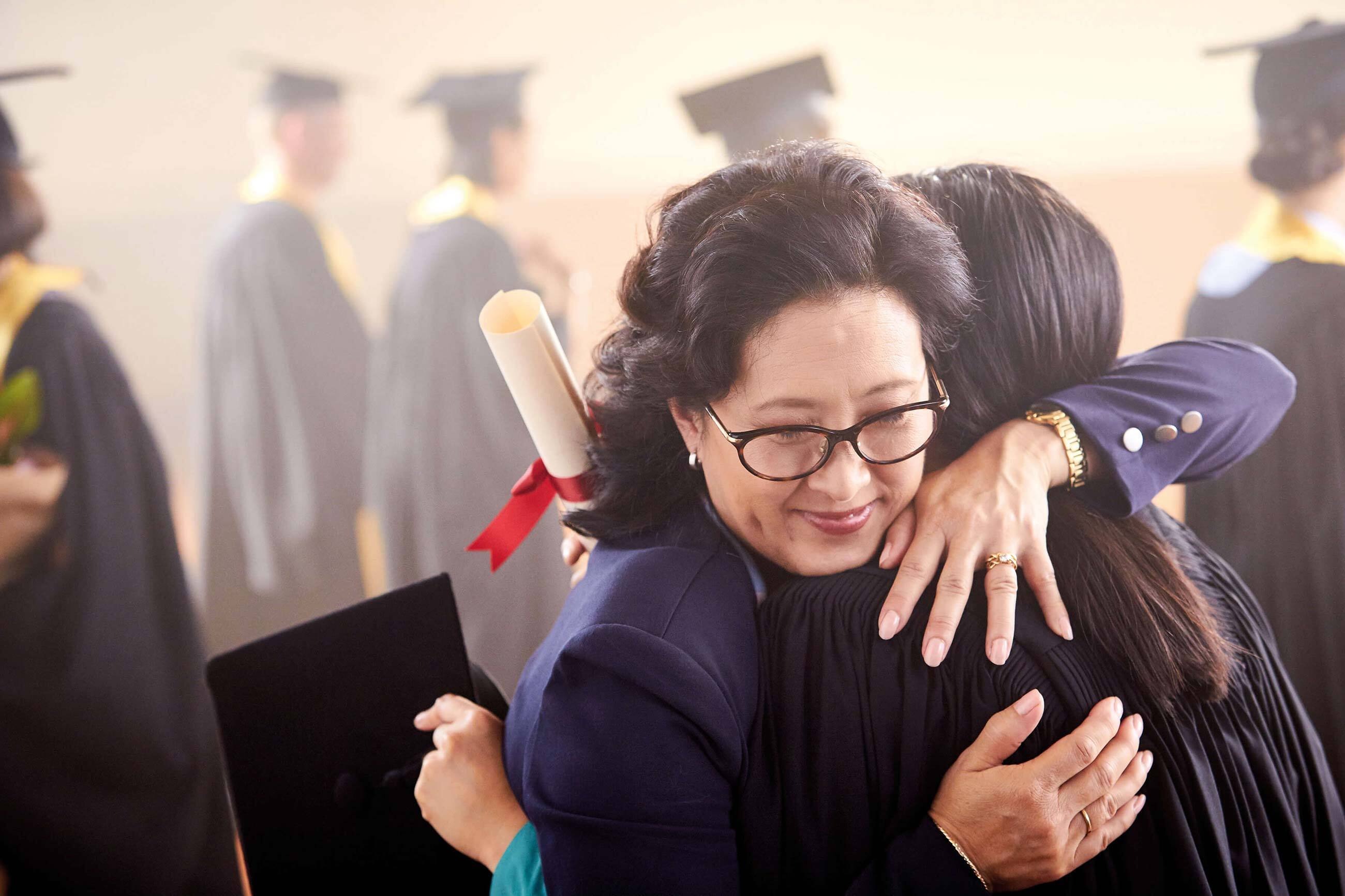 Two experts are better than one
Since 2011, Cochlear and ReSound have collaborated in the Smart Hearing Alliance to provide hearing solutions for people with all types of hearing loss. Whether the need is for hearing aids, hearing implants, or a combination of the two, our solutions work together seamlessly. Through the Smart Hearing Alliance, we are committed to improving bimodal hearing care in partnership with you. Our solutions are evidence-based and designed to help you effectively meet the changing needs of your patients over time.
In a recent study, 95% of people who were no longer benefiting from hearing aids were significantly more satisfied with their hearing performance when they switched to our smart bimodal hearing solution.4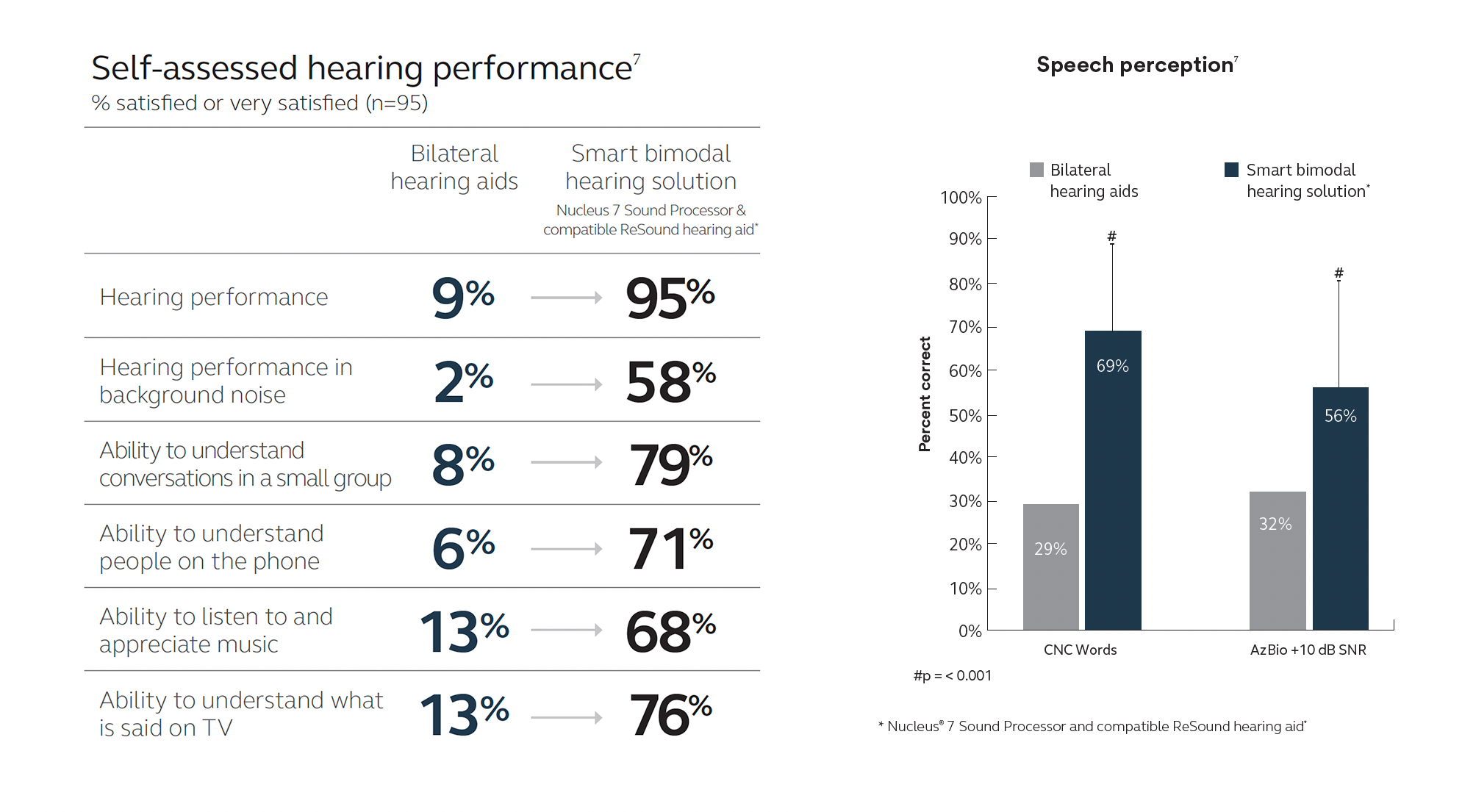 For patients seeking the most reliable, smallest, lightest bimodal solution with a wide fitting range, the Nucleus 8 Sound Processor and ReSound OMNIA™ deliver.2-6
Cochlear's Nucleus implants are the most reliable over 10, 20 and 30 years.7-10
Access to ReSound's latest technology with a wide fitting range available.2,5
Patient choice of hearing aid model and disposable or rechargeable batteries.
A smart bimodal solution without sacrificing choice of CI accessories designed to improve lifestyle and performance in everyday situations.2-6

The Smart Hearing Alliance also offers a smart bimodal hearing solution with bimodal direct streaming from compatible Apple® and Android™ devices.* Users of our smart bimodal hearing solution can stream phone calls, music and other audio direct from their mobile device to their compatible ReSound hearing aid and Cochlear Sound Processor, without an intermediary device.*
By selecting the Nucleus 8 Sound Processor equipped with next-generation Bluetooth® connectivity, our smart bimodal solution will make it easy for patients to simultaneously stream sound to both ears—in more places and from more devices than ever before.11-13~
Better hearing with both ears
Cochlear™ Nucleus® Sound Processors can be worn with any hearing aid, so no matter what hearing aid patients are using, they will get the benefits of hearing with both ears. Patients can discover more natural hearing,14 improved speech understanding15-18 and perception of music19 when they combine the benefits of a hearing aid in one ear and a cochlear implant in the other.
ReSound is a trademark of GN Hearing A/S.
Android, Google Play and the Google Play logo are trademarks of Google LLC.
Apple, the Apple logo, FaceTime, Made for iPad logo, Made for iPhone logo, Made for iPod logo, iPhone, iPad Pro, iPad Air, iPad mini, iPad and iPod touch are trademarks of Apple Inc., registered in the U.S. and other countries. App Store is a service mark of Apple Inc., registered in the U.S. and other countries.
The Bluetooth® word mark and logos are registered trademarks owned by Bluetooth SIG, Inc., and any use of such marks by Cochlear Limited is under license.
*For compatibility information and devices visit www.cochlear.com/compatibility and www.resound.com/compatibility
~When the technology becomes available for the Cochlear Nucleus 8 Sound Processor, a firmware update to your sound processor will allow you to connect to Bluetooth LE Audio compatible devices.
References
Lupo J, Biever A, Kelsall D. Comprehensive hearing aid assessment in adults with bilateral severe-profound sensorineural hearing loss who present for Cochlear implant evaluation. American Journal of Otolaryngology. 2020;41(2):102300.
GN ReSound. Data on File. 2023.
Cochlear. FUN4737 Bimodal Hearing Evidence Summary. Volume 1 JUN 2022.
Cochlear Limited 2022. D1998842. CP1110 Technical Specifications.
Phonak Naída™ Marvel 027-0571-02/V2.00/2019-11/cu. Sonova and affiliates; 2019. Available from https://www.phonakpro.com/content/dam/phonakpro/gc_hq/en/products_solutions/hearing_aid/naida_marvel/documents/product_information_naida_m-sp_027-0571.pdf
Naída CI M90 Sound Processor Data Sheet. 027-N237-02 Rev C. Advanced Bionics AG and affiliates; 2022. Available https://www.advancedbionics.com/content/dam/advancedbionics/Documents/libraries/marvel-ci-product-support/com-en/Naida-CI-M90-Sound-Processor-Data-Sheet.pdf
Cochlear Limited. D1932780 V1 2021-03. Cochlear™ Nucleus® Reliability Report Volume 20, December 2021.
Cochlear Implant Reliability| MED-EL [Internet]. Medel.com. 2022 [cited 21 February 2023]. Available from: https://www.medel.com/hearing-solutions/cochlear-implants/reliability.
Reliability Report December 2022. 028-Q048-02 Rev B. Advanced Bionics AG and affiliates.; 2022.
Oticon Medical Reliability Report 2022. In accordance with European and Global Consensus on Cochlear Implant Failures and Explantations, ANSI/AAMI CI86 Standard. 224811UK - version C / 2022.09.
Naída CI M90 Sound Processor Data Sheet. 027-N237-02 Rev C. Advanced Bionics AG and affiliates; 2022. Available https://www.advancedbionics.com/content/dam/advancedbionics/Documents/libraries/marvel-ci-product-support/com-en/Naida-CI-M90-Sound-Processor-Data-Sheet.pdf
Introducing Bluetooth® LE Audio, Nick Hunn January 2022 https://www bluetooth com/learn-about-bluetooth/recent-enhancements/le-audio/
Cochlear Limited D1631375 Nucleus 8 Sound Processor Product Definition
Holden LK, Finley CC, Firszt JB, Holden TA, Brenner C, Potts LG, et al Factors affecting open-set word recognition in adults with cochlear implants Ear Hear 2013 May-Jun;34(3):342-60
Esquia (2013): Esquia Medina, GN , Borel, S , Nguyen, Y , Ambert-Dahan, E , Ferrary, E , Sterkers, O , Bozorg Grayeli, A Is Electrode-Modiolus Distance a Prognostic Factor for Hearing Performances after Cochlear Implant Surgery Audiol Neurotol 2013;18:406–413 DOI: 10 1159/000354115
Van der Beek (2005): van der Beek, FB , Boermans, PP , Verbist, BM , Briaire, JJ , Frijns, JH Clinical evaluation of the Clarion CII HiFocus 1 with and without positioner Ear and Hearing 2005 Dec; 26(6):577-92.
Dowell, R Evidence about the effectiveness of cochlear implants for adults Evidence based practice in audiology : evaluating interventions for children and adults with hearing impairment Plural Publishing 141-166 2012.
Cohen L, Richardson L, Saunders E, Cowan R Spatial spread of neural excitation in cochlear implant recipients: comparison of improved ECAP method and psychophysical forward masking Hearing Research 179 (2003); 72-87.
Sucher CM, McDermott HJ Bimodal stimulation: benefits for music perception and sound quality Cochlear Implants International (2009 Jan); 1;10(S1):96-9