Smart Bimodal Solutions
When hearing aids alone are no longer enough.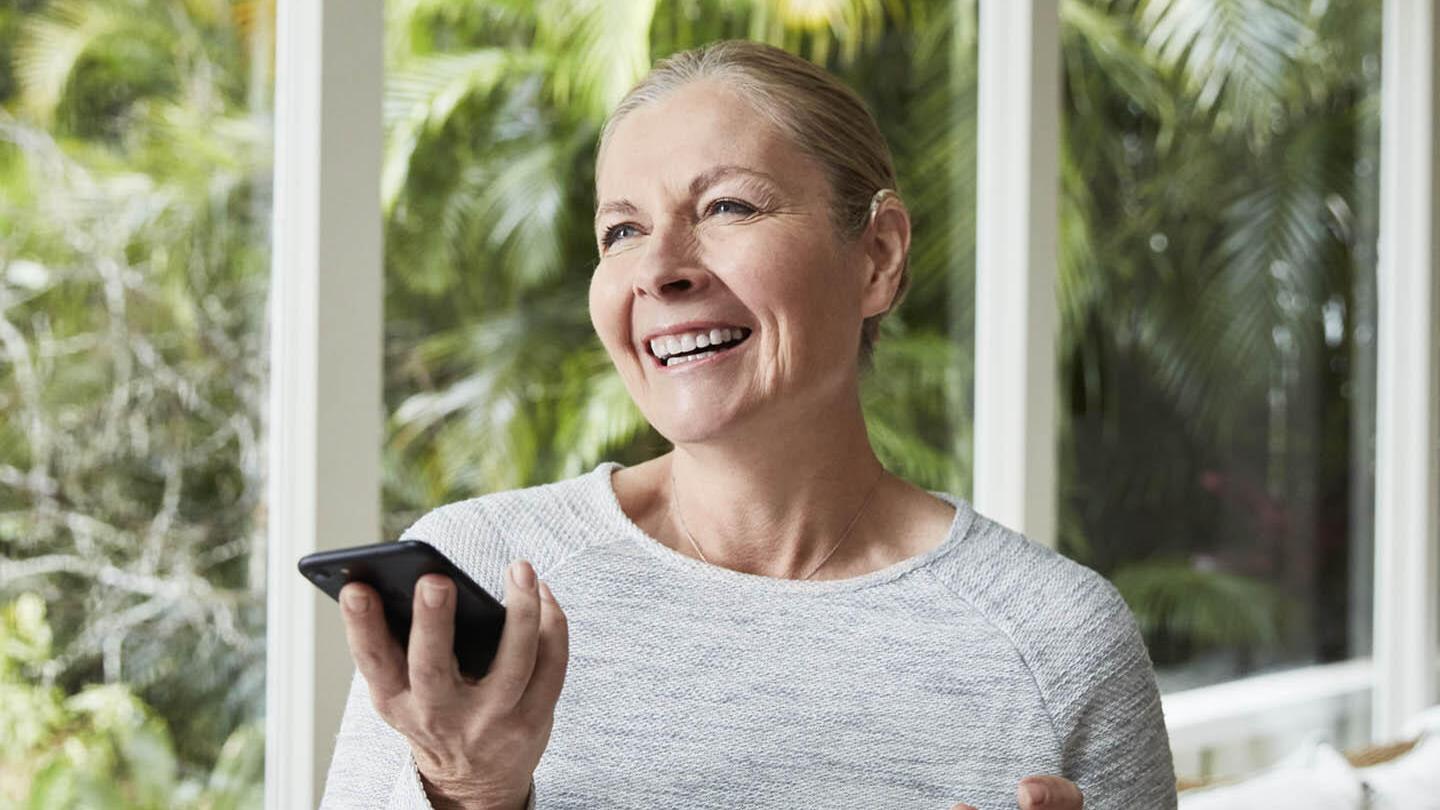 Help your patients hear their best in both ears - with Smart Bimodal Solutions.
Adult patients who choose cochlear implantation may wish to retain use of a hearing aid in one ear. Patients who are candidates for a cochlear implant in both ears may also elect to pursue bilateral cochlear implantation.
For your adult patients who wish to be bimodal (hearing aid in one ear, cochlear implant in the other) and who wish to enjoy a premium level of both Made for iPhone and True WirelessTM connectivity, Cochlear is pleased to introduce the Nucleus® 7 Bimodal Solution.
With Bimodal Hearing, the hearing aid and cochlear implant work as a team.
In a bimodal hearing solution, a hearing aid and a cochlear implant system work together to provide your patients with a richer and more natural hearing experience.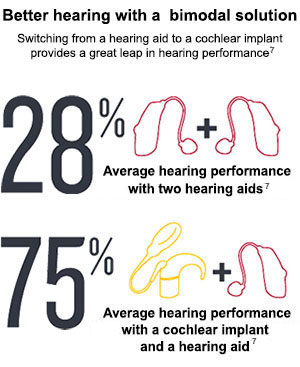 A bimodal hearing system can provide many benefits:
Greater clarity and improved speech understanding, especially in noise2
Better determination of where sounds are coming from3
Easier to hear sounds and understand speech2,3,4
Better sound appreciation so your patients can enjoy their favorite music5
These combined benefits help to build your patients' speech and language understanding and are particularly beneficial for children's learning and development.6
Cochlear™ Nucleus® Implant Systems work with any hearing aid to deliver these life-changing benefits of bimodal hearing.
Introducing the world's only smart bimodal hearing solution that's Made for iPhone.
For the first time, if your patients have a Cochlear™ Nucleus® 7 Sound Processor and a compatible ReSound hearing aid, they can stream sound directly to both ears at once from a compatible Apple® device.*
With this unique smart bimodal hearing solution, Nucleus 7 recipients can use an iPhone® or iPod® to:
Connect with others on the phone
Rediscover the joy of music
Easily control their device settings
Find a lost sound processor functionality
The world's only smart bimodal hearing solution
The Nucleus 7 Sound Processor and compatible ReSound hearing aid** are designed to work together seamlessly to deliver a premium bimodal hearing experience. Recipients can manage their hearing experience with both devices conveniently from their iPhone®.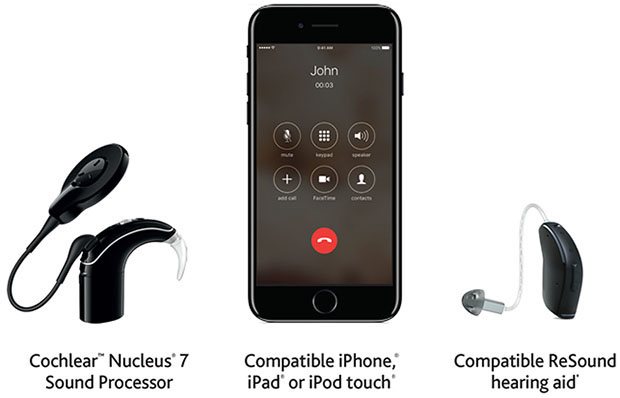 From an iPhone® to both ears: Clarity, control and confidence
Connect with others on the phone again
With better sound quality and clarity in both ears, phone conversations will feel more effortless and natural—words, sighs and giggles streamed to both ears.8
Rediscover the joy of music
With Cochlear's bimodal solution, recipients can simultaneously stream all the sounds that make their heart sing from a compatible Apple® device to both ears like never before. From a symphony to a favorite ballad your patients can enjoy all the music they love with greater clarity and richness.9
Control hearing at the touch of an iPhone®
Thanks to Made for iPhone® technology, there's now a new way to adjust the settings on both a Nucleus 7 sound processor and a ReSound compatible hearing aid. No need for any additional equipment - simply use a compatible Apple® device to take control any time, any place.
Experience True Wireless™ freedom
When not using the Made for iPhone connectivity to stream phone calls, music, etc. directly from a smartphone, your patients can still enjoy True Wireless™ freedom to help them hear better in noise. Cochlear's True Wireless accessories simultaneously send sound directly to a Nucleus 7 Sound Processor and a compatible ReSound hearing aid so recipients can take their bimodal hearing experience to the highest level.
Cochlear True Wireless accessories are also compatible with our off-the-ear Kanso® Sound Processor, so no matter what the individual's wearing preference is, they can enjoy sound sent directly to their sound processor.
Learn more about Cochlear True Wireless
See How Smart Bimodal Solutions Have Enhanced Chad's Life
Download the Nucleus 6 Fitting Flow Guide