Nucleus® smartphone compatibility
You can connect with the people you love and the world around.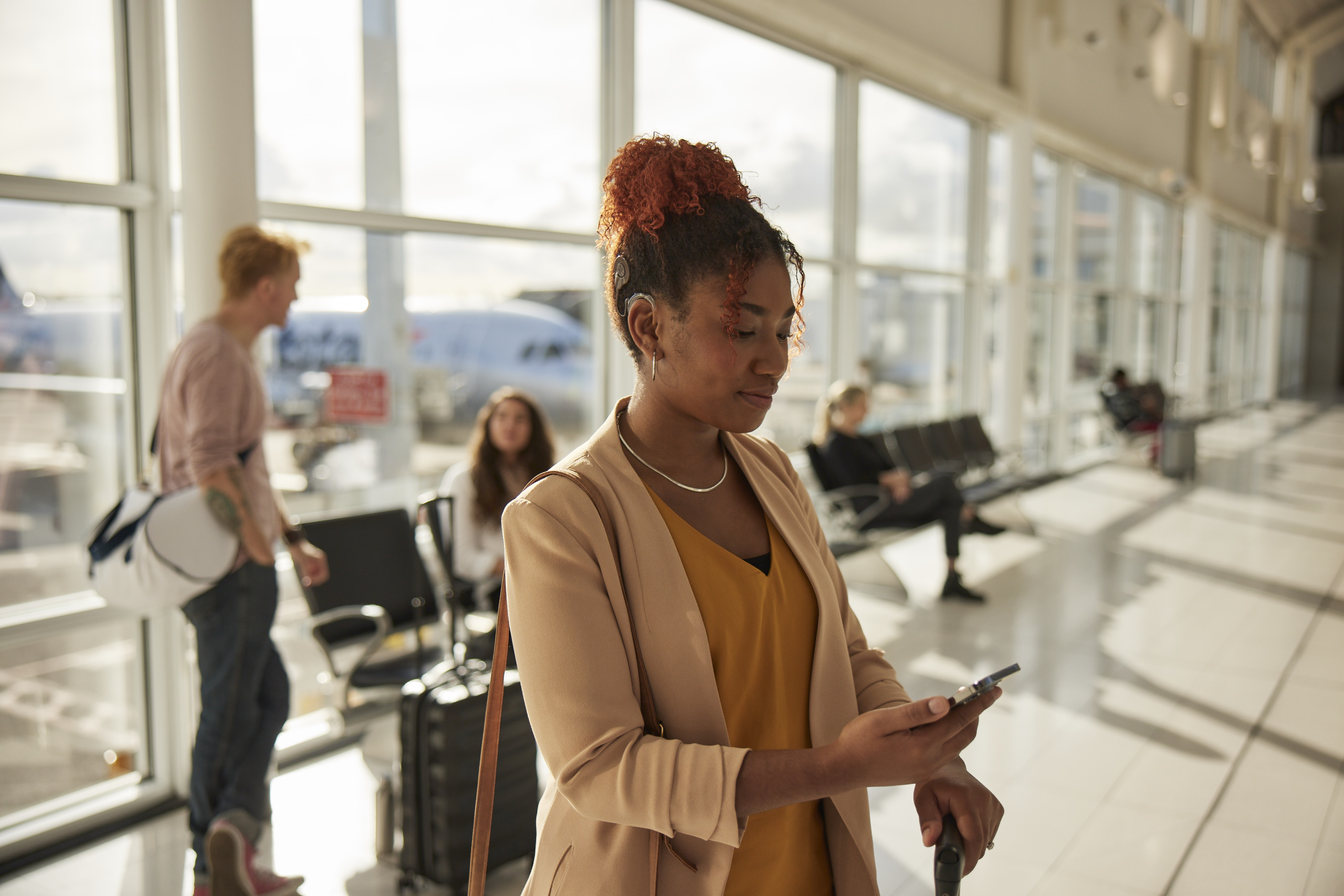 What you'll find on this page
The benefits of direct smartphone connectivity
Features of the Nucleus® Smart App
The benefits of Remote Care
Discover new ways to connect with your world
The Cochlear™ Nucleus® Sound Processors feature built-in technology that lets you stream sound directly to your sound processor. Compatible with Apple or Android™ devices,* means that you can stream your favorite movies, TV shows, music and more without sacrificing size, comfort or battery life.
Ready for next-generation Bluetooth® LE Audio technology, the Nucleus® 8 Sound Processor will make it easier to bring sound to you, in more places than ever before. (1-3) You will be able to connect directly to what is being broadcasted at public events, theaters, airports, and anywhere Bluetooth Auracast™ is supported.
What if I don't have a smartphone?
If you don't use a smartphone, you can easily stream phone calls, music and more directly to your Nucleus Sound Processor by using the True Wireless™ Phone Clip—which clips onto your clothing, no cords or strings attached.
"The Nucleus Smart App is amazing because I can monitor my son's battery life, start streaming from his wireless accessories like the Mini Mic and we can find his lost sound processor if he loses it in the park. I love it, it's great!"

- Candesia F. - Mother of Nucleus recipient
Convenient control with the Nucleus Smart App
Personalize your hearing experience in everyday moments with the Nucleus Smart App. Using a compatible smart device,* fine tune your program settings to hear better in noisy situations, set daily goals for listening to speech and use the Hearing Tracker to check how long you spend in different environments.
For added peace of mind, use the Find My Processor feature to locate a misplaced sound processor, or set up notifications to alert you if the coil has come off the magnet.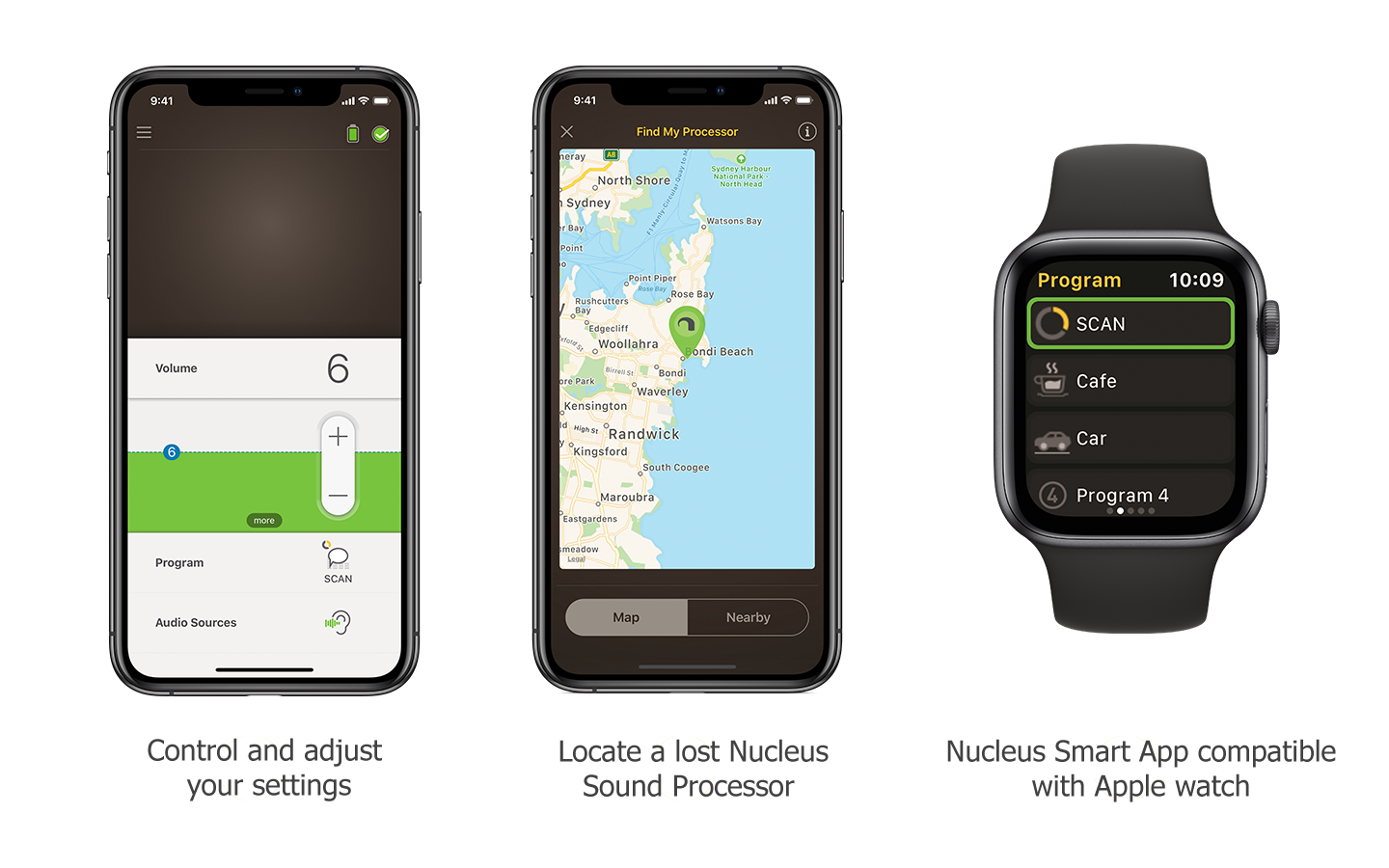 Connect and adjust your sound processor settings
Locate a misplaced sound processor
Nucleus Smart App compatible with Apple Watch
See how the Nucleus Smart App works
Try out some of the features by tapping or clicking the highlighted buttons in the interactive demo.


Cochlear Nucleus smart connectivity
Learn more about connectivity and the ability to control your sound processor directly from a compatible smartphone.
Peace of mind with Find My Processor and Hearing Tracker
We all misplace things or forget where we put them. With the Nucleus Smart App, you can locate a lost Nucleus Sound Processor using the GPS functionality that tells you the last location the sound processor had contact with your compatible smartphone.
Another feature on the Nucleus Smart App is the Hearing Tracker. This feature provides you with direct access to important information such as time when the coil is off and the time in speech. For parents, this helps measure that your loved one is hearing, especially when you are not with them.
The Hearing Tracker information along with the built-in data logging functionality of the sound processor helps your audiologist troubleshoot and make adjustments.
Quality care, anywhere
Keeping your hearing at its best is a priority so it is reassuring to know that there is easy access to care. Connect with your clinician when it is convenient for you, without a visit to the clinic. Once your clinician enrolls you in Remote Care**, you can use Cochlear Remote Check to complete a hearing review, or use Cochlear Remote Assist to have a video appointment from anywhere.
Ask your clinician about Remote Care.
The Cochlear Nucleus 8 Sound Processor is compatible with iPhone, iPad and iPod touch. Apple, the Apple logo, FaceTime, Made for iPad logo, Made for iPhone logo, Made for iPod logo, iPhone, iPad Pro, iPad Air, iPad mini, iPad and iPod touch are trademarks of Apple Inc., registered in the U.S. and other countries.
App Store is a service mark of Apple Inc., registered in the U.S. and other countries.
Android is a trademark of Google LLC. The Android robot is reproduced or modified from work created and shared by Google and used according to terms described in the Creative Commons 3.0 Attribution License. Google Play and the Google Play logo are trademarks of Google LLC.
*For information regarding the compatibility of Cochlear's Sound Processors with Apple or Android devices, and True Wireless Devices, visit: www.cochlear.com/compatibility
**For information regarding the sound processors, implants, operating systems and devices that are compatible with Cochlear's Remote Care services, visit www.cochlear.com/compatibility
References
Hunn N. Introducing Bluetooth® LE Audio [Internet]. [cited 2022 Jan]. Available from: https://www.bluetooth.com/learn-about-bluetooth/recent-enhancements/le-audio/
Cochlear Limited. D1631375 Nucleus 8 Sound Processor Product Definition
A Technical Overview of LC3 [Internet]. Bluetooth® Technology Website. [cited 2022 Feb 28]. Available from: https://www.bluetooth.com/blog/a-technical-overview-of-lc3