Training support
Whether you want to learn something new or build your current expertise as a cochlear implant professional, Cochlear can support you with education and training.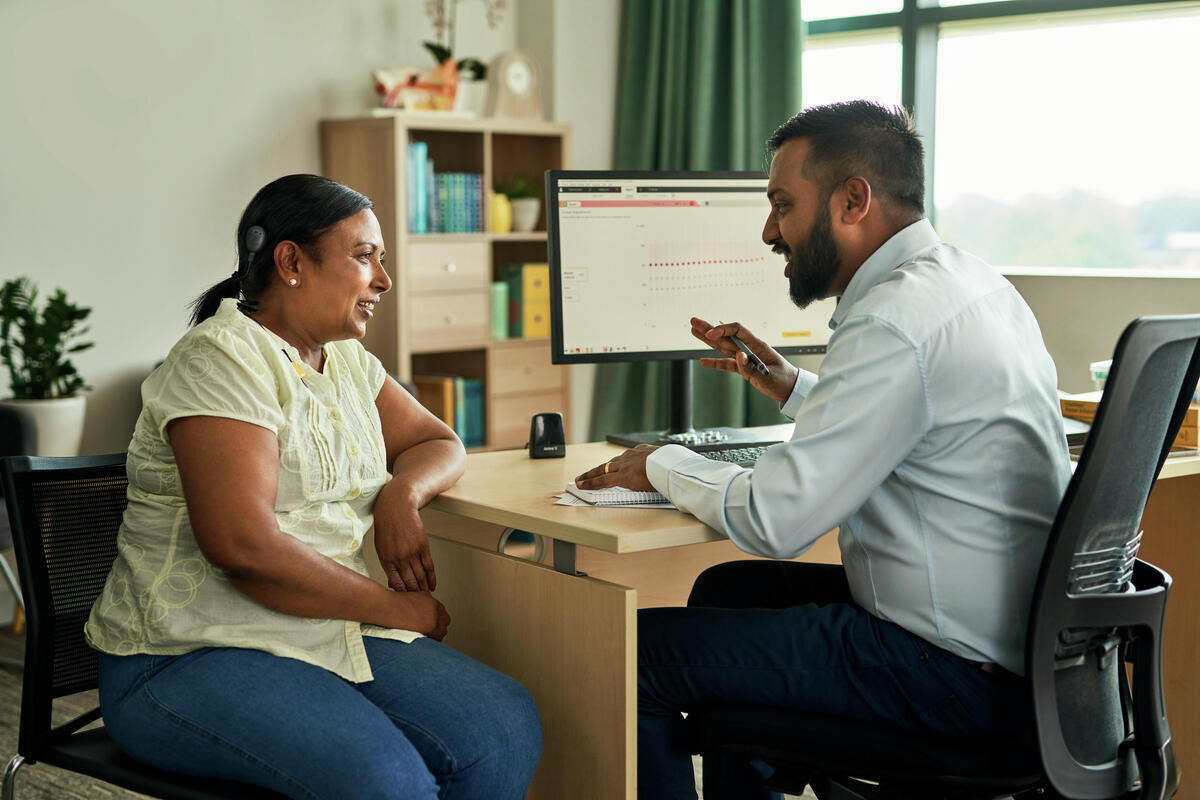 We have designed Cochlear's professional education programs to help you develop or enhance the skills you need to work with implantable hearing technology.
Our live education webinars are endorsed with Audiology Australia, Hearing Aid Audiology Society of Australia and Australian College of Audiology.
Live webinar times:
9am - WA
10:30am - NT
11am - QLD
11.30am - SA
12pm - NSW/ACT/VIC/TAS
2pm - New Zealand
Cochlear education webinars - May 2022
Using the 60/60 Referral Guidelines for Adult Cochlear Implantation

MON 9th May

This webinar aims to equip you with a new 60/60 screening tool for referring adults for a cochlear implant candidacy assessment. This tool is based on robust research that will help you confidently refer your clients for a full cochlear implant evaluation.

AudAus CPD2122 046 - Cat 1.2 - 1 Point
AcAud 202112
HAASA CPED 2021-2023 (2021-006)

Learning About Cochlear Implant Surgery

WED 11th May

This webinar provides an overview of the Nucleus Cochlear implant portfolio and explains standard surgical steps for healthcare professionals who are not familiar with Cochlear implants, and would like to learn about the surgery to better facilitate counselling.

AudAus CPD2122 002 - Cat 1.2 - 1 Point
AcAud 202119
HAASA CPED 2021-2023 (2021-014)

Cochlear Implant Candidacy Evaluation: What's Involved For My Client?

MON 16th May

Explore the journey of a patient from referral for candidacy assessment to potential implantation. This webinar will describe the overall cochlear implant evaluation process and common testing protocols, and bust myths that can impede successful referral

AudAus CPD2122 014 - Cat 1.2 - 1 Point
AcAud 202113
HAASA CPED 2021-2023 (2021-005)

Hear the Other Side - Cochlear Implantable Solutions for Single Sided Deafness (SSD)

WED 23rd May

This webinar will give you an overview of the impact of Single Sided Deafness (SSD), common treatment options as well as outcomes of cochlear implantation for those with SSD.

AudAus CPD2122 015 - Cat 1.2 - 1 Point
AcAud 202109
HAASA CPED 2021-2023 (2021-009)

Leading the Way: Cochlear Sound Processors and Processing

FRI 27th May

Learn about the features and benefits of cochlear sound processors and how they benefit those living with severe to profound hearing loss, featuring the Nucleus® 7 and Kanso® 2 Sound Processor

AudAus CPD2122 045 - Cat 1.2 - 1 Point
AcAud 202129
HAASA CPED 2021-2023(2021-007)

The Cochlear Implant Journey: A Recipient's Perspective

THU 26th May

This webinar will address the importance of the emotional side of a patient's cochlear implant journey. Hear from a cochlear implant recipient and learn how to proactively counsel to patient need.

AudAus CPD2122 010 - Cat 1.2 - 1 Point
AcAud 202114
HAASA CPED 2021-2023 (2021-013)
Cochlear education webinars - June 2022
Cochlear Implant and Baha Referring 101 A Look at Case Studies and Common Barriers to Implantation

WED 1st June

Take an in-depth look at referring for cochlear implantation and bone conduction devices through case studies commonly seen in the clinic. Hear from Cochlear's Engagement Team about how their service can assist you and your clients.

AudAus CPD2122 003 - Cat 1.2 - 1 Point
AcAud 202111
HAASA CPED 2021-2023 (2021-c012)

Cochlear Implant Candidacy evaluation: what's involved for my client?

WED 8th June

Explore the journey of a patient from referral for candidacy assessment to potential implantation. This webinar will describe the overall cochlear implant evaluation process and common testing protocols and bust myths that can impede successful referral.

AudAus CPD2122 014 - Cat 1.2 - 1 Point
AcAud 202113
HAASA CPED 2021-2023 (2021-005)

Leading the Way: Cochlear Sound Processors and Processing

FRI 10th June

Learn about the features and benefits of cochlear sound processors and how they benefit those living with severe to profound hearing loss, featuring the Nucleus® 7 and Kanso® 2 Sound Processor.

AudAus CPD2122 045 - Cat 1.2 - 1 Point
AcAud 202129
HAASA CPED 2021-2023 (2021-007)

Using the 60/60 Referral Guidelines for Adult Cochlear Implantation

MON 20th June

This webinar aims to equip you with a new 60/60 screening tool for referring adults for a cochlear implant candidacy assessment. This tool is based on robust research that will help you confidently refer your clients for a full cochlear implant evaluation.

AudAus CPD2122 046 - Cat 1.2 - 1 Point
AcAud 202112
HAASA CPED 2021-2023 (2021-006)

Getting into the Swing of Baha

THU 23rd June

Join us for an information session to explore our surgical and non surgical Cochlear™ Baha® options. Learn about the range of bone conduction sound processors and discuss who may benefit from a Cochlear Baha system. Introducing the NEW Baha 6 Max Sound Processor.

AudAus CPD2122 009 - Cat 1.2 - 1 Point
AcAud 202116
HAASA CPED 2021-2023 (2021-015)

Masterclass -What's in the Cochlear Toolkit: Resources for Auditory Rehabilitation

WED 29th June

This special masterclass is suitable for any professional working with those affected by hearing loss who want to learn more about Cochlear's rehabilitation resources and guides for Cochlear™ implant and Baha® bone conduction implant recipients.

AudAus CPD2122 069 - Cat 1.2 - 1 Point
AcAud 202115
HAASA CPED 2021-2023 (2021-29)