Nucleus® smart sound processing technology
Whether you're in a restaurant, classroom or office, our latest Nucleus sound processors are designed to help you hear your best.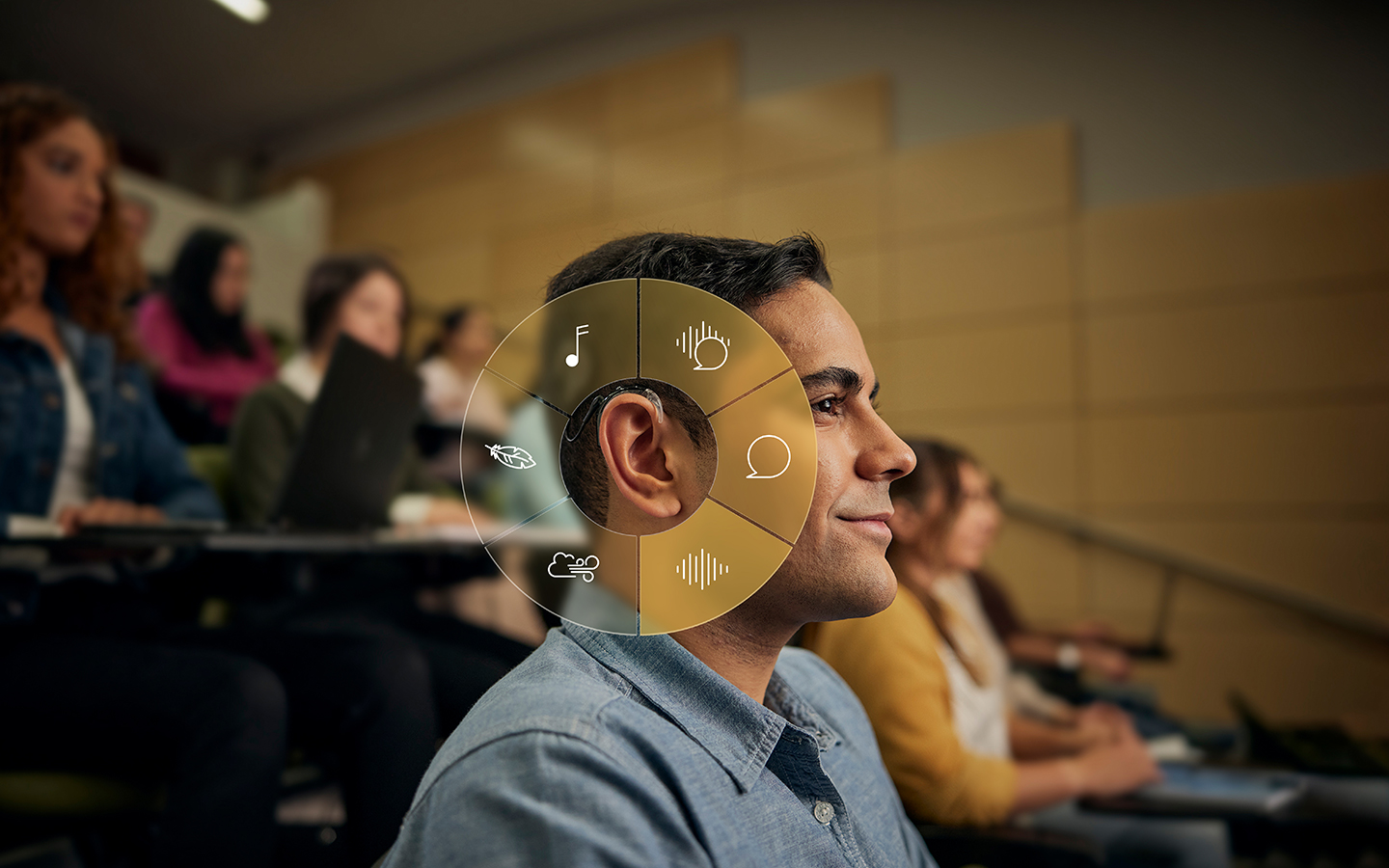 What you'll find on this page
How our hearing technology adapts to your listening environment.
Hear speech more clearly in noise with ForwardFocus technology.
Experience your best hearing
Inspired by connecting you with your world, we're driven to innovate and deliver hearing technology to help you hear your best, no matter where you are or where the day takes you.
Our sound processors feature technology that's designed to help you hear conversations clearly, particularly in noise. Whether you're walking in the park on a windy day, sitting in a work meeting or classroom, or chatting to friends in a noisy cafe, our advanced hearing technology automatically adjusts to give you the best possible listening settings.1-4
Our latest behind-the-ear sound processor, the Nucleus 8, features enhanced SmartSound IQ 2 with SCAN 2 technology* that senses changes in your listening environment and automatically adjusts to deliver clear sound.1-3
Focus on what's important
Feel part of every conversation and immerse yourself in each moment. With ForwardFocus†, our latest sound processors reduce unwanted noise from behind you, so you can hear face-to-face conversations more clearly.
Featuring enhanced ForwardFocus, the Nucleus® 8 Sound Processor is designed to more powerfully reduce background noise and can be user controlled or automated to help you focus on what's important in any situation.5,#
† ForwardFocus is a clinician-enabled feature that can be user-controlled or automated.
* Compared to Nucleus 6 and Nucleus 7 sound processors.
# Compared to Nucleus® 7 Sound Processor with ForwardFocus on.
For information regarding the compatibility of Cochlear's Sound Processors with Apple or Android devices, visit www.cochlear.com/compatibility
Android is a trademark of Google LLC.
References
Mauger SJ, et al. Clinical outcomes with the Kanso off-the-ear cochlear implant sound processor. Int J Audiol. (2017 Apr); 56(4): 267-276. [Sponsored by Cochlear].
Mauger SJ, et al. Clinical evaluation of the Nucleus 6 cochlear implant system: performance improvements with SmartSound iQ. Int J Audiol. (2014 Aug); 53(8): 564-576. [Sponsored by Cochlear]
Wolfe J, et al. Benefits of Adaptive Signal Processing in a Commercially Available Cochlear Implant Sound Processor. Otol Neurotol. (2015 Aug);36(7):1181-90.
Cochlear Limited D1864200 SCAN-X Design Description.
Cochlear Limited. D1964109 Clinical Investigation Report CLTD5804 (2022 Feb).