Surgical Care
Surgical Care solutions help enhance patient outcomes through actionable intraoperative insights that optimize device placement.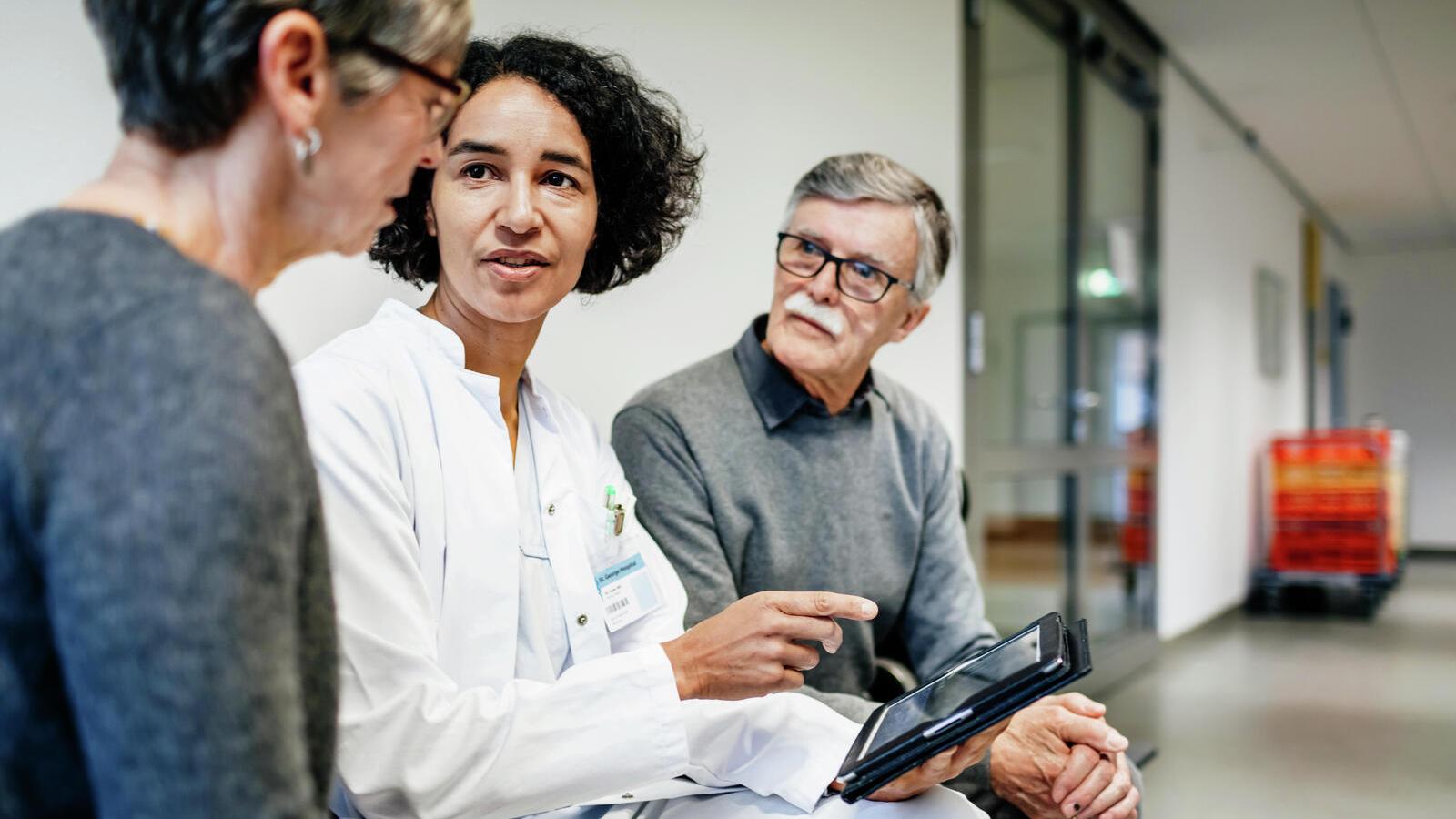 What you will find on this page
How Cochlear's intraoperative tools can optimize your surgical outcomes

The Nucleus® SmartNav System
Optimizing surgical care
Cochlear Surgical Care is part of our Connected Care portfolio, which transforms how people connect with care across different care settings – from the surgical suite to the clinic, and into a patient's everyday life.
Our Surgical Care solutions are designed to enhance patient outcomes through intraoperative tools and insights. With increased confidence in device placement, surgical outcomes and postoperative clinical performance may also be optimized.
The Nucleus® SmartNav System
The award-winning Nucleus SmartNav System provides wireless, real-time, actionable insights to support navigation during cochlear implant surgery, delivering added assurance that surgery was successful, and the electrode was properly placed.1
This iPad-based solution and off-the-ear surgical processor provide an intuitive workflow to help you in surgery, giving you real-time feedback for in operating room decision-making around angular depth and speed of insertion.2-7
Wireless connectivity, automated implant registration, and intuitive design deliver a more seamless workflow in the operating room.8
Data can then be directly imported into Custom Sound® Pro fitting software to support MAP creation.9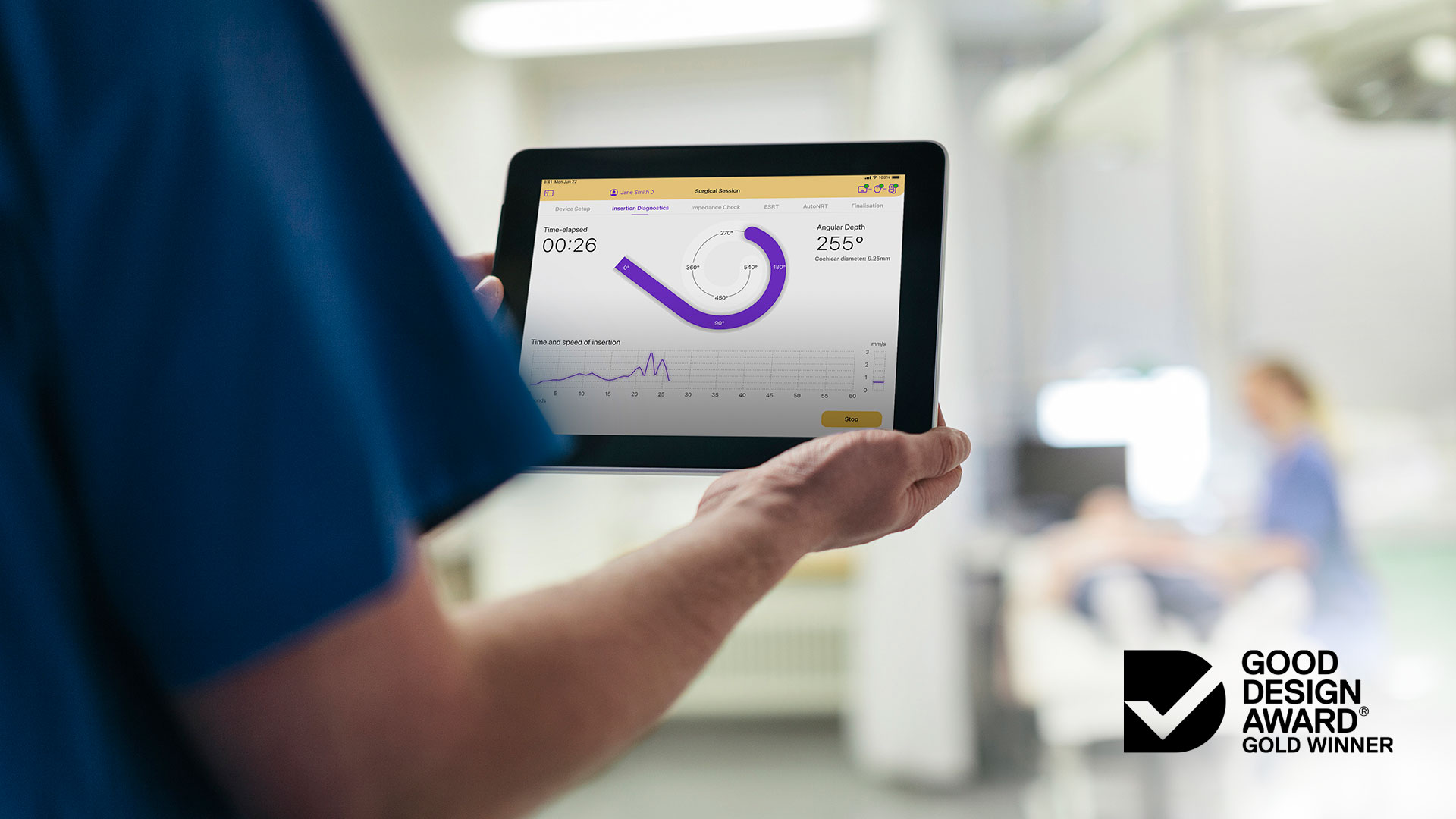 Nucleus SmartNav intraoperative metrics:
Placement Check – provides valuable information on final electrode placement and is designed to reduce the need for intraoperative imaging post electrode insertion.7,8
Angular insertion depth – provides real-time measurement of angular insertion depth and final electrode position.*,5-6
Speed of insertion – provides feedback on speed and consistency of the electrode insertion.2-4
Impedance – provides assurance that the device is operating as intended, prior to leaving the operating room.1,10
Advanced and AutoNRT® measurements – Nucleus SmartNav includes the option to use Advanced NRT for obtaining neural response telemetry thresholds, providing flexibility in settings for optimal measurement.8,10
Electrical Stapedius Reflex Threshold (eSRT) – confirms nerve response to electrical stimulation in order to establish stimulation thresholds.8,10

Find out more about the Nucleus® SmartNav system
The Nucleus® SmartNav system
1.2MB | PDF
Download now
*The angular insertion depth function is disabled when the Nucleus SmartNav System is used with a perimodiolar electrode.
References
Page JC, Cox MD, Hollowoa B, Bonilla-Velez J, Trinidade A, Dornhoffer JL. Trends in Intraoperative Testing During Cochlear Implantation. Otol Neurotol. (2018 Mar); 39(3):294-298.
Kontorinis G, Lenarz T, Stöver T, Paasche G. Impact of the insertion speed of cochlear implant electrodes on the insertion forces. Otol Neurotol. (2011 Jun); 32(4):565-70.
Rajan GP, Kontorinis G, Kuthubutheen J. The effects of insertion speed on inner ear function during cochlear implantation: a comparison study. Audiol Neurootol. (2013); 18(1):17-22.
Todt I, Mittmann P, Ernst A. Intracochlear fluid pressure changes related to the insertional speed of a CI electrode. Biomed Res Int (2014); 2014:507241.
Morrel, WG, Holder, JT, Dawant, BM, et al. Effect of Scala Tympani Height on Insertion Depth of Straight Cochlear Implant Electrodes. Otolaryngology—Head and Neck Surgery. (2020); 194599820904941. Available from https://doi.org/10.1177/0194599820904941
Skarzynski H, Lorens A,Matusiak M, Porowski M, Skarzynski PH, James CJ. Cochlear implantation with the Nucleus slim straight electrode in subjects with residual low-frequency hearing. Ear Hear (2014); 35(2):e33-43.
Cochlear Limited. D1665111 V1 SEP2019. Angular Insertion Monitoring Algorithm TRL6 Validation.
Cochlear Limited. D1946550 Cochlear Nucleus® SmartNav App user guide.
Cochlear Limited. D1840640 Custom Sound Pro User guide.
Botros A, van Dijk B, Killian M. AutoNR: an automated system that measures ECAP thresholds with the Nucleus Freedom cochlear implant via machine intelligence. Artif Intell Med. 2007 May;40(1):15-28.