Single-sided deafness candidacy and solution information
What you'll find on this page
Treatment Options for Single-Sided Deafness
Single-Sided Deafness White Paper
Impact and Considerations for Single-Sided Deafness
Single-sided deafness and unilateral hearing loss can be sudden or can happen over time. When it does, it can impact you or your patients' day-to-day life on many levels. Although you or your patients may find different ways to cope, treating the hearing loss can help restore not only hearing, but also quality of life. Around the world, hundreds of thousands of people are benefitting from Cochlear hearing solutions.
They're connected to sound and to each other. You or your patients could be too.
Treatment Options for Single Sided Deafness
Cochlear has multiple treatment options for Single Sided Deafness that offer unique benefits depending on the patients individual needs. Whether a Bone Conduction Solution or a Cochlear Implant, Cochlear has the right solution for any candidate experiencing Single Sided Deafness.
Download Impact and Considerations for SSD Brochure
Bone conduction implant with the Cochlear™ Osia® 2 System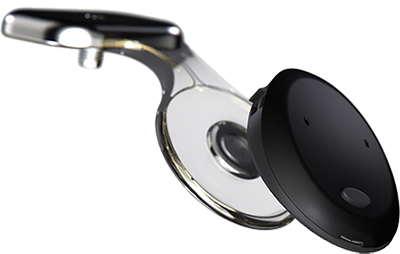 The Osia® System sends sounds to the normal hearing ear to help enhance hearing.
Indications
Single-Sided Deafness (SSD)
12 years of age or older
Patients who have profound sensorineural hearing loss in one ear and normal hearing in the opposite ear (i.e., single-sided deafness or "SSD").
The pure tone average air conduction hearing thresholds of the hearing ear should be better than or equal to 20 dB HL (measured at 0.5, 1, 2, and 3 kHz).
The Osia System for SSD is also indicated for any patient who is indicated for an air-conduction contralateral routing of signals (AC CROS) hearing aid, but who cannot or will not use an AC CROS.
Prior to receiving the device, it is recommended that an individual have experience with appropriately fitted air conduction or bone conduction hearing aids.
Potential Benefits
Improved speech understanding in noise1,2
Improved speech understanding in quiet1-4
Improved quality of life5
Better transmission of high frequency sounds compared with other bone conduction implant systems6-7
Proven transmission of natural sound8
Learn more about the Cochlear Osia System
Cochlear implant with the Cochlear™ Nucleus® System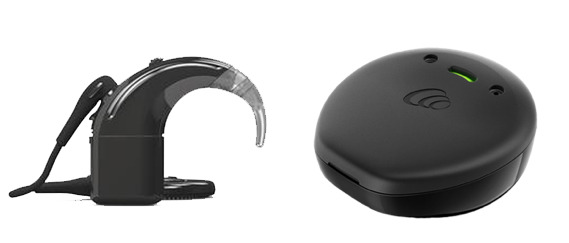 A cochlear implant helps restores hearing to the deaf ear.
Indications
Unilateral Hearing Loss (UHL) / Single-Sided Deafness (SSD)
5 years of age or older
In the ear to be implanted, a severe to profound sensorineural hearing loss defined as a PTA at 500 Hz, 1000 Hz, 2000 Hz and 4000 Hz of > 80 dB HL.
In the contralateral ear, normal or near normal hearing is defined as a PTA at 500 Hz, 1000 Hz, 2000 Hz and 4000 Hz ≤ 30 dB HL.
In the ear to be implanted, an appropriately fit unilateral hearing device demonstrates a limited benefit through a score of less than or equal to 5% on a Consonant Nucleus Consonant (CNC) word test.
Potential Benefits9-17
Improved speech understanding in noise
Improved speech understanding in quiet
Improved quality of life
Reduced listening effort
Learn more about the Cochlear Nucleus System
Cochlear Sound Processors are compatible with Apple and Android devices. Cochlear Smart Apps are available on App Store and Google Play.
For compatibility information visit www.cochlear.com/compatibility. Android, Google Play and the Google Play logo are trademarks of Google LLC. The Android robot is reproduced or modified from work created and shared by Google and used according to terms described in the Creative Commons 3.0 Attribution License.
References
Lin LM, Bowditch S, Anderson MJ, May B, Cox KM, Niparko K. "Amplification in the rehabilitation of unilateral deafness: speech in noise and directional hearing effects with bone-anchored hearing and contralateral routing of signal amplification." Otology & Neurotology. 2006;27(2):172–82.
Hol MK, Snik AF, Mylanus EA, Cremers CW. Long-term results of bone anchored hearing aid recipients who had previously used air-conduction hearing aids. Arch Otolaryngol Head Neck Surg 2005 Apr;131(4):321–5.
Snik AF, Mylanus EA, Proops DW, Wolfaardt J, Hodgetts WA, Somers T, Niparko JK, Wazen JJ, Sterkers O, Cremers CW, Tjellström A. Consensus statements on the Baha system: Where do we stand at present? Ann Otol Rhinol Laryngol 2005 Dec;114(12) Suppl 195:1–12.
Kompis M, Wilhem W, Caversaccio. Long term benefit of bone anchored hearing systems in single sided deafness. Acta Oto-Laryngologica. 2017; 13:398–402.
Maurizio B, Biagini M, Lazzarino AI, Monini S, Hearing and quality of life in a south European BAHA population. Acta Oto-Laryngologica. 2010 130: 1040–1047.
Fyrlund, H. (2019). Osia performance [Powerpoint Slide 4]. Data on file.
Data collected using an investigational system.
Hol MKS, Bosman AJ, Snik AFM, Mylanus EAM, Cremers CWRJ. "Bone anchored hearing aids in unilateral inner ear deafness: an evaluation of audiometric and patient outcome measurements." Otol Neurotol (2005:26 ): 999–1006.
Arndt S, Aschendorff A, Laszig R, Beck R, Schild C, Kroeger S, Ihorst G, Wesarg T: Comparison of pseudo binaural hearing to real binaural hearing rehabilitation after cochlear implantation in patients with unilateral deafness and tinnitus. Otol Neurotol 2011a;32: 39–47.
Firszt JB, Reeder RM, Holden LK, Dwyer NY, Asymmetric Hearing Study T. Results in adult cochlear implant recipients with varied asymmetric hearing: a prospective longitudinal study of speech recognition, localization, and participant report. Ear Hear 2018; 39:845–862
Alhanbali, S., Dawes, P., Lloyd, S., & Munro, K. J. (2017). Self-Reported Listening-Related Effort and Fatigue in Hearing-Impaired Adults. Ear and Hearing, 38(1), e39–e48. https://doi.org/10.1097/AUD.0000000000000361
Wie, O. B., Pripp, A. H., & Tvete, O. (2010). Unilateral deafness in adults: Effects on communication and social interaction. Annals of Otology, Rhinology and Laryngology, 119(11), 772–781.
Vermeire K, Van de Heyning P. Binaural hearing after cochlear implantation in subjects with unilateral sensorineural deafness and tinnitus. Audiol Neurootol 2009;14:163–171.
Lieu JE, Tye-Murray N, Karzon RK, Piccirillo JF. Unilateral hearing loss is associated with worse speech-language scores in children. Pediatrics 2010;125:e1348–e1355.
Sangen, A., Dierckx, A., Boudewyns, A., Dhooge, I., Offeciers, E., Wouters, J., Desloovere, C., & van Wieringen, A. (2019). Longitudinal linguistic outcomes of toddlers with congenital single-sided deafness—Six with and twelve without cochlear implant and nineteen normal hearing peers. Clinical Otolaryngology, 44(4), 671–676. https://doi.org/10.1111/coa.13347
Lieu, J. E. C. (2018). Permanent Unilateral Hearing Loss (UHL) and Childhood Development. Current Otorhinolaryngology Reports, 6(1), 74–81. https://doi.org/10.1007/s40136-018-0185-5
Hornsby BW, Werfel K, Camarata S, Bess FH. Subjective fatigue in children with hearing loss: some preliminary findings. Am J Audiol 2014;23: 129–134