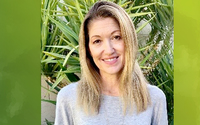 Susan H.
Cochlear™ Nucleus® 7 Hybrid™ Implant System & ReSound Hearing Aid – Bimodal
A quick summary about Susan H.
My hearing loss began after a severe viral infection.
I struggled to hear women's and children's voices and later men's voices as well.
Now, I can hear my daughter clearly, freely talk on the phone, and pursue work projects again.
Tell us a bit about yourself
My hearing journey began after I experienced a severe viral infection. I remember not being able to hear the phone ring and realizing something was wrong. Shortly after, I got hearing aids and went on with my life. I didn't realize my hearing loss would be progressive, dropping unpredictably through the next years until hearing aids were no longer effective. I struggled with my career and hearing my daughter, as well as most women's and children's voices. Men's voices came next and I couldn't function professionally. I was losing my career and my relationships were suffering, I was devastated. I learned about the Hybrid™ implant system through a friend, went in for an assessment and sometime later I scheduled the procedure. My sister shed tears of joy at my activation, and my family was thrilled. Although it took time, I could communicate with them again, and life got a lot more pleasant for all of us! I felt like I'd been given my life back.
I found a mentor early on in my hearing journey. She was tremendously helpful, and we remain friends today. I mentor others because this is a difficult journey and I don't want anyone to go through it alone. My advice to others considering this type of hearing solution: Reach out, don't try to go it alone. The fears and concerns you're having are likely the same as we all had!
See Susan's video.
I'm also available to connect on Cochlear Americas - Connect with a Mentor Facebook group: https://www.facebook.com/groups/CochlearConnectwithaMentor
Disclaimer
Cochlear's Connect with a Mentor program is monitored Monday-Friday, excluding some holidays. Questions and inquiries submitted over the weekends or holidays may see a delay in response.
Please seek advice from your health professional about treatments for hearing loss. Outcomes may vary, and your health professional will advise you about the factors which could affect your outcome. Always read the instructions for use. Not all products are available in all countries. Please contact your local Cochlear representative for product information.
Views expressed are those of the individual. Consult your health professional to determine if you are a candidate for Cochlear technology.
For a full list of Cochlear's trademarks, please visit our Terms of Use page.