Cochlear implants for children
Cochlear implants are designed to help children with severe to profound hearing loss. Being able to hear opens up a world of possibilities for children and parents. Find out how.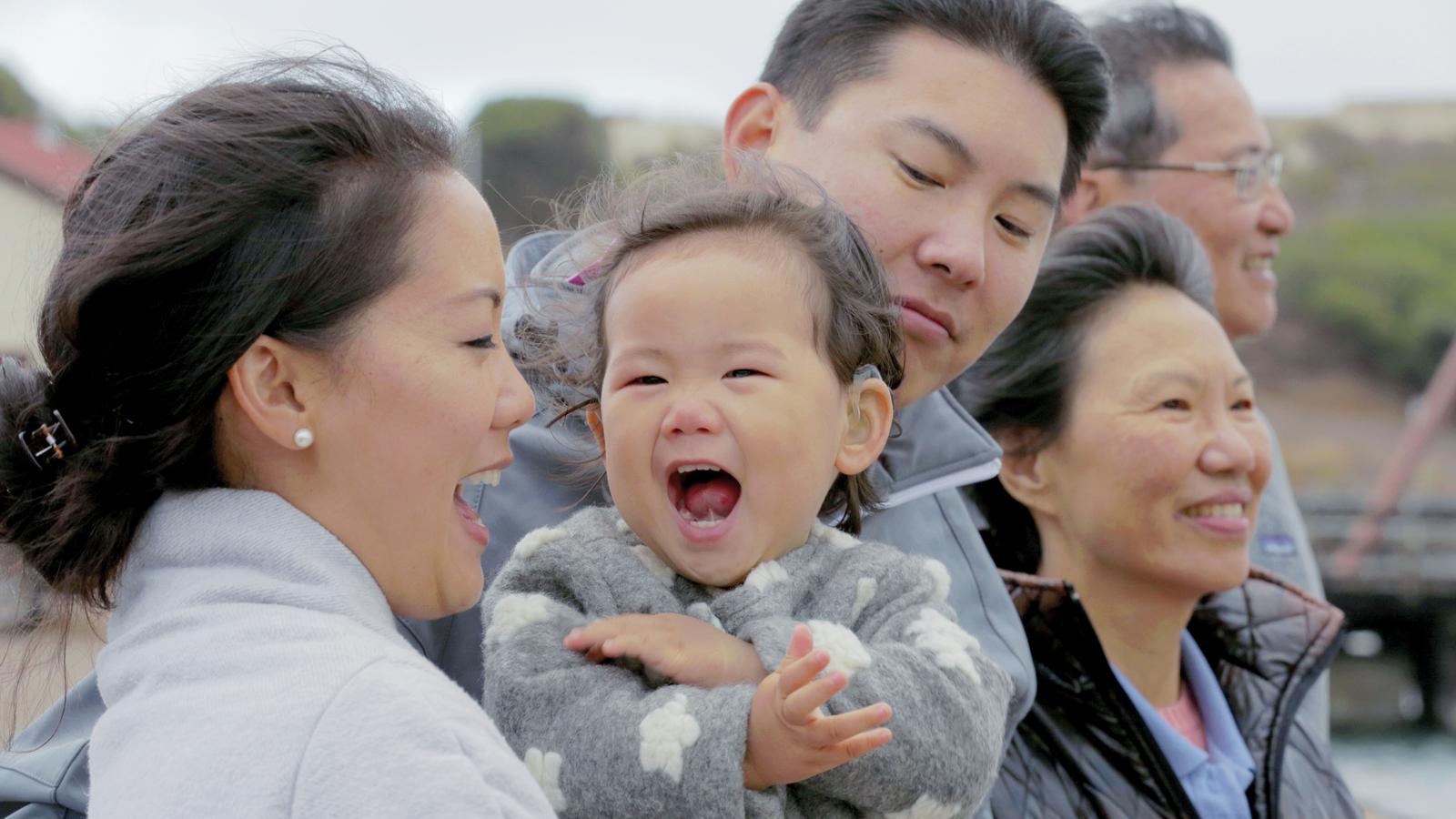 What you'll find on this page
See how a child's life has been transformed by a cochlear implant
Find out if your child qualifies for a cochlear implant
Learn about the benefits of cochlear implants
For children with severe to profound hearing loss, a cochlear implant can provide the potential for them to attend a dance class, listen to music, ride a bike and more, just like Raelyn. Watch her story below.
Does your child qualify for a cochlear implant?
Cochlear implants are approved for children with severe to profound hearing loss in both ears.*
Children 9 - 24 months: Profound sensorineural hearing loss in both ears and limited benefit from hearing aids in both ears.*
Children 2 - 17 years: Severe to profound sensorineural hearing loss in both ears with limited benefit from hearing aids. To qualify, speech scores while using hearing aids need to be less than or equal to 30% correct on MLNT test.
Note: Wearing hearing aids first is a necessary step in the evaluation process for a cochlear implant.
A hearing health professional who specializes in all types of hearing technology, including implantable hearing solutions, will be able to advise if your child may benefit from a cochlear implant.
Will your child benefit from a cochlear implant?
Research and decades of experience demonstrate that cochlear implants often provide improved:
Auditory awareness of sounds at levels within the normal range of hearing1
Speech understanding, sound clarity and language skills1
Hearing in noisy environments2
Quality of life2
Educational outcomes3 with the potential to attend a mainstream school
Introducing the Cochlear™ Nucleus® System
Your child is unique and their hearing solution should be, too. With our Cochlear Nucleus Implant System, we help your child hear their best with more choices of wearing options, wireless connectivity solutions and personalized services. This means providing your child with an innovative cochlear implant solution that includes the world's most reliable implants3-5, Apple® and Android™ device compatibility and proven hearing performance for a lifetime.
Find a Hearing Implant Specialist near you
References
Novak MA, Firszt JB, Rotz LA, et al. Cochlear implants in infants and toddlers. Ann Otol Rhino Laryngol Suppl 2000;185:46-49.
Hirschfelder A, Gräbel S, Olze H. The impact of cochlear implantation on quality of life: The role of audiologic performance and variables. Otolaryngol Head Neck Surg. 2008 Mar;138(3): 357-362.
Cochlear Nucleus Implant Reliability Report. Volume 16 | December 2017. D1175804. Cochlear Ltd; 2018.
Hearing Implant Reliability Reporting | MED-EL [Internet]. Medel.com. 2018 [cited 6 March 2018]. Available from: http://www.medel.com/au/reliability-reporting/
2017 Global Implant Reliability Report. 027-N025-02. Advanced Bionics AG and affiliates.; 2017.