Slim 20 Electrode from Cochlear now commercially available
August 17, 2020
Media Contact
Renee Oehlerking
Cochlear Americas
303-264-2104
roehlerking@Cochlear.com
Slim 20 Electrode from Cochlear now commercially available
Slim 20 Electrode strengthens Cochlear's market leading portfolio of electrodes, available on the most reliable cochlear implants in the industry
Lone Tree, Colo. (August 17, 2020) — Cochlear Limited (ASX: COH), the global leader in implantable hearing solutions, today announced the U.S. and Canada commercial availability of the CochlearTM Nucleus® ProfileTM Plus with Slim 20 Electrode (CI624). The Slim 20 Electrode expands Cochlear's cochlear implant portfolio, which consists of the slimmest electrodes, designed to be atraumatic, on the market.1,2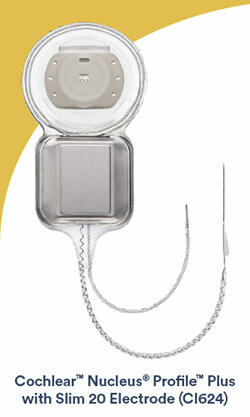 The Slim 20 Electrode provides another option for surgeons who prefer a lateral wall electrode for some patients. The electrode length of 20 mm is optimized for structural preservation of the cochlea.1-4The Slim 20 Electrode features a new design intended to support a single-handed insertion. The enhanced, patented, basal support system allows for the intended insertion depth while maintaining appropriate tactile feedback to the surgeon during electrode insertion.5 The Slim 20 Electrode is indicated for all surgical approaches and has been designed with 22 electrode contacts to maximize cochlear implant hearing performance.6,7
"We are pleased to add the Slim 20 Electrode to our market leading portfolio of electrodes," said Brian Kaplan, MD, Senior Vice President, Clinical Strategy and Innovation, Cochlear Limited. "Cochlear's electrode portfolio offering includes the thinnest electrodes on the market, as well as perimodiolar arrays shown to maximize performance with focused stimulation. By focusing on structural preservation, hearing performance and surgical preference, we are happy to provide cochlear implant surgeons with a range of solutions to meet their patients' needs in hearing."

Cochlear offers a robust cochlear implant electrode portfolio designed to offer different type of arrays, including the latest technology in perimodiolar and lateral wall electrodes designed for cochlea preservation, patient performance and surgeon preference. Cochlear has the only complete portfolio that meets needs of all surgeon preferences and all hearing losses indicated for cochlear implants.1,2 Additionally, Cochlear's Slim Modiolar research outcomes continue to affirm that combining the benefits of consistent scala tympani placement with focused electrical stimulation maximizes outcomes.8,9

In addition to having the market leading electrode portfolio, Cochlear Nucleus Implants are the most reliable cochlear implants in the industry both today and over time.10-12 Cochlear also provides the only behind-the-ear, Nucleus 7 Sound Processor, and off-the-ear, Kanso® 2 Sound Processor, cochlear implant sound processors with direct smartphone connectivity* and optimized to support remote care services.
The Slim 20 Electrode received U.S. Food and Drug Administration (FDA) approval in February 2020 and Health Canada approval in January 2020. Reach out to your Cochlear representative for more information on Cochlear's electrode portfolio.
About Cochlear Limited (ASX: COH)
Cochlear is the global leader in implantable hearing solutions. The company has a global workforce of more than 4,000 people and invests more than AUD$180 million each year in research and development. Products include cochlear implants, bone conduction implants and acoustic implants, which healthcare professionals use to treat a range of moderate to profound types of hearing loss. Since 1981, Cochlear has provided more than 600,000 implantable devices, helping people of all ages, in more than 180 countries, to hear.
###