Cochlear receives FDA approval to lower the age of pediatric cochlear implantation to 9 months
Media Contact
Renee Oehlerking
Cochlear Americas
303-264-2104
roehlerking@Cochlear.com
Cochlear receives FDA approval to lower the age of pediatric cochlear implantation to 9 months
Approval underscores necessity of earlier cochlear implantation for better hearing, speech and language outcomes in children born deaf
Centennial, Colo. (March 18, 2020) — Cochlear Limited (ASX: COH), the global leader in implantable hearing solutions, obtained U.S. Food and Drug Administration (FDA) approval to lower the age of cochlear implantation from 12 months to 9 months for children with bilateral, profound sensorineural hearing loss. This approval ensures children born deaf have earlier access to a cochlear implant which can provide them with the hearing capabilities to develop speech and language at a trajectory similar to their hearing peers.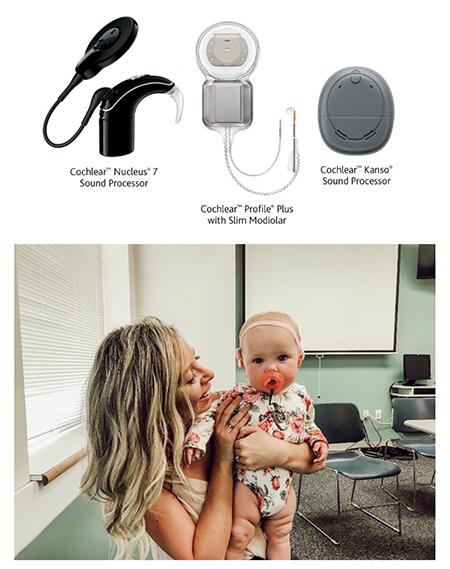 Cochlear implants have been FDA approved for use in children since 1990 with Cochlear™ Nucleus® Implants obtaining the first approval. Decades of research and current surgical and clinical practice underscore the efficacy of earlier implantation to achieve their personal best language and speech outcomes.1-13 The research and support in practice by trained hearing health professionals provided the foundation to approve the indication be lowered to 9 months, along with the considerable developments in technology and evolving speech coding strategies in modern day cochlear implant devices.
"Cochlear implants are one of the most revolutionary and effective modern-day implantable solutions that can restore hearing to children and adults with significant hearing loss," said J. Thomas Roland Jr., MD, Co-Director, Cochlear Implant Center, and Chair, Department of Otolaryngology – Head and Neck Surgery, NYU Langone Health. "Through our diligent research and years of treating children with hearing loss, we know the earlier a child receives access to sound the sooner they can develop speech and language that will transform their future. It is important that children born deaf have access to cochlear implants as soon as possible to give them the tools to hear and participate in their life to the fullest extent."
According to the American Academy of Pediatrics, an estimated three in 1,000 infants are born in the U.S. each year with moderate, severe or profound hearing loss.14 Additionally, hearing loss is the most common congenital condition in the U.S.14 Hearing loss has a major impact on a child's life, including speech and language development, literacy, mental health, social and cognitive functioning, educational achievement, employment and socio-economic opportunity.3 Research shows that children with a severe-to-profound hearing loss who receive cochlear implants early achieve better speech recognition than children who continue to use hearing aids, underscoring the importance to not delay access to cochlear implants because doing so can have lingering developmental consequences.3,4
"Earlier implantation ultimately provides children with access to critical auditory input that has been proven to enhance their development of speech and language," said Christine Menapace, MA, Vice President, Clinical Affairs, Cochlear Americas. "We hope this approval changes the pathway and access to care for families who desire cochlear implantation so full advantage can be taken of the critical period of language development in a young child."
While many early intervention factors contribute to a child succeeding with a cochlear implant, cochlear implants provide improved: auditory awareness of sounds at levels within the normal range of hearing15; speech understanding, sound clarity and language skills15; hearing in noise16; quality of life16; and educational outcomes.17 Up to 80 percent of children who received cochlear implants younger than 12 months of age demonstrate receptive vocabulary knowledge within the normal range by school entry, and 81 percent of children who receive cochlear implants early attend mainstream schools.13,18
"When we got the news that our daughter failed her newborn hearing screening and was diagnosed with profound hearing loss at birth, it gutted us. We had never met a deaf person before our daughter and did not know what life would look like raising a child with hearing loss," said Christy Keane, mother to Nucleus Cochlear Implant recipient, Charly, and social media influencer focused on motherhood and children with hearing loss. "Thankfully, we had an amazing care team who helped us understand all of the possibilities on this journey, and we decided to have Charly implanted at 10 months of age. Now, nearly 3 years old, Charly receives speech therapy every day in school and we work together at home on her listening and language skills. Thanks to all the early intervention factors we provided her, Charly is on track developmentally and we're so excited to see what her future will bring."
In the United States, the Cochlear Nucleus Implant System is intended for use in children 9 to 24 months of age who have bilateral profound sensorineural deafness and demonstrate limited benefit from appropriate binaural hearing aids. Children 2 years of age or older may demonstrate severe to profound hearing loss bilaterally.* This FDA approval is extended to all current Cochlear Nucleus Implant models, as well as all models developed in the future by Cochlear. Cochlear implants are typically covered for children by Medicaid and most insurance plans.** For more information on implantable hearing solutions for children with hearing loss, visit IWantYouToHear.com. For more clinical information on the longitudinal outcomes of cochlear implantation for children with hearing impairment, visit: www.outcomes.nal.gov.au/key-findings.
About Cochlear Limited (ASX: COH)
Cochlear is the global leader in implantable hearing solutions. The company has a global workforce of more than 4,000 people and invests more than AUD$180 million each year in research and development. Products include cochlear implants, bone conduction implants and acoustic implants, which healthcare professionals use to treat a range of moderate to profound types of hearing loss.
Since 1981, Cochlear has provided more than 600,000 implantable devices, helping people of all ages, in more than 180 countries, to hear.