Cochlear brings together largest assembly of hearing implant recipients, celebrates overcoming hearing loss
January 31, 2019
Cochlear Celebration event also will recognize eight young adult scholarship winners, launch new app to help cochlear implant recipients enjoy music
Centennial, Colo., (January 31, 2019) — Cochlear Limited (ASX: COH), the global leader in implantable hearing solutions, will host the largest gathering of hearing implant recipients at the eighth Cochlear Celebration event, taking place Feb. 14-17, 2019 in Nashville, Tennessee. More than 1,000 Cochlear™ Nucleus® Implant and Baha® System recipients and their families from the United States and Canada will come together at the four-day convention to celebrate the joys, challenges and personal triumphs of overcoming hearing loss, while improving their hearing performance.
"Because our hearing implant recipients are united by sound, we at Cochlear are honored to provide an experience for them to come together and connect with those who have been on a similar journey," said Rene Courtney, Vice President, Recipient Services, Cochlear Americas. "In addition to camaraderie and celebratory activities, recipients can participate in educational sessions to learn the latest on their devices from industry experts and have hands-on opportunities to try the latest products and maximize their Cochlear technology, so they can experience the joy of hearing now and always."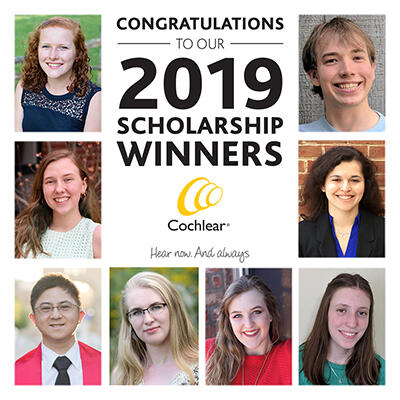 The winners of the 17th annual Graeme Clark and the eighth annual Anders Tjellström Scholarships will be formally recognized Feb. 16 during Cochlear Celebration activities. The scholarships, named after two pioneers of the hearing implant industry, recognize Nucleus Implant and Baha System recipients in the United States and Canada who uphold the Cochlear ideals of leadership and humanity while demonstrating high academic achievement.
The five 2019 Graeme Clark Scholarship winners are:
Sam Bidwell (Wesleyan University) from Bloomfield, Connecticut
Alexandra Bushby (McMaster University) from Alliston, Ontario
Jessica Hayden (University of Maine) from Milford, Maine
Rachel Knobel (University of Delaware) from Columbia, Maryland
Derek Lee (University of California, Los Angeles) from Palo Alto, California
The three 2019 Anders Tjellström Scholarship winners are:
Amber Greenburg (Union University) from Hudson, Illinois
Katie Soudek (Baylor University) from Kingfisher, Oklahoma
Laura Smith (Texas A&M University) from Metairie, Louisiana
"At 18 months, I was diagnosed with a profound hearing loss, and my parents were told I would never hear or speak," said Hayden, a Nucleus Implant System recipient and Graeme Clark Scholarship winner. "I have worked tirelessly to overcome the daily obstacles and limitations associated with my deafness. At an early age, I received bilateral cochlear implants, I learned to hear and speak, and I refused to let myself, or anyone else, lower the expectations and aspirations I set for myself. I will graduate third in my class this spring, and I will begin work to obtain a double major in microbiology and molecular and cellular biology this fall. Thanks to Professor Clark, Cochlear's technology and through my own determination, I have attained achievements many said were not attainable."
Also at Celebration, Cochlear will launch "Bring Back the Beat," a new learning app designed to help adults with Cochlear Nucleus Implants to reconnect with the joy of music. Music can play an integral role in people's lives; however, some implant recipients report listening to music again after hearing loss can be a challenge.
Because research shows that focused attention and listening practice actually improves appreciation of music, Cochlear created Bring Back the Beat to support recipients on this journey.1 The interactive app uses games to bring to life five different worlds of music, starting with simple notes and instruments and building to more complex melodies and musical activities.
The app allows users to explore a variety of instruments, notes and pitches. Players can even create and stage their own concert within the app, and they can link their Spotify account within the app to keep track of the music they have listened to and enjoyed. On Feb. 14, 2019, the Bring Back the Beat app will be available to download from the App Store® or on Google Play™.
About the scholarships
The Graeme Clark Scholarship is named after Professor Graeme Clark, the inventor and pioneer of the multichannel cochlear implant. The Anders Tjellström Scholarship is named after Anders Tjellström, the research physician in the department of otolaryngology at the Sahlgrenska University Hospital in Sweden who collaborated with Per-Ingvar Brånemark, a pioneer in his field, to treat the first patient with a Baha device.
Each of the students will receive $2,000 per year for up to four years at an accredited college or university, providing $8,000 to each student and $64,000 in total scholarship funds given by Cochlear Americas for this year's winners. Since 2002, Cochlear Americas has awarded $696,000 to 96 college students.
An esteemed panel of judges that includes hearing healthcare professionals reviewed the 123 applications received this year. For more information about the scholarships, visit CochlearAmericas.com/Scholarship.
About Cochlear Limited (ASX: COH)
Cochlear is the global leader in implantable hearing solutions. The company has a global workforce of more than 3,500 people and invests more than AUD$160 million a year in research and development. Products include hearing systems for cochlear implants, bone conduction implants and acoustic implants, which health care professionals use to treat a range of moderate to profound types of hearing loss.
Since 1981, Cochlear has provided more than 550,000 implantable devices, helping recipients of all ages, in more than 100 countries, to hear.