Cochlear invites the public to spread the word about hearing loss and treatment options during Better Hearing and Speech Month
April 4, 2016
Media Contact
Renee Oehlerking
Cochlear Americas
303-264-2104
roehlerking@Cochlear.com
Centennial, Colo., (May 4, 2016) — In honor of Better Hearing and Speech Month (BHSM), Cochlear Limited (ASX: COH), the global leader in implantable hearing solutions, launches its Million Ear Challenge, an initiative to bring hearing loss awareness to more than one million people during the month of May.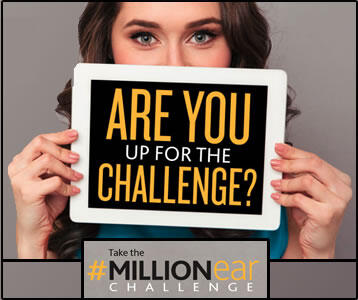 The impact of hearing loss – a growing health concern that affects almost 50 million Americans1– is not widely known. The Million Ear Challenge seeks to spread awareness about hearing loss and treatment options to one million people in 31 days as an effort to help improve the quality of life for those facing hearing loss.
Cochlear encourages the public to visit www.MillionEarChallenge.com to get involved and spread the word across social media using the hashtag #MillionEar. When Cochlear hits its goal of reaching one million people, it will donate hearing implant parts and accessories to nonprofits to help support people in need.
"Hearing loss impacts people across age groups, including babies, teens, adults and seniors," said Tony Manna, President of Cochlear North America. "We encourage as many people as possible to get involved in the Million Ear Challenge. Together we can educate others about the impact of hearing loss and the available solutions, like hearing implants, and we can help change the lives of those who may be struggling."
While often undetected or neglected, hearing loss can become a social and emotional barrier for the individuals suffering from it or the families of those it affects. According to the Hearing Health Foundation, hearing loss is the second most prevalent global health issue.1 Nearly two million people in the U.S. could be candidates for Cochlear's technology, but only five percent of the patients who can benefit have been treated.
About Better Hearing and Speech Month
BHSM is an annual event that has taken place every May since 1927. The event was started to raise public awareness, knowledge and understanding of various forms of communication impairments including hearing loss and speech disorders. With hearing loss becoming more common as younger people lose hearing due to noise exposure and baby boomers age, BHSM has become even more important as a means of reaching those reluctant to have their hearing tested.
About Cochlear Limited (ASX: COH)
Cochlear is the global leader in implantable hearing solutions. The company has a global workforce of 2,800 people and invests more than AUS$100 million a year in research and development. Products include cochlear implants, bone conduction and acoustic implants, which are designed to treat a range of moderate to profound types of hearing loss.
Over 400,000 people of all ages, across more than 100 countries, now hear because of Cochlear.
# # #
References:
Hearing Health Foundation. Preventing Hearing Loss [Internet]. 2016 [cited 23 February 2016]. Available from: http://hearinghealthfoundation.org/preventing-hearing-loss.