Cochlear announces winners of 2016 Graeme Clark and Anders Tjellström scholarships
February 17, 2016
Media Contacts
Eight Cochlear recipients chosen for their commitment to the Cochlear ideals
Centennial, Colo. (February 17, 2016) — Cochlear (ASX: COH), the global leader in implantable hearing solutions, announced today the eight winners of the 14th annual Graeme Clark and 5th annual Anders Tjellström scholarships. Named after hearing implant industry pioneers, the annual scholarships recognize Cochlear™ Nucleus® Implant and Baha® System recipients who not only demonstrate exemplary success in their academic pursuits, but also leadership and humanity in their local communities.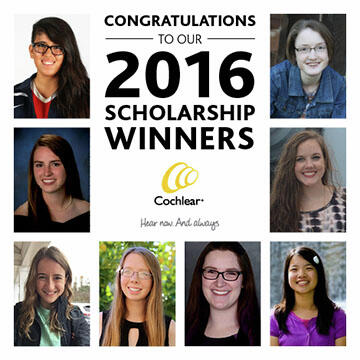 "We are proud to recognize these eight exceptional students and reward them with college scholarships," said Tony Manna, president of Cochlear Americas. "The winners overcame remarkable challenges and achieved so much in their young lives. We are excited to see what the next chapter has in store for this year's scholarship recipients."
Five students were recipients of the 2016 Graeme Clark Scholarship:
Kelin McCloskey (Washington College) from Kennett Square, Pennsylvania
Megan Zahneis (Miami University) from West Chester, Ohio
Natalie Synder (Rochester Institute of Technology) from West Henrietta, New York
Taylor Thompson (Purdue University) from Franklin, Indiana
Willa Tsao (Cornell University) from Wind Lake, Wisconsin
"Cochlear implant technology has played a major role in helping me become the person I am today," said Zahneis, a Graeme Clark Scholarship winner. "This scholarship will allow me to evolve even more—into the writer, advocate, storyteller, and difference-maker I dream of being."
Three students were awarded the 2016 Anders Tjellström Scholarship:
Allison Villa (University of Mississippi) from Oak View, California
Kathleen "McKenna" Nelson (University of North Carolina at Wilmington) from Greenville, North Carolina
Skylar Mason (Arizona State University) from Phoenix, Arizona
"The Cochlear Baha System has allowed me to experience life more fully. I can hear my family and friends laughing, making jokes and sharing some of our favorite memories," said Nelson, an Anders Tjellström Scholarship winner. "I'm also finally able to fully hear my violin when I play. The first time I played with full hearing was so powerful it moved me to tears."
About the Scholarships
The Graeme Clark Scholarship is named after Graeme Clark, the inventor and pioneer of the multichannel cochlear implant. The Anders Tjellström Scholarship is named after Anders Tjellström, the research physician at the Department of Otolaryngology at the Sahlgrenska University Hospital in Sweden who collaborated with Per-Ingvar Brånemark, a pioneer in his field, to treat the first patient with a Baha device.
A total of $64,000 in scholarship funds will be awarded this year. Each of the eight students will receive $2,000 per year for up to four years at an accredited college or university, for a total of $8,000 per student. Since 2002, Cochlear has awarded $504,000 to 72 college students.
More than 150 applications were received and reviewed by an esteemed panel of judges, which include: Michelle Kraskin, AuD, Weill Cornell Medical College; Brandon Isaacson, M.D., UT Southwestern Medical Center; Adrienne Comeau-Grandy, M.Sc., Aud(c), Nova Scotia Hearing and Speech Centres.
For more information about the scholarships, visit www.Cochlear.com/US/Scholarship.
About Cochlear Limited (ASX: COH)
Cochlear is the global leader in implantable hearing solutions. The company has a global workforce of 2,700 people and invests more than AUS$100 million a year in research and development. Products include hearing systems for cochlear implants, bone conduction and acoustic implants.
Over 400,000 people of all ages, across more than 100 countries, now hear because of Cochlear.
# # #