Cochlear announces the release of the Baha SoundArc – an exciting new non-surgical bone conduction device
18 September, 2017
Today, Cochlear, the global leader in bone conduction hearing solutions, announced the commercial availability of the new Cochlear™ Baha® SoundArc – a stylish, comfortable and effective device that will allow people to hear like never before.

The Baha SoundArc is a new hearing solution for people who live with conductive hearing loss, mixed hearing loss or single-sided sensorineural deafness (SSD). It is a non-surgical behind-the-head band that works together with all of Cochlear's Baha 5 sound processors.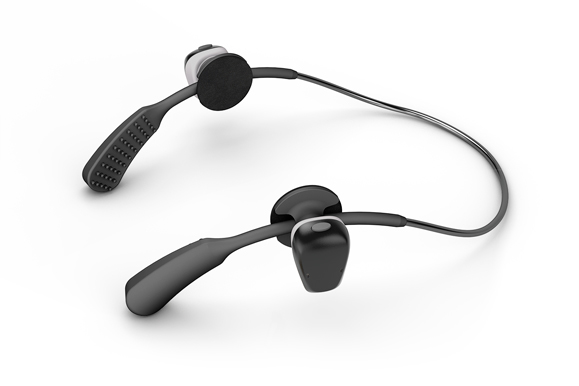 "All previous non-surgical devices have used the head or ears to aid in retention. With the Baha SoundArc we needed to find a way to deliver excellent sound quality, power performance and fit all different head shapes and sizes – without compromising on comfort. This makes the SoundArc really quite unique" relates Mats Dotevall, Director of Design & Development at Cochlear Bone Anchored Solutions AB (CBAS).
Excellent results reported from first clinical experiences
The Baha SoundArc's user satisfaction was tested during a first experience program in a number of selected clinics in the UK from April to June 2017. The reported results were excellent, with an overall satisfaction rating of more than 85% in take home trials.

"We are very pleased with both the patients' and the professionals' responses to the SoundArc," says Rom Mendel, President of Acoustics at Cochlear. "In the demo setting, the SoundArc scored an average of at least four out of five in all the important areas that really matter to our customers: comfort, sound quality, aesthetics, retention, ease-of-use and speech understanding. Even people with more severe levels of hearing loss and SSD can benefit from the technology, not just those with pure conductive hearing loss."
More people expected to try bone conduction hearing
As a trial device, the discreet Baha SoundArc has an opportunity to make testing bone conduction more appealing. Although conventional demo devices, such as a head band and test band, work well in a clinical setting, they are not designed for use in everyday situations.

Jane Beavan, Clinical scientist in Audiology from the Countess of Chester Hospital in the UK, whose clinic was part of the first experience program, explains why she believes the SoundArc will entice more people to test bone conduction.

"The demo devices that are currently available haven't changed much, and they do have some limitations. What impressed me about the SoundArc is its sleek, modern design and I am confident that our patients will really appreciate that. I had a teenage patient who was looking at a Baha System as a potential option, but she wasn't keen on wearing the existing demo devices in school. But when I gave her the SoundArc she was very happy to give it a go."
Giving children more options to hear
Since 2002 the Baha Softband has been an excellent, longer-term option for children who are too young or not ready for a bone conduction implant. It has provided tens of thousands of children the amplification they need to hear from an early age.

With the introduction of the Baha SoundArc, Cochlear is adding to its broad portfolio of hearing options for children. "For us it's not about a one-size fits all approach, it's about innovating and making sure our customers have options that fit both their lifestyle and their stage in life" continues Rom Mendel.

The new Cochlear Baha SoundArc is CE marked and FDA cleared. Availability will differ from country to country, beginning September 15, 2017. Please check the availability in your country with your local Cochlear office.
Facts about the Cochlear Baha SoundArc:
Available in four sizes (S, M, L , XL)
Adaptable to fit different head shapes and sizes
Unilateral and bilateral options
About bone conduction systems
Bone conduction systems are a proven medical option for adults and children with conductive hearing loss, mixed hearing loss, and single-sided sensorineural deafness meeting the candidacy criteria. While a hearing aid tries to push sound through the damaged part of the ear, bone conduction systems bypass the damaged area and send sound directly to the inner ear. They are designed to help those who receive little or no benefit from hearing aids hear and communicate more effectively.
About Cochlear Limited (ASX: COH)
Cochlear is the global leader in implantable hearing solutions. The company has a global workforce of 3,000 people and invests more than AUD$120 million a year in research and development. Products include hearing systems for cochlear, bone conduction and acoustic implants. Over 450,000 people of all ages, across more than 100 countries, now hear because of Cochlear.

Cochlear Bone Anchored Solutions AB is a division of Cochlear Ltd and the world leader in bone conduction hearing solutions. Situated in Mölnlycke, outside Gothenburg, Sweden, the head office employs approximately 250 people to develop, manufacture and support Baha® and Vistafix® products.

Media Contact

Nicholas Feeney
Senior Marketing Communications Manager
Cochlear BAS
P: (+46) 766 498589
Email: nfeeney@cochlear.com