Survey reveals hearing loss can significantly affect relationships and families in the U.S.
May 1, 2019
Media Contact
Renee Oehlerking
Cochlear Americas
303-264-2104
roehlerking@Cochlear.com
State of Hearing Report highlights the physical, emotional and societal challenges of hearing loss
Centennial, Colo., (May 1, 2019) — Three in four U.S. adults aged 65 years and older believe hearing loss is unavoidable and an inevitable part of aging, according to a new global report released to recognize Better Hearing and Speech Month in May.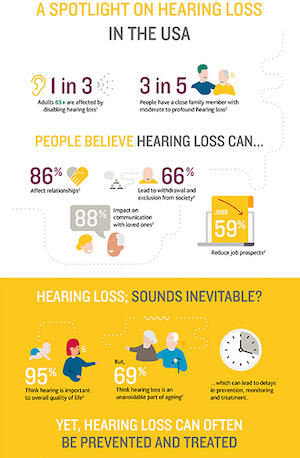 The State of Hearing Report also highlights how hearing loss can affect a person's day-to-day-life, self-esteem and ability to communicate as their families feel the strain. In the U.S., 57 percent of respondents said it could cause social isolation and 86 percent said it could affect relationships.
Sponsored by Cochlear, the global leader in implantable hearing solutions, the State of Hearing Report was a global survey to evaluate the challenges faced by people with hearing loss. Respondents in the U.S. included 1,269 adults, including 208 people aged 60 years and older. Notably, nearly 60 percent of people in the U.S. report having a close family member who has moderate to profound hearing loss, with more than one in three of those respondents stating that the hearing loss has had some level of impact on their communication.
"Results from the State of Hearing Report echo what physicians and advocacy groups who support those with hearing loss have known for many years – that hearing loss can have a profound impact on an individual's personal, family and even professional life," said Barbara Kelley, Executive Director, Hearing Loss Association of America. "These findings shine a spotlight on the serious need for additional education for the 48 million Americans who have some degree of hearing loss, but are unaware of options that will address their hearing loss and allow them to better function in their day-to-day lives."
Despite 95 percent of U.S. respondents recognizing that the ability to hear is important for overall quality of life, only 41 percent have had a hearing test in the last two years, the report reveals. Among U.S. respondents over the age of 65 years, 87 percent said they knew where to get their hearing tested, but only 50 percent had acted to do so.
"As a practicing cochlear implant surgeon, I see first-hand both the burden debilitating hearing loss can have on a person and their family, but also the apathy with which they manage it," said Brian Kaplan, M.D., Chairman, Department of Otolaryngology and Director, Cochlear Implant Program, Greater Baltimore (Md.) Medical Center, and Cochlear Medical Advisor. "There are millions of people in the U.S. who could benefit from the use of a hearing device, such as a cochlear implant or hearing aid, and I hope that more education around the true effect of hearing loss will drive patients and providers to seek proper diagnostic testing and treatment."
Hearing loss is a significant public health issue in the U.S. and around the globe. According to the World Health Organization (WHO), hearing loss affects 466 million people worldwide,1 and one in three people over the age of 65 live with severe to profound forms of the condition.1 WHO figures also predict the total number of people living with hearing loss will nearly double by 2050, and this increase will be most noticeable amongst older people.1 Moreover, as the prevalence rates rise, the global cost of unaddressed hearing loss has been estimated at $750 billion per year.1
"At Cochlear, we are driven by our mission to improve the lives of people with hearing loss. There is increasing evidence of the importance of hearing to overall health, especially as people age," said Patricia Trautwein, AuD, Vice President, Marketing and Product Management, Cochlear Americas. "With almost a quarter of people 65 to 74 years of age suffering disabling hearing loss, it is more important than ever to understand the impact of untreated hearing loss on people's health, our communities and the economy to ensure people turn to treatment sooner."
The research of Cochlear's State of Hearing Report coincides with the launch of its Sounds Inevitable campaign, which highlights the misperceptions many people have about hearing loss being an inevitable part of aging, leading to irregular hearing check-ups and delayed treatment.
About State of Hearing Report
The State of Hearing Report 2019 is the result of a five-minute, online survey among a representative sample of n=7,275 adults aged 18 year and older in five countries, including Australia, Germany, Japan, the United Kingdom and the United States. Important global trends emerged about perspectives of how hearing affects individuals and communities after speaking with more than 7,200 people, including more than 1,000 aged 60 years and older with hearing loss. In the U.S., the nationally representative cohort included n=1,061 general population respondents and 208 respondents aged 60 years and older. The survey was fielded between December 12-30, 2018.
About Cochlear Limited (ASX: COH)
Cochlear is the global leader in implantable hearing solutions. The company has a global workforce of more than 3,500 people and invests more than AUD$160 million a year in research and development. Products include hearing systems for cochlear implants, bone conduction implants and acoustic implants, which health care professionals use to treat a range of moderate to profound types of hearing loss.
Since 1981, Cochlear has provided more than 550,000 implantable devices, helping people of all ages, in more than 100 countries, to hear.
###