Cochlear reveals winners of the 2018 Graeme Clark and Anders Tjellström scholarships
8 February 2018
Media Contact
Renee Oehlerking
Cochlear Americas
303-264-2104
roehlerking@Cochlear.com
Eight Cochlear recipients receive prestigious honor for academics, leadership and humanity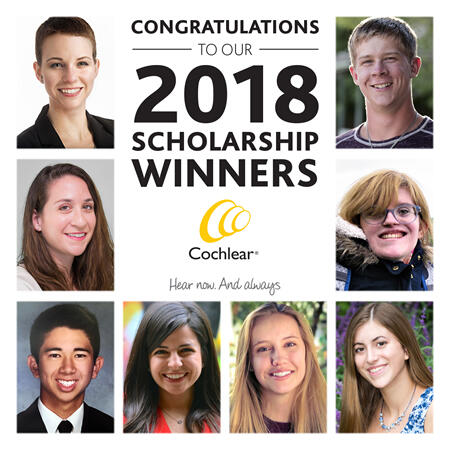 Centennial, Colo. (Feb. 8, 2018) – Cochlear Limited (ASX: COH), the global leader in implantable hearing solutions, reveals today the winners of the 16th annual Graeme Clark and the seventh annual Anders Tjellström scholarships. The scholarships, named after two pioneers of the hearing implant industry, recognize Cochlear™ Nucleus® Implant and Baha® System recipients in the United States and Canada who uphold the Cochlear ideals of leadership and humanity, and demonstrate high academic achievement.
"We are extremely proud to recognize these eight outstanding young leaders who have persevered and overcome the challenges of hearing loss to achieve the high goals they've set for themselves," said Tony Manna, President, Cochlear Americas. "At Cochlear it is our honor to deliver the innovative hearing implant technology that will continue to help these young adults hear as they attain the accomplishments to come in their bright futures."
The five 2018 Graeme Clark Scholarships winners are:
Elaine Wright (Princeton University) from Tucson, Arizona
Tania Karas (Oxford University) from Palos Park, Illinois
Keenan Murphy (Manhattan College) from Bronx, New York
Hunter Orthmann (University of Iowa) from Iowa City, Iowa
Natalia Adriance (Notre Dame) from Napa, California
"I can never fully express my gratitude for the opportunities my Cochlear Implants have given me," said Wright, a Nucleus Implant System recipient and Graeme Clark Scholarship winner. "I was very fortunate to have a strong support system growing up due to the advocacy of my family, the kindness of my teachers and the understanding of my friends. I want to help make sure every child or adult with hearing loss who wants a cochlear implant has the opportunity and support to make the most possible of the technology."
The three 2018 Anders Tjellström Scholarship winners are:
Monica Pasqualino (Johns Hopkins Bloomberg School of Public Health) from Oceanside, New York
Elise Schiller (Trinity College) from St. Louis, Missouri
Carol Rynar (Canisius College) from Buffalo, New York
"Just as my Baha System opened a new world for me, I have become inspired to help others confidently navigate their life without anxiety, and to work to minimize the barriers that prevent them from engaging fully with their world because of hearing loss," said Rynar, a Baha System recipient and an Anders Tjellström Scholarship winner. "This scholarship will help me extend this miracle of sound from me to the students I serve as a teacher."
About the Scholarships
The Graeme Clark Scholarship is named after Professor Graeme Clark, the inventor and pioneer of the multichannel cochlear implant. The Anders Tjellström Scholarship is named after Anders Tjellström, the research physician in the department of otolaryngology at the Sahlgrenska University Hospital in Sweden who collaborated with Per-Ingvar Brånemark, a pioneer in his field, to treat the first patient with a Baha device.
Each of the students will receive $2,000 per year for up to four years at an accredited college or university, providing $8,000 to each student and $64,000 in total scholarship funds given by Cochlear Americas for this year's winners. Since 2002, Cochlear Americas has awarded $632,000 to 88 college students.
An esteemed panel of judges that includes hearing healthcare professionals reviewed the 189 applications received this year.
For more information about the scholarships, visit CochlearAmericas.com/Scholarship.
About Cochlear Limited (ASX: COH)
Cochlear is the global leader in implantable hearing solutions. The company has a global workforce of more than 3,000 people and invests more than AUD$150 million a year in research and development. Products include hearing systems for cochlear implants, bone conduction and acoustic implants, which are designed to treat a range of moderate to profound types of hearing loss.
Over 450,000 people of all ages, across more than 100 countries, now hear because of Cochlear.