Cochlear launches next generation Wireless Mini Microphones
March 31, 2016
Media Contact
Renee Oehlerking
Cochlear Americas
303-264-2104
roehlerking@Cochlear.com
Mini Microphone 2 and 2+ deliver full connectivity in a smaller size and are designed for better hearing performance across noisy environments
Centennial, Colo., (March 31, 2016) — Cochlear Limited (ASX: COH), the global leader in implantable hearing solutions, has updated its highly successful Cochlear™ True Wireless™ portfolio by introducing the next generation of Cochlear True Wireless Mini Microphones.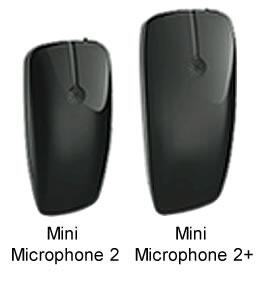 The Mini Microphone 2 and 2+ build on the success of the original Mini Microphone, the most popular accessory in the True Wireless portfolio. The new, smaller devices stream high quality speech and audio directly to a Cochlear sound processor, and are intended to help people hear more clearly over distance and more easily in a variety of noisy environments, such as restaurants, classrooms, places of worship, the car, etc.
"At Cochlear, we are dedicated to providing products that improve quality of life for our recipients," said Tony Manna, President of Cochlear Americas. "This includes bringing meaningful innovation to our True Wireless portfolio to improve listening experience and foster communication across all aspects of our recipients' daily lives – be that for a child in the classroom, a family around the dinner table, an executive in a business meeting, or a couple enjoying a night out to dinner."
The next generation of Mini Microphones introduces a number of new and improved features:
The new directional microphones allow the user to keep up with the conversation in noisy and crowded places.
The extended range of over 80 feet provides freedom of movement, removing worry about where to sit in a meeting or classroom.
The smaller size and design improvements enhance ease of use and portability.
A rechargeable, environmentally-friendly battery with over 10 hours between charges offers more hours in the day to hear through wireless technology.
The Mini Microphone 2 is Cochlear's smallest wireless microphone solution, optimized for person-to-person communication. Discreet and easy to use, it is ideal for personal, one-on-one listening situations.
The Mini Microphone 2+ is ideal for individual and group communication. Designed with peak performance in mind, the flexible device provides complete connectivity across all audio needs with a built-in FM port, telecoil and line-in jack. Additionally, the device now automatically switches between two built-in microphone modes to suit both personal and group communication: table mode, when the device lies flat and picks up sounds from all directions in group situations, and directional mode, when the device is vertically worn and picks up just the wearer's voice to further reduce the effects of background noise.
"The Mini Microphone 2+ has made such a difference for me, both in one-on-one settings, like at dinner with my wife, and in business meetings where I need to hear multiple people talking," says cochlear implant recipient Roger Smith. "It's so easy to use and small, people hardly even notice it."
The Wireless Mini Microphone 2 and 2+ are compatible with the Cochlear Nucleus® 6 and Baha® 4 and Baha® 5 sound processors.
The Mini Microphone 2+ will be available this month. The Mini Microphone 2 will be available later this spring.
The Mini Microphone 2 and 2+ join the Cochlear Wireless Phone Clip and TV Streamer in the line of True Wireless accessories. To learn more about all the True Wireless accessories, visit: www.cochlear.com/us/home/treatment-options-for-hearing-loss/wireless-accessories.
About Cochlear Limited (ASX: COH)
Cochlear is the global leader in implantable hearing solutions. The company has a global workforce of 2,700 people and invests more than AUS$100 million a year in research and development. Products include hearing systems for cochlear implants, bone conduction and acoustic implants.
Over 400,000 people of all ages, across more than 100 countries, now hear because of Cochlear.
# # #