Vistafix® system
Learn about the individual components that make up Cochlear's Vistafix system implant and abutments.
How the Vistafix system works
The Vistafix system consists of osseointegrated implants, abutments, and a retention mechanism for the prosthesis.

There are two types of prosthetic retention mechanisms commonly used: bar & clip, or magnet retained systems. Either option enables patients to attach or remove the prosthesis themselves, with minimal effort.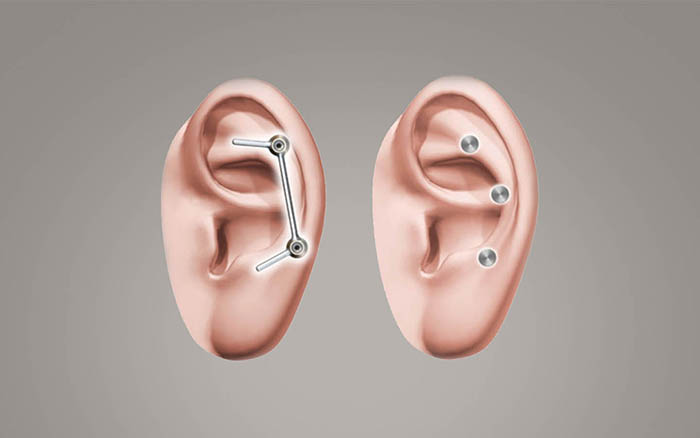 The Vistafix implants are inserted into the bone.
After an osseointegration period of typically 3-6 months, the surgeon will attach the abutments to the implants.
After the abutments are placed, the anaplastologist will make impressions of the site, and craft the prosthetic. In auricular cases, the anaplastologist will take care to create symmetry with the opposite side.
Final adjustments are made during the prosthetic fitting.
Implant
VXI300 Implant
The VXI300 Implant is the strong foundation of Vistafix Systems. With a TiOblast™ surface it provides long term stability compared with the previous generation of machined surface implant. The Vistafix 3 Implant has the same design as the Baha 3 Implant, which has been clinically demonstrated to provide significantly improved implant stability.1-3
Abutments
VXA300 Abutments
The Vistafix 3 System features four different abutment heights, enabling the height of the retention structure to be adapted according to the nature of the defect and the varying clinical needs and unique circumstances of each patient. The abutment-to-implant connections, combined with the abutment shape of the Vistafix 3 System, have been designed to reduce soft tissue complications. Fewer soft tissue complications can reduce the number of outpatient visits, which is beneficial to both patients and professionals.