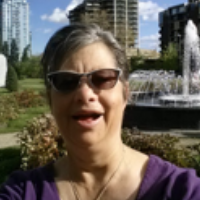 Landa F.
Nucleus® 6, Bilateral | Sensorineural hearing loss
A quick summary about Landa F.
I have a Type A personality and had a successful career
I am very independent, and I do not like to rely on others
My family and friends are very important to me and are my priority
Tell us a bit about yourself
In April 2013, I contracted bacterial meningitis and awoke from a 10-day coma with hearing loss that deteriorated over time. By August, I could only hear motorcycles and our basset hound when it bayed at the moon. My ENT recommended a cochlear implant. Prior to my doctor's recommendation, I knew nothing about cochlear implants and I was not familiar with hearing loss as my loss was very sudden. I quickly researched cochlear implants, the brands available, what to expect and how I was going to learn to hear again.
Five years ago, on Oct 2nd, I was activated with bilateral Cochlear™ Nucleus® 6 Sound Processors which was the latest generation on the market at the time. I continue to practice hearing every day and enjoy many of the things I use to love to do but had lost because of my hearing loss. Thank you to Cochlear for giving me my life back.