Hearing loss in global spotlight as technology and research leaders collaborate to tackle rising impact, and experts unite to demystify care
Hearing loss in global spotlight as technology and research leaders collaborate to tackle rising impact, and experts unite to demystify care
Cochlear and Australian Hearing Hub Members, National Acoustic Laboratories (NAL), Macquarie University, The Shepherd Centre, and NextSense, announce research collaboration with Google combining expertise in hearing, speech, artificial intelligence, machine learning and neurosciences, to generate new solutions to tackle hearing loss.
Medical experts release first-ever international guidelines outlining when adults with hearing loss should be screened and referred for a cochlear implant.
Lone Tree, Colo. (March 21, 2023) — According to the World Health Organization (WHO), the number of people living with hearing loss is set to reach 2.5 billion by 2050.1 Now, leading technology companies, researchers, and people living with hearing loss are coming together to tackle its rising impact.
World-first hearing collaboration announced with Google
Cochlear, together with the Australian Hearing Hub members, National Acoustic Laboratories (NAL), Macquarie University, The Shepherd Centre, and NextSense, have agreed to a world-first collaboration with Google to uncover new solutions to help people with hearing loss. The collaboration brings together expertise and resources from hearing, research, technology, academia, government, healthcare and information sciences sectors.
The agreement is a multi-year collaboration. Research teams will evaluate new methods, such as machine learning, big data, speech enhancement, cloud computing and neuroscience to improve and develop hearing technologies and strategies.
The first project seeks to personalize hearing models in listening devices. This technology could be particularly beneficial for people using hearing devices in complex listening environments, such as busy restaurants, group conversations or live music performances. The overlapping sounds in these kinds of settings can be challenging for people using hearing devices to process and decipher various types and ranges of sound.
Simon Carlile, Google Australia's research lead on the project said, "Hearing technology helps people around the world connect with people and their surroundings, but there are many more people who could benefit. As part of Google's Digital Future Initiative, this exciting collaboration will help us explore new ways to design and improve machine learning models that better fit the needs of the individual listener – and help develop a more precise and accessible approach to hearing care."
NAL Director, Dr Brent Edwards said, "For over 75 years, NAL has been a pioneer in hearing technologies that are used around the world. This is an opportunity to combine NAL's unique innovation program with Google's capabilities to introduce new hearing products to enhance health and wellbeing."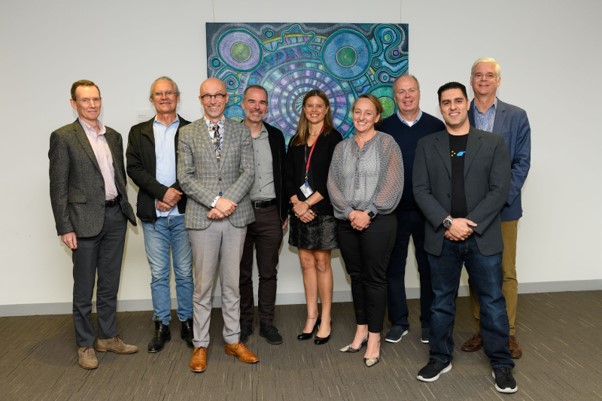 Google-Australian Hearing Hub Collaboration Partners
Experts publish first-ever guidelines on who should be tested and referred for a cochlear implant
A cross-section of experts has published the first-ever international guidelines outlining who should be tested and referred for a cochlear implant.2
Estimates suggest that out of every 100 adults in the U.S. who could benefit from a cochlear implant, only three will go on to receive one.3 This is in part due to inconsistent practices that mean people with hearing loss don't know when to seek help, and many who do, don't get the advice they need.4
Meredith Holcomb AuD. Director, Hearing Implant Program, University of Miami Ear Institute and Co-Chair of the CI Taskforce said, "Millions of adults live with untreated significant hearing loss and often times an over-the-counter or prescription hearing aid simply cannot help them communicate effectively. Their ears reach a point where increasing the volume of sounds causes distortion instead of clarity. This is when a cochlear implant is necessary as it can bypass the damaged parts of the ear to allow for improved speech understanding."
"People sometimes delay seeking treatment for hearing loss until they are struggling in their everyday life. Even when they do receive help, they may see multiple hearing healthcare providers in the same city and get different advice about their treatment options. Unfortunately, many are never told about the option and benefit of cochlear implants until their hearing is horribly bad."
"With these guidelines, adults living with hearing loss and clinicians treating hearing loss will have consistent evidence-based advice about who should be tested and referred for a cochlear implant, and what standards of care they should go on to receive if they qualify."
For more information visit adulthearing.com/living-guidelines.


About Cochlear Limited (ASX: COH)
People have always been Cochlear's inspiration, ever since Professor Graeme Clark set out to create the first multi-channel cochlear implant after seeing his father struggle with hearing loss. Since 1981, Cochlear has provided more than 700,000 devices in more than 180 countries, helping people of all ages around the world to hear. As the global leader in implantable hearing solutions, Cochlear connects people with life's opportunities, and welcomes them to the world's largest hearing implant community.
Cochlear has a global workforce of close to 4,500 people, with a passion for progress, who strive to meet the needs of people living with hearing loss. The company continually innovates to anticipate future needs, investing more than AUD$2 billion to date in research and development to push the boundaries of technology and help more people hear.
###
For further information, please contact:
Cara Lippitt, Sr. Marketing Communications Manager
Email: pr-cochlearamericas@cochlear.com