Cochlear awards prestigious scholarships to eight hearing implant recipients
February 2, 2017
Media Contact
Renee Oehlerking
Cochlear Americas
303-264-2104
roehlerking@Cochlear.com
Cochlear awards prestigious scholarships to eight hearing implant recipients
Scholarship winners to be honored at Cochlear Celebration, gathering of hearing implant recipients from across the U.S. and Canada
Centennial, Colo. (Feb. 2, 2017)—Cochlear Limited (ASX: COH), the global leader in implantable hearing solutions, the global leader in implantable hearing solutions, announces the winners of the 15th annual Graeme Clark and the sixth annual Anders Tjellström scholarships. The scholarships, named after two pioneers of the hearing implant industry, recognize college students who are Cochlear™ Nucleus® Implant and Baha® System recipients and demonstrate leadership and humanity as well as solid academics.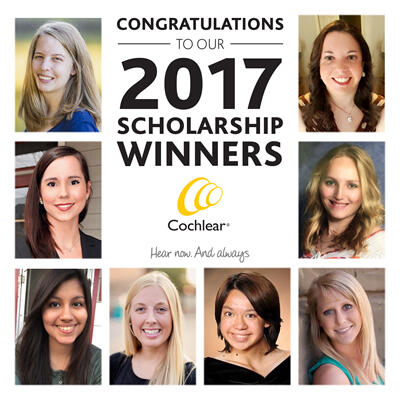 "It is an honor to recognize these incredible young people who have demonstrated grit and tenacity in both their academic and personal lives while making the most of Cochlear's hearing technology," said Tony Manna, President of Cochlear North America. "As Cochlear implant and Baha recipients, these students are not only leaders in their communities today but also will be bright stars in the industries they choose to join tomorrow."
Five students are awarded a 2017 Graeme Clark Scholarship:
Victoria Popov (Rochester Institute of Technology) from Del Mar, California
Shani Summers (Brigham Young University) from Kailua, Hawaii
Jessica Hill (University of Alabama at Birmingham) from Madison, Alabama
Mary Jane Rogers (University of Missouri) from Olivette, Missouri
Miriam Almanza (University of the Incarnate Word) from Mercedes, Texas
"Now that I have graduated and am about to enter college, I want to use my love for math and passion for creating art by becoming an architect," said Summers, a Nucleus Implant System recipient and Graeme Clark Scholarship winner. "I know I will have difficulties ahead of me in life, but I know my Cochlear implant will help me to thrive in the hearing world."
Three students are awarded a 2017 Anders Tjellström Scholarship:
Abigail Rose Brewer (Liberty University) from Goode, Virginia
Caroline Moran (Nova Southeastern University) from Alderson, West Virginia
Johanna H. Urbach (Western Washington University) from Fairfield, California
"I have become a much more outgoing and confident person because of the Baha System. It has inspired and motivated me to strive for success," said Moran, a Baha System recipient and an Anders Tjellström Scholarship winner. "My success will be becoming an audiologist and helping others hear the world."
The winners will be formally recognized Feb. 19, 2017, during Cochlear Celebration in Orlando, Florida. Attended by hundreds of recipients from across the United States and Canada, Celebration is a four-day convention for Cochlear recipients and their families. The event provides recipients and their families the opportunity to come together, learn and network with Cochlear and others who share similar joys, challenges and personal triumphs in hearing.
About the scholarships
The Graeme Clark Scholarship is named after Professor Graeme Clark, the inventor and pioneer of the multichannel cochlear implant. The Anders Tjellström Scholarship is named after Anders Tjellström, the research physician at the department of otolaryngology at the Sahlgrenska University Hospital in Sweden who collaborated with Per-Ingvar Brånemark, a pioneer in his field, to treat the first patient with a Baha device.
A total of $64,000 in scholarship funds will be awarded this year. Each of the eight students will receive $2,000 per year for up to four years at an accredited college or university, for a total of $8,000 per student. Since 2002, Cochlear has awarded $568,000 to 80 college students.
More than 175 applications were received and reviewed by an esteemed panel of judges, which include: Blake Papsin, MD, MSc, FRCS, FACS, FAAP, The Hospital for Sick Kids; Holly Teagle, AuD, CCC-A, The Children's Cochlear Implant Program at the University of North Carolina; and Kari Morgenstein, AuD, FAAA, Children's Hearing Program at the University of Miami Medical Center.
For more information about the scholarships, visit www.cochlear.com/US/Scholarship.
About Cochlear Limited (ASX: COH)
Cochlear is the global leader in implantable hearing solutions. The company has a global workforce of 3,000 people and invests more than AUS$100 million a year in research and development. Products include cochlear implants, bone conduction and acoustic implants, which are designed to treat a range of moderate to profound types of hearing loss.
Over 450,000 people of all ages, across more than 100 countries, now hear because of Cochlear.