Osia® implant
The Osia System features a powerful implant that sits entirely under the skin. The active implant includes the Piezo Power™ transducer, which generates sound vibrations.
Request information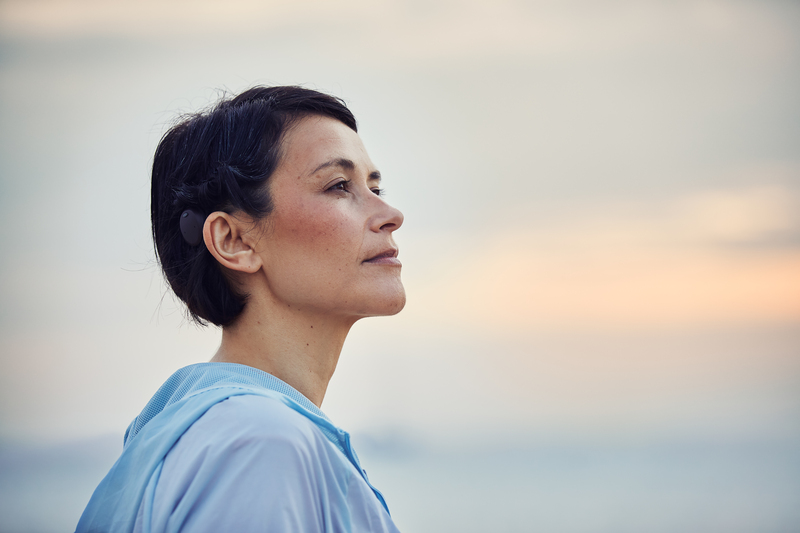 What you'll find on this page
How the Cochlear™ Osia® OSI200 Implant is different.
The benefits of Piezo Power™ technology.
A hearing implant reimagined
As a part of the Osia System, the OSI200 Implant allows sound to bypass blocked parts of the natural hearing pathway. The implant is placed under the skin where it's attached to a bone conduction (BI300) implant to send sound vibrations directly to your inner ear.
Piezo Power™ technology
The Osia System uses a special Piezo Power™ transducer that expands and contracts to create powerful vibrations.
Piezoelectricity has been used for years in many products like microphones, high-end speakers and medical equipment, but this is the first time it's been used for this type of application.
One of the many advantages of the Piezo Power transducer is its ability to vibrate at high frequencies, within the area of sound most important for speech understanding.
Testing shows that Piezo Power technology provides powerful and consistent output performance.1
The power to hear more
The Osia System is for people with hearing loss up to 55 dB SNHL (sensorineural hearing loss). This means it delivers enough power to address a range of hearing loss levels, and it provides capacity should your hearing loss worsen over time.
Designed to implant, made to last
The Piezo Power transducer has a completely different design to traditional bone conduction transducers. With no movement between parts, the technology is well suited to deliver long-term performance and durability.1
Hear what you want to hear, not what you don't
The Osia System has been tested in trials across multiple clinics around the world. After one year, people who received the new technology showed significant hearing improvement, even in noisy environments.2
References
Dotevall M. Osia OSI200 Implant Technical Brief. Cochlear Bone Anchored Solutions AB, Sweden. 2020; D1602089.
Mylanus EAM, Hua H, Wigren S, et al. Multicenter Clinical Investigation of a New Active Osseointegrated Steady-State Implant System. Otol Neurotol. 2020;41(9):1249-1257