Nucleus® Implants
Our Cochlear implants are designed to give you the best possible hearing performance for today and for the future.

Request information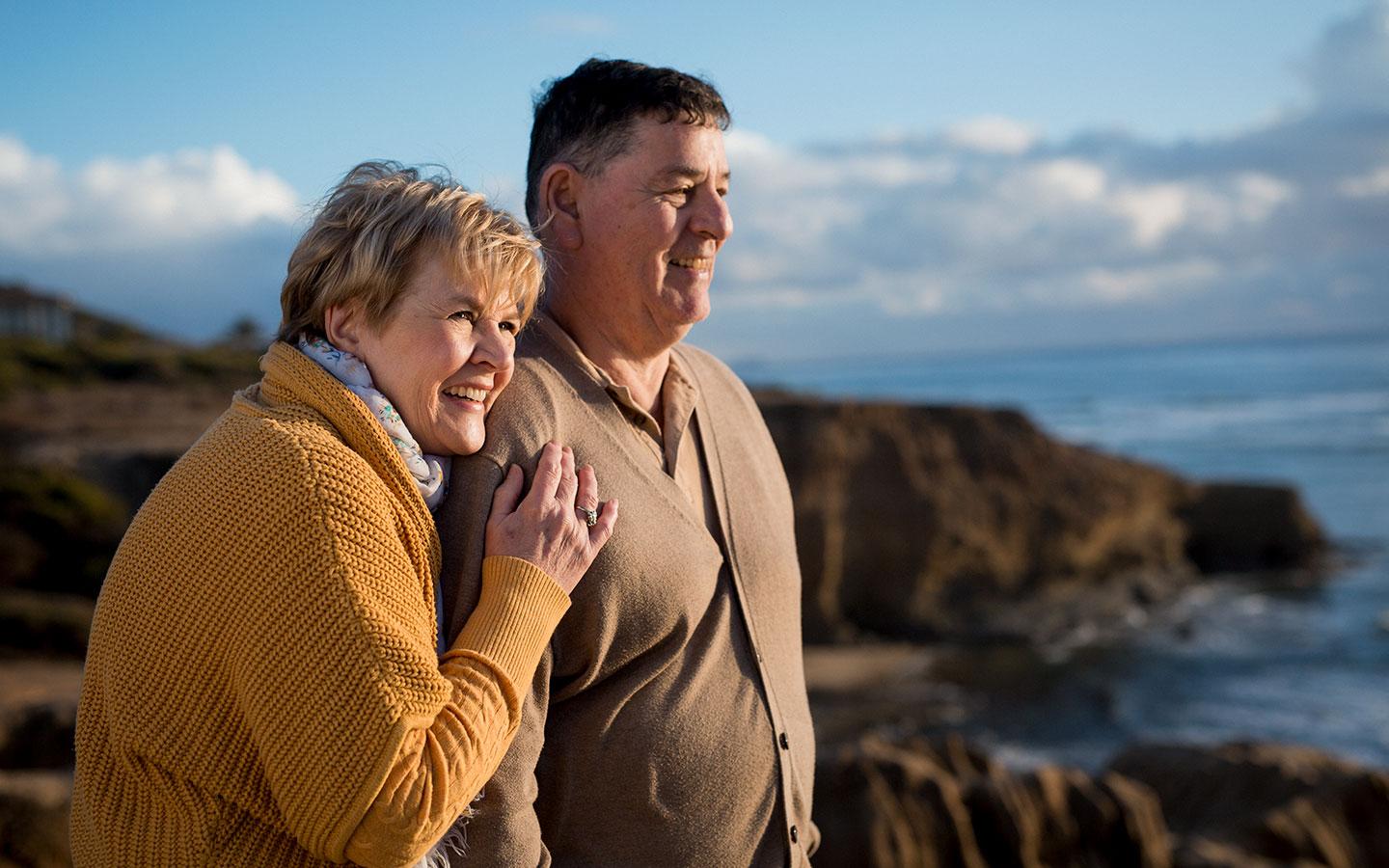 What you'll find on this page
The Nucleus Profile™ Plus Implant.
How we design Cochlear™ Nucleus Implants.
The importance of reliability.
Cochlear Nucleus implants
We design Cochlear Nucleus Implants to give you your best possible hearing performance for today and for the future.
Our industry leading cochlear implants are based on more than 35 years of research and innovation. Our devices are designed to suit the unique anatomy of your ear and give you your best possible hearing outcomes.
The Nucleus Profile™ Plus Implant
With the Nucleus Profile Plus Implant, you can have a routine 1.5 T MRI or high-definition 3.0 T MRI without removing its magnet. This means no additional surgery, no need to wear a bandage in the MRI machine, no waiting for your scan and, most importantly, no unnecessary time without sound.*
The Profile Plus Implant is built on the thinnest implant platform** in the world with a flexible coil designed to better fit the natural shape of the head. Its sleek, streamlined shape offers a more discreet appearance than other, thicker devices.
Learn more about MRI compatibility.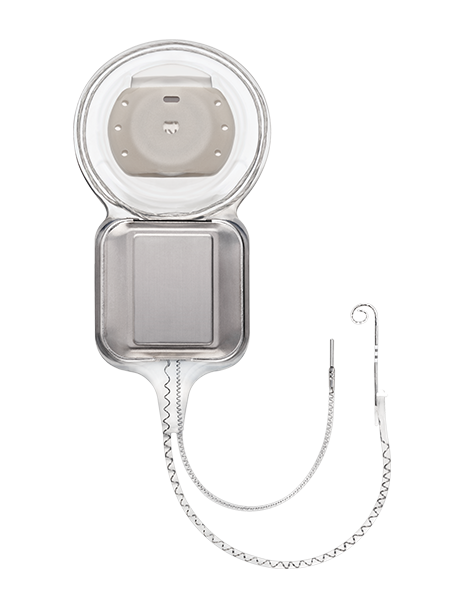 Nucleus Profile Plus Implant with Slim Modiolar Electrode
Designed for hearing performance
Our precision implants and electrodes are designed to give you your best possible hearing performance – even in challenging listening situations.
Only Cochlear offers a thin, perimodiolar electrode with a shape that's designed to fit the natural spiral of your inner ear. The Slim Modiolar Electrode* sits close to the hearing nerve, which means it can deliver electrical stimulation to the hearing nerve more precisely3-6 and efficiently.7,8
Studies show this leads to better hearing outcomes, including improved speech recognition and understanding in both quiet and noisy environments.9-13

*The Slim Modiolar Electrode is the intracochlear electrode portion of the Cochlear™ Nucleus® Profile™ Plus and Profile Series Implants CI632 and CI532.
Unmatched reliability you can trust
When you're deciding on a hearing implant for yourself or your child, we understand you want the best - for today and over time.
We meet and report against the independent global standards for implant reliability, publishing data for every implant generation, past and present.14-17
So, when you choose a Cochlear Nucleus Implant, you can trust that you've chosen a product with the best long-term reliability record in the industry.**,18
Discover the importance of implant reliability.
The world's most chosen implants
With more than 500,000 registered Cochlear Nucleus Implants worldwide, when you choose Cochlear, you're joining the largest community of cochlear implant recipients in the world.18
References
*Unless magnet removal is necessary to reduce image artefact. If you need an MRI scan of your head, your cochlear implant magnet may need to be removed because it will distort the scan image at any MRI strength. If your magnet does need to be removed, you can feel confident that the design of the Profile Plus Series Implant makes this as swift and straightforward as possible.
** Based on implant generations released within a comparable period with 5+ years of CSP data.
The following implants are designed to be compatible for MRI at 1.5 T and at 3.0 T with the magnet in place: Nucleus Profile Plus: CI612, CI622, CI632.
Compared to all currently available receiver stimulators available from Cochlear and other cochlear implant manufacturers. Based on published device specification information.
Ramos de Miguel A, Argudo AA, Borkoski Barreiro SA, Falcon Gonzalez JC, Ramos Macias A. Imaging evaluation of electrode placement and effect on electrode discrimination on different cochlear implant electrode arrays. Eur Arch Otorhinolaryngol. 2018 Jun;275(6):1385-1394.
Hughes ML, Abbas PJ. Electrophysiologic channel interaction, electrode pitch ranking, and behavioral threshold in straight versus perimodiolar cochlear implant electrode arrays. J Acoust Soc Am 2006; 119: 1538-47.
Xi X, Ji F, Han D, Hong M, Chen A. Electrode interaction in cochlear implant recipients: comparison of straight and contour electrode arrays. ORL J Otorhinolaryngol Relat Spec 2009; 71: 228-37.
Basta D, Todt I, Ernst A. Audiological outcome of the pull-back technique in cochlear implantees. Laryngoscope 2010; 120: 1391-6.
Saunders E, Cohen L, Aschendorff A, Shapiro W, Knight M, Stecker M, et al. Threshold, comfortable level and impedance changes as a function of electrode-modiolar distance. Ear Hear 2002; 23(1 Suppl): 28S-40S.
Parkinson AJ, Arcaroli J, Staller SJ, Arndt PL, Cosgriff A, Ebinger K. The nucleus 24 contour cochlear implant system: adult clinical trial results. Ear Hear 2002; 23(1 Suppl): 41S-8S.
Shaul C, Dragovic AS, Stringer AK, O'Leary SJ, Briggs RJ. Scalar localisation of peri-modiolar electrodes and speech perception outcomes. J Laryngol Otol. 2018;132:1000–6.
Cuda D, Murri A. Cochlear implantation with the nucleus slim modiolar electrode (CI532): a preliminary experience. Eur Arch Otorhinolaryngol. 2017;274:4141–8
Hey, M, Hoppe, U, Stöver T, Baumann U, Mewes A, Liebscher T, Schüssler M, Aschendorrf A, Wesarg T, Büchner A, Neben N. Retrospective Hearing Performance Outcome in a Larger Cohort of CI532 Recipients; , Poster presented at 10th International Symposium on Objectives Measures in Auditory Implants (OMAI), October 2018.
Friedmann DR, Kamen E, Choudhury B, Roland JT, Jr; Surgical Experience and Early Outcomes With a Slim Perimodiolar Electrode Otol Neurotol. 2019 Mar;40(3):e304-e10 NYU Cochlear Implant Center, New York (USA)
Holder JT, Yawn RJ, Nassiri AM, Dwyer RT, Rivas A, Labadie RF, Gifford RH. Matched Cohort Comparison Indicates Superiority of Precurved Electrode Arrays. Otol Neurotol 2019 Oct;40(9):1160-1166.
International Standard ISO 5841-2. Implants for Surgery – Cardiac Pacemakers – Part 2: Reporting of Clinical Performance of Populations of Pulse Generators or Leads. Geneva (Switzerland): International Organization for Standardization. 2000.
International standard ISO 5841-2. Implants for Surgery – Cardiac Pacemakers – Part 2: Reporting of Clinical Performance of Populations of Pulse Generators or Leads. Geneva (Switzerland): International Organization for Standardisation.2014.
European Consensus Statement on Cochlear Implant Failures and Explanations. Otol Neurotol. 2005 Nov;26(6):1097-9.
Battmer RD, Backous DD, Balkany TJ, Briggs RJ, Gantz BJ, van Hassell A, et al. International Classification of Reliability for Implanted Cochlear Implant Receiver Stimulators. Otol Neurotol.2010 Oct;31(8):1190-3.
Cochlear Limited. D2073229 Cochlear Nucleus Reliability Report Volume 21 December 2022, March 2023.