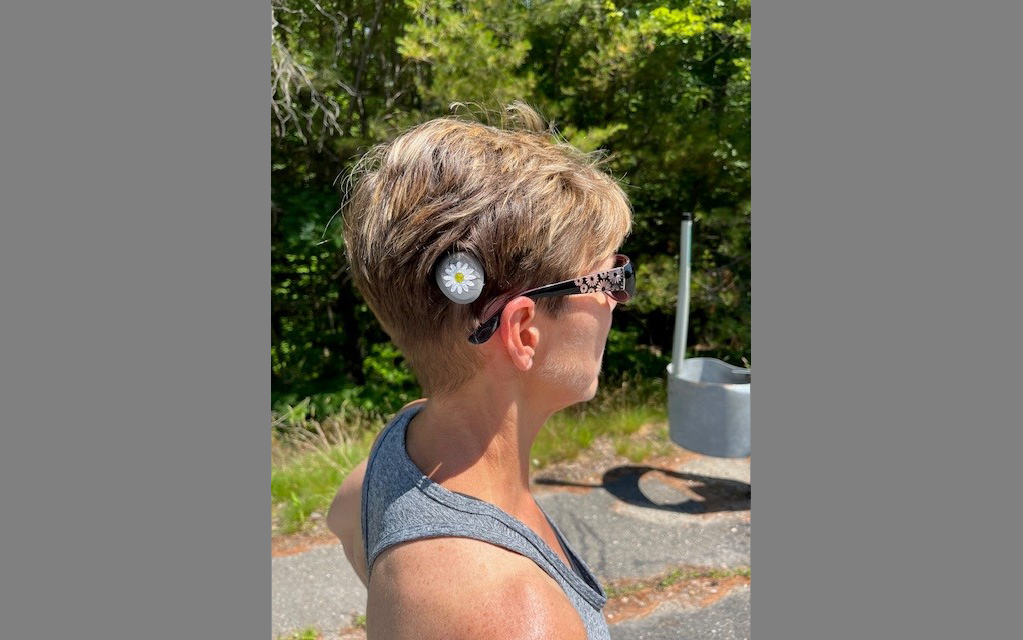 Jeannie G.
Cochlear™ Osia® 2 Sound Processor – Unilateral
A quick summary about Jeannie G.
I avoided crowded situations until I got my Osia® System*
Being a childcare provider, I can hear my kids now
I love the outdoors
Tell us a bit about yourself
I was told at age 16 that my hearing in my right ear was gone. 40 years ago, there was nothing that would help with my combination of a nerve and conductive loss. I just accepted it as part of who I was. As I got older, I started avoiding crowded social situations because I would miss so much of what was being said. When Covid hit, masking took away my ability to read lips, making communication even more difficult. It was at that point I learned about the Osia system. I felt like this was something I needed to pursue. I was also very worried that after 40 years, the amount of sound I would be hearing could be a sensory overload.
I was implanted in July 2021, activated in August and have been smiling ever since. I love to be outdoors, walking and hiking. I can hear so many subtle sounds now thanks to my Osia Sound Processor. I work as a childcare provider; it has helped so much with hearing my kids during language development. Taking phone calls is something I can now do with ease.
As a mentor I can share my very positive experience with my Osia Sound Processor.
Check my story on the Hear & Now blog: https://hearandnow.cochlear.com/hearing-solutions/bone-conduction/partial-hearing-loss/
Disclaimer
Cochlear's Connect with a Mentor program is monitored Monday-Friday, excluding some holidays. Questions and inquiries submitted over the weekends or holidays may see a delay in response.
Please seek advice from your health professional about treatments for hearing loss. Outcomes may vary, and your health professional will advise you about the factors which could affect your outcome. Always read the instructions for use. Not all products are available in all countries. Please contact your local Cochlear representative for product information.
Views expressed are those of the individual. Consult your health professional to determine if you are a candidate for Cochlear technology.
For a full list of Cochlear's trademarks, please visit our Terms of Use page.