Cochlear Americas announces the release of the Baha SoundArc
22 January 2018
Media Contact
Renee Oehlerking
Cochlear Americas
303-264-2104
roehlerking@Cochlear.com
The new non-surgical bone conduction wearing option is designed for children who are not yet eligible or ready for an implant but need the first step to hearing.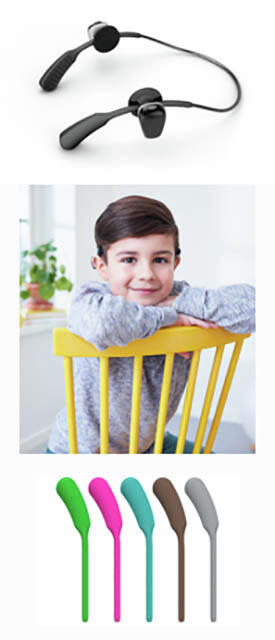 Centennial, Colo. (January 22, 2018) – Cochlear Limited (ASX: COH), the world leader in implantable hearing solutions, announces today the commercial availability of the new Cochlear™ Baha® SoundArc in the United States and Canada. The Baha SoundArc is an effective and stylish new wearing option designed to provide children with conductive hearing loss, mixed hearing loss or single-sided sensorineural deafness (SSD) with the hearing performance and amplification they need to facilitate language development on par with their hearing peers.1
"We are happy to be adding to our broad portfolio of hearing options for children with the introduction of the Baha SoundArc," said Tony Manna, President, Cochlear Americas. "Because each child's hearing need is unique and may change over time, we are proud to be providing innovative and technologically advanced hearing solutions to fit a child's lifestyle across the stages of their life."
The new Baha SoundArc is a non-surgical, behind-the-head band that is an alternative to the Baha® Softband (released in 2002). The non-surgical wearing options are part of Cochlear's bone conduction implant system, the Cochlear™ Baha® System. The Baha System utilizes the body's natural ability to conduct sound to skip over the damaged parts of the outer and middle ear, sending clear, crisp sound directly to a working inner ear (the cochlea).2
The Baha SoundArc and the Baha Softband are designed to provide the same benefits and hearing performance and will work with one (unilateral) or two (bilateral) Baha® 5 Sound Processors. The new SoundArc provides a modern look, is lightweight, practical and easy to put on and take off. It fits securely and comfortably in place. The SoundArc comes in several sizes, is adaptable to fit different shaped heads and sizes, and it has a variety of soft colored tips to match hair, clothes or mood.
"All previous non-surgical devices have used the head or ears to aid in retention. With the Baha SoundArc, we needed to find a way to deliver excellent sound quality, power performance and fit different head shapes and sizes without compromising on comfort. This makes the SoundArc unique," said Mats Dotevall, Director, Design and Development, Cochlear Bone Anchored Solutions AB.
The Baha SoundArc, along with the Baha Softband, is the first step in providing hearing to a child too young (under the age of five) or is not yet ready for the bone conduction implant. A bone conduction device can benefit a child with:
Conductive hearing loss, which occurs when damage to the outer ear or middle ear blocks sound vibrations from reaching the inner ear (cochlea). Common causes include malformations at birth such as microtia and atresia; syndromes such as Down, Goldenhar and Treacher Collins; chronic mastoiditis or middle ear infections; skin growth or cyst (cholesteatoma); skin allergies; draining ears; chronic ear infections; previous ear surgeries; benign tumors.
Mixed hearing loss, which refers to a combination of conductive and sensorineural hearing loss. This means there may be damage in the outer or middle ear, as well as the inner ear.
SSD, which occurs when there is little or no hearing in one ear, but normal hearing in the other ear. Common causes include viral infections; Meniere's disease; adverse reaction to medications; head or ear injuries.
As a child grows, it is natural to progress from a non-surgical hearing loss solution to an implantable solution. A bone conduction implant improves the transmission of sound and ensures a child can benefit from consistent and reliable access to hearing.3
Whether a child is benefiting from a Baha non-surgical device or an implantable device, the child will have access to the industry's smallest, smartest and most powerful head-worn bone conduction solutions with the Baha 5 Sound Processor portfolio.4,5 The Baha 5 Sound Processor portfolio provides users with the ability to hear better across noisy environments, connect wirelessly to a variety of electronic devices, direct-to-device wireless streaming and control with Made for iPhone technology*, and a personalized hearing experience with the Baha 5 Smart App**.
For adults struggling with conductive hearing loss, mixed hearing loss, SSD and any of the associated conditions, the Baha SoundArc can be used as a trial device to demo a Baha 5 Sound Processor and hear how it might sound before they make decisions to move forward with the Baha Implant System. With the SoundArc, testing a bone conduction device is now more appealing than ever before for an adult.
The United States Food and Drug Administration (FDA) has cleared and Health Canada has licensed the Baha System for implantation in children aged five years and older. The new Cochlear Baha SoundArc is CE marked, FDA cleared and licensed in Canada.
About Cochlear Limited (ASX: COH)
Cochlear is the global leader in implantable hearing solutions. The company has a global workforce of more than 3,000 people and invests more than AUD$150 million a year in research and development. Products include hearing systems for cochlear implants, bone conduction and acoustic implants, which are designed to treat a range of moderate to profound types of hearing loss.
Over 450,000 people of all ages, across more than 100 countries, now hear because of Cochlear. www.cochlear.com/us
For more information on bone conduction implants, visit www.cochlear.com/us/mediacenter.
References
Hol MK, Cremers CW, Coppens-Schellekens W, Snik AF. The Baha Softband. A new treatment for young children with bilateral congenital aural atresia. Int J Pediatr Otorhinolaryngol. 2005;69:973-80.
Gustafsson J. BCDrive performance vs. conventional bone conduction transducer. Cochlear Bone Anchored Solutions AB, 629908, 2015.
Flynn MC. Design concept and technological considerations for the Cochlear Baha 4 Attract System. Cochlear Bone Anchored Solutions AB, E82744, Nov 2013.
Norrman, J, Review of fitting ranges. Cochlear Bone Anchored Solutions AB, D773528, 2015.
Flynn MC. Smart and Small –innovative technologies behind the Cochlear Baha 5 Sound Processor. Cochlear Bone Anchored Solutions AB, 629761, 2015.