Associate Professor Jim Patrick Awarded Order of Australia for Cochlear Implant Development
February 11, 2015
Associate Professor Jim Patrick Awarded Order of Australia for Cochlear Implant Development
Centennial, Colo., (January 26, 2015) – Associate Professor Jim Patrick, Chief Scientist at Cochlear Limited, was today awarded the Order of Australia for distinguished service to science through the development of the cochlear implant; to biomedical research and engineering innovation; and to education and professional associations.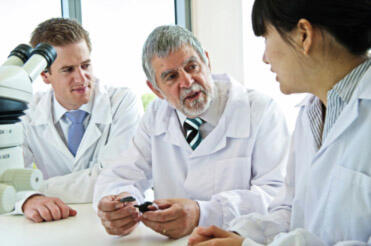 Jim was a member of Professor Graeme Clark's original Cochlear Implant Research Team (1975 – 1981) at the University of Melbourne, Australia, which invented the world's first multichannel cochlear implant. In 1981, he was a founding member of Cochlear Limited, which is the global leader in implantable hearing solutions and where he is currently Senior Vice-President and Chief Scientist.
"Cochlear implants truly change peoples' lives," said Associate Professor Patrick. "They bring people with hearing loss into a world of sound that the rest of us take for granted. Cochlear's recipients have many of the same opportunities of people with normal hearing. This includes babies born with severe to profound deafness as well as adults with progressive hearing loss. This award is in recognition of all the researchers, engineers, medical professionals and Cochlear recipients, who have helped restore hearing to hundreds of thousands of people worldwide."
According to the World Health Organization, an estimated 360 million people worldwide have a disabling hearing loss. For those with severe to profound hearing loss, implantable hearing devices like cochlear implants can be an effective solution.
"Jim has an understated, but deeply passionate approach," said Dr. Chris Roberts, CEO and President Cochlear Limited. "He is truly a world expert in cochlear implantation and internationally respected for his past and current contributions to the field of cochlear implants."
About Cochlear Limited (ASX: COH)
Cochlear is the global leader in implantable hearing solutions. The company has a global workforce of 2,700 people and invests more than AUS$100 million a year in research and development. Products include hearing systems for cochlear, bone conduction and acoustic implants.
Over 350,000 people of all ages, across more than 100 countries, now hear because of Cochlear.
###