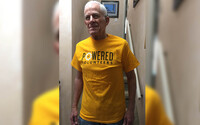 David K.
Cochlear™ Nucleus® 7 Sound processor & Hearing Aid - Bimodal | Usher's Syndrome
A quick summary about David K.
I'm a visually challenged individual.
I no longer shy away from social engagements or meetings.
I enjoy sharing my experience with others, giving back and encouraging them.
Tell us a bit about yourself
I had worn bilateral hearing aids for many years and thought I was hearing well. My son, an otolaryngologist who implants Cochlear Baha® devices, noticed I was favoring my right ear and encouraged me to get tested. I made an appointment with an otologist to be evaluated. She told me I was a candidate for a cochlear implant and should consider having the procedure. I had several concerns, but after discussing the situation with my family I decided to go ahead. I had the procedure in 2016 and received a Nucleus 6 Sound Processor. I upgraded to the Nucleus 7 Sound Processor in 2021. My family and friends noticed that my hearing improved dramatically.
With my Cochlear Implant, I now enjoy listening to music, TV, radio, and nature. I'm able to actively participate in everyday, business and social situations. I don't regret for a second getting a Cochlear Implant, especially since I'm visually challenged. My advice to those considering a cochlear implant or those who have just received one, is to keep in mind that better hearing doesn't happen overnight. It takes time and effort to "train the brain" to interpret the sounds it receives from the cochlear implant. My wife, Judy, who has been an integral part of my hearing journey, and I are experienced and knowledgeable volunteers and can answer most of your non-medical questions. We can provide additional support to your loved ones and you as you are beginning or are in your hearing journey.