True Wireless™ devices
Some everyday activities can be more challenging than others. That's where True Wireless™ accessories can help maximize your hearing experience.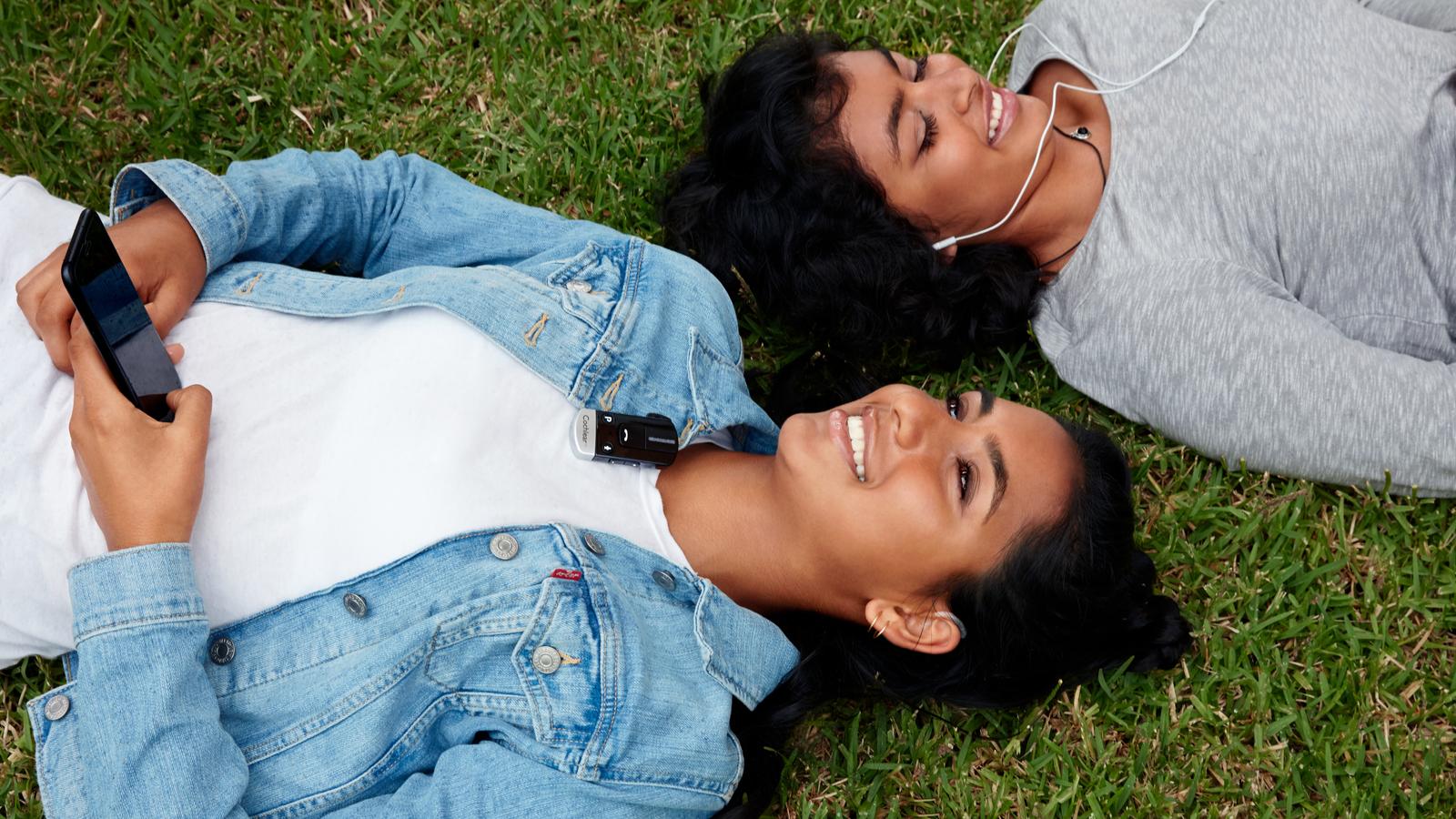 What you'll find on this page
How True Wireless accessories can bring you closer to sound in challenging situations
An easier way to watch TV, talk on the phone and listen to music
True Wireless™ freedom — no strings attached
Cochlear offers optional accessories designed to help you hear better in challenging situations. With our True Wireless accessories, you can stream sound directly to your sound processor using built-in 2.4 GHz wireless protocol that Bluetooth® and Wi-Fi devices depend on. No need for neck-worn loops or attachments to the sound processor. Our True Wireless devices allow you to focus on enjoying more from life and less on trying to hear.
True Wireless Technology
True Wireless devices stream audio straight to your Cochlear™ Sound Processor without any interference. They connect to your sound processor using Bluetooth® technology.
True Wireless Devices are compatible with the following Cochlear Sound Processors:
Nucleus® 8 Sound Processor
Nucleus 7 Sound Processor
Nucleus Kanso® 2 Sound Processor
Nucleus Kanso Sound Processor
Nucleus 6 Sound Processor
Osia® 2 Sound Processor
Baha® 6 Sound Processors
Baha 5 Sound Processors
Don't miss a moment: Mini Microphone 2+
Whether you are in a meeting, yoga class or on a football field, the Mini Microphone 2+ transmits speech and sound to your sound processor and can help you hear more clearly.1-3
One-on-one
Clip a Mini Microphone 2+ to your companion's collar when you are dining at a restaurant, or ask your child's teacher to wear it during class instruction time.
Group conversations
Place a Mini Microphone 2+ in the center of a meeting room table at work, or in the middle of the group for game time in the classroom., and bring the conversation to your sound processor.
The Mini Microphone 2+ also has connectivity to audio sources such as TV, Hi-Fi, loop systems and FM systems.
Voice and music streaming: Phone Clip
Use your Cochlear Phone Clip to make talking on the phone easier. You can even leave your phone in your pocket or bag and enjoy the convenience and safety of hands-free calling. It's small and lightweight, so you can clip it to your clothing and take it wherever you go. With the phone clip you can:
Stream phone calls directly to your sound processor
Listen to music or videos from your smartphone or tablet
Listen to GPS navigation in your car
Use your smartphone's voice command
Compose text messages
Enjoy TV without captions: TV Streamer
You can have personal volume control while enjoying TV with your family. The TV Streamer gives you stereo sound transmitted directly into your sound processor. Experience a night in front of the TV without the need for captions or turning the volume up to uncomfortable levels with others in the room.
For compatibility information, visit www.Cochlear.com/compatibility.
Android, Google Play and the Google Play logo are trademarks of Google LLC. The Android robot is reproduced or modified from work created and shared by Google and used according to terms described in the Creative Commons 3.0 Attribution License.
Apple, the Apple logo, FaceTime, Made for iPad logo, Made for iPhone logo, Made for iPod logo, iPhone, iPad Pro, iPad Air, iPad mini, iPad and iPod touch are trademarks of Apple Inc., registered in the U.S. and other countries. App Store is a service mark of Apple Inc., registered in the U.S. and other countries.
*Data gathered with Mini Microphone.
References
Wolfe J. Morais Duke M, Schafer E. Improving hearing performance in Cochlear Nucleus 6 users with True Wireless Accessories. Denver: Cochlear Americas; 2015.
Razza S, et al. Evaluation of speech reception threshold in noise in young Cochlear Nucleus 6 implant recipients using two different digital remote microphone technologies and a speech enhancement sound processing algorithm. Int Journal Pediat Otorhinolaryngology, 2017; Oct; 103:71-75
Jones M, hearing in Noise Benefit Using the Cochlear Mini Microphone 2+ with Nucleus Sound Processors, C12017 Pediatric 15th Symposium on Cochlear Implants in Children, San Francisco, CA 2017; July.