Scholarships
Cochlear offers several prestigious scholarships in honor of the amazing innovators who developed our hearing solutions.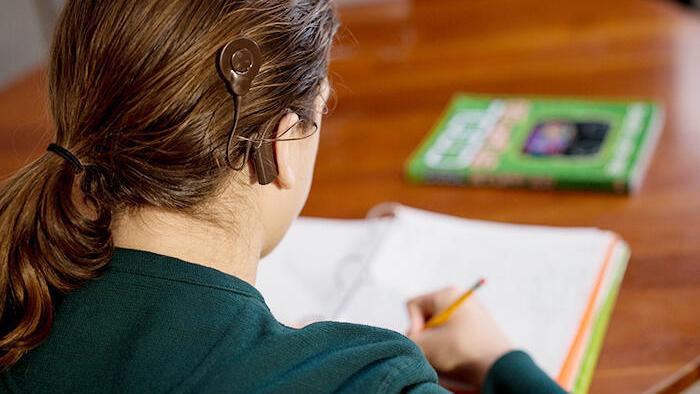 What you'll find on this page
Learn what scholarships are available for Cochlear implant recipients
See if you are eligible for a scholarship
Apply for a Cochlear scholarship today
For Cochlear™ Nucleus® Implant Recipients
Graeme Clark Scholarship
The Cochlear Graeme Clark Scholarship is a unique award open to Cochlear Nucleus Implant recipients. Applicants must be a citizen of the United States or Canada.
The Work of Graeme Clark
Professor Graeme Clark was the foundation Professor of the Department of Otolaryngology at the University of Melbourne. The pioneering work of his University Department led to the first research implant "bionic ear" being "switched on" in 1978 and the first Nucleus® Implant in 1982. Professor Clark's lifelong commitment to finding a solution for the hearing impaired has resulted in a revolution not only for those afflicted but also their family and friends.
---
For Cochlear™ Baha® and Osia® Recipients
Anders Tjellström Scholarship
The Cochlear Anders Tjellström Scholarship is a unique award open to Baha and Osia recipients. Applicants must be a citizen of the United States or Canada.
The Work of Anders Tjellström
Anders Tjellström is an ENT with the Department of Otolaryngology at the Sahlgrenska University Hospital. Tjellström's doctoral work at the University of Gothenburg brought him into contact with Professor Per-Ingvar Brånemark, a pioneer in the field of osseointegration, in 1972. Tjellström and Brånemark collaborated with engineer Bo Håkansson to create the first bone conduction hearing implant. Ever since the first patient was treated with the Baha System, Tjellström has worked tirelessly to restore hearing to thousands of people around the world.
---
Scholarship Details
Who is eligible for the program?
Scholarship applicants must be a Nucleus. Baha, or Osia recipient
Applicants must be a citizen of the United States or Canada
Available to graduated high school seniors, and undergraduate or graduate students that have applied to or will be enrolled in an accredited technical school, college or university
Scholarship applicants must receive a 3.0 GPA (unweighted) or above, from their current academic institution, to apply for and maintain the scholarship
Cochlear employees or their family members are not eligible to apply
Each winner can only receive the scholarship one time
When is the deadline to submit the scholarship application?
Scholarship applications will open approximately March 31st of each year
Completed applications must be submitted online by September 30th of each year
Mailed applications are not accepted
Apply online for a scholarship today
What is the value of the scholarship award?
Scholarship value is $2,000 per year for up to four consecutive years
Scholarship recipients must maintain a 3.0 GPA or above
Scholarship is paid in annual installments upon completion of each year of study
Official transcripts must be received within 60 days of completion of the school year in order to receive payment (or no later than June 15th)
How are winners selected?
Five Graeme Clark and three Anders T. Tjellström scholarships are awarded on the basis of academic achievement and a demonstrated commitment to the Cochlear ideals of leadership and humanity
Consideration is also given to the applicant's extracurricular activities and community involvement
Applications are reviewed by an internal Scholarship Selection Committee and final scholarship winners are selected by a committee of hearing healthcare professionals
How will the winners be notified?
Winners will be notified of the Scholarship Selection Committee's decision via email
Notification will be sent no later than January 31st of each year