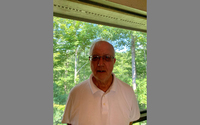 Chuck D.
Cochlear™ Baha® 6 Max Sound Processor
A quick summary about Chuck D.
I enjoy sharing my experience
The Bluetooth® feature is something I particularly enjoy
I became deaf overnight
Tell us a bit about yourself
I have successfully used my Baha since 2014. I became profoundly deaf in my right ear overnight and was guided to the Baha as a means to hear again. The process was very easy and the Baha has been wonderful in restoring my full hearing experience. I particularly like the Bluetooth* feature that enables me to stream phone calls, podcasts and music through the Baha. Cochlear has been a great company to work with and is terrific in coordinating with my audiologist and answering my questions.
I am excited to be a Cochlear volunteer. If you are interested in learning more about Baha and would like to connect, I would enjoy sharing my experience with you.
Disclaimer
Cochlear's Connect with a Mentor program is monitored Monday-Friday, excluding some holidays. Questions and inquiries submitted over the weekends or holidays may see a delay in response.
Please seek advice from your health professional about treatments for hearing loss. Outcomes may vary, and your health professional will advise you about the factors which could affect your outcome. Always read the instructions for use. Not all products are available in all countries. Please contact your local Cochlear representative for product information.
Views expressed are those of the individual. Consult your health professional to determine if you are a candidate for Cochlear technology.
For a full list of Cochlear's trademarks, please visit our Terms of Use page.