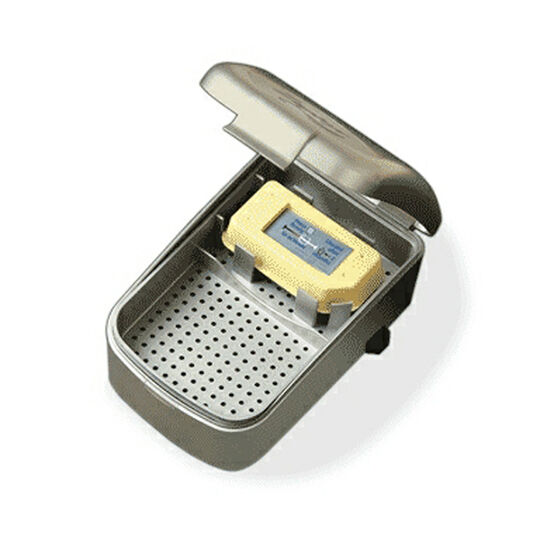 Compatibility
Compatible with all Nucleus® and Baha® Sound Processors
Product information
Overview
The Zephyr is a global power adaptor and dry aid kit, complete with Dry & Store® desiccant. Store your sound processor in the Zephyr when not using it or overnight, every night, to help remove moisture.
Components like a coil, coil cable, magnet and battery module should remain attached to the processing unit. Turn off your processor before placing it in the Zephyr Dry & Store. The Zephyr uses a Dry-Brik® desiccant that lasts up to two months (see indicator on desiccant as to when to replace).
Positive-latching hinged lid with a drying compartment that will accommodate all types of hearing instruments, including cochlear implant microphones, headpieces, and speech processors (both earlevel and body-worn). Electrical characteristics After pressing the ON button, Zephyr will run for 8 hours before automatically turning off. To interrupt the cycle, press the on/off button on the side of the unit.
Input Power: 100-240 volts AC, 50/60 Hz, 1.0A maximum. Output: 24 VDC at 15W maximum.
Zephyr power supplies are interchangeable with Dry & Store Global and are CE marked. The default AC Adapter has a US/Japan plug.
Product Color
Silver
Product Size
Weight: 13.4 oz (.4 kg)
Unit size: 3.6" wide x 5.9" deep x 2.8" high (9.1 cm x 15 cm x 7.1 cm)
Drying compartment: (Single tray) 3.2" x 2.6" x 1" (8 cm x 6.5 cm x 2.4 cm)
What's included
Zephyr drying unit
Dry & Store desiccant